3D wall panels are some of the most exciting, trendy, and stunning new decorative products out there. They come in a wide variety of colors, designs, and patterns that suit most decor styles.
Today, we'll be taking a closer look at 3D Bamboo EcoTiles which are some of the sleekest and most exciting wall tiles on the market.
One of the most appealing aspects of this bamboo wall panel is that it's very environmentally friendly. Most are made of bamboo fabric, meaning that they are eco-friendly and safe. They have an artistic, textured appearance and a simple set of instructions for easy assembly. Plus, you can use them in just about every room of your home or business — from bedrooms to living rooms, cafes and pubs to office spaces, restaurants to malls. These textured wall panels also make great decorative ceiling tiles, too.
---
Advantages to 3D Bamboo EcoTiles Wall Panels
Easy installation. Wall panels are super easy to install with glue or any other adhesive. They can even be placed on top of preexisting panels.
They're transformative. 3D Bamboo EcoTiles are configured in simple but mesmerizing designs and their effect is incredible. They completely transform the shape and feel of any room in your home.
Durability. This wall paneling is very durable and unlikely to be damaged.
Easy cleaning. These panels are very low-maintenance so all you need to do to clean them is to use warm, soapy water or antibacterial spray and cloth.
Available in many different styles. No matter what your aesthetic, there's a great chance that a 3D Bamboo EcoTiles product is perfect to spruce up your space.
---
About Our 3D Bamboo EcoTiles
Our 3D Bamboo EcoTiles Wall Panels come in many shapes and sizes. They are installed via a "Glue Up" adhesive method and are made of Bamboo Pulp, Faux Leather, High-Density EPS, and/or PVC/Faux Tin. This product is sold in three colors: champagne, green gold, and Olympic gold. The sizes and prices vary depending on your needs and the designs are undoubtedly contemporary.
Let's take a look at some of the most widely bought and raved about 3D Bamboo EcoTiles for your review.
---
How To Install 3D Bamboo EcoTiles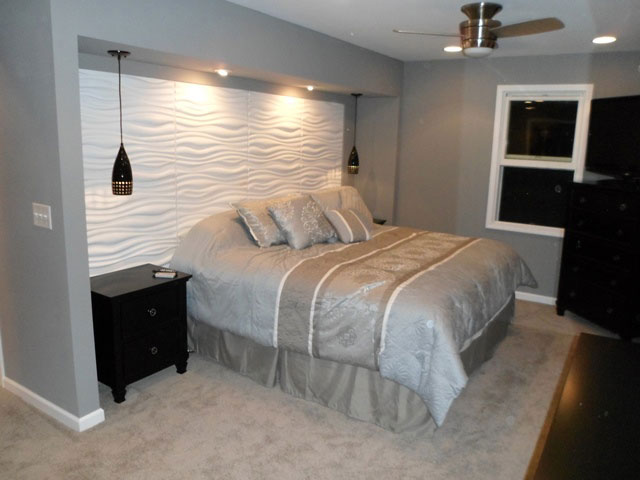 So, you've got your EcoTiles now. Great. But the installation process seems a bit daunting. Don't worry — we've got all the right steps to help you with that.
By following our 3D Wall Panels Installation Guide, you can't go wrong.
Here are the steps, as outlined in that article, to follow.
Clean and remove any loose paint on the wall surface to prep the surface before installing.
Plan the layout ahead of time so you know the design you're aiming for.
Draw outlines of the panels using a level to get them positioned just right.
Apply glue to both the panel and the wall. Instant Grab #310 is recommended.
Don't cut anything yet. Install the full panels first.
Prime the panels.
Use a sandable drywall compound to fill in any gaps. Then use sandpaper with 220 grit or up to sand the surface smooth, being careful not to apply too much pressure. Apply a coat of primer over the joints and paint the panels.

Now that you know all there is you need to know, your next step is to check out some of these products and see which is the best fit for you and your home.

Happy installing!