The materials you use in a commercial space create a major impact not just on how it looks but also how it functions. This is especially true when it comes to commercial ceiling tiles. The tile you choose for a ceiling in a commercial space affects the style of the space, the sound within the space, the temperature within the space, and so much more. This is why it's so important to research your options in advance and know what's going to work best for your type of space.
---
Where to Begin
A good place to start is with the different types of ceilings and commercial ceiling tiles available on the market today.
The options you have available in today's commercial ceiling tile market are endless. This is a great thing but it can also mean you'll feel overwhelmed and find it more difficult to make a decision. The key to narrowing down your selection and making the right choice is knowing what's out there and knowing why each option would or would not work in your space.
The following types of ceilings and ceiling tiles can work in a commercial space:
Drop Ceilings
This is one of the most popular choices in retail and other commercial spaces for many different reasons. It's affordable, it's convenient, it's lightweight, it's durable, and it's easy to install. It can also cover your existing ceiling without much work. You simply install the grid system and hang the tiles. If you're replacing existing drop tiles with a grid already in place the installation job will be even easier. You'll find drop ceilings in office buildings, retail stores, and schools, as well as many other places. Tiles are made from plastic, metal, fiberglass, or cork so you get plenty of variety and can meet other goals, such as using sustainable or budget-friendly materials.
Standard Ceiling Tiles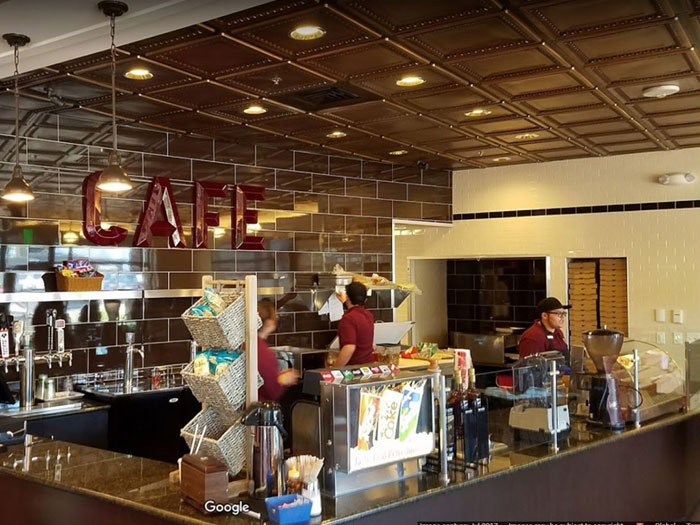 These are different than drop ceiling tiles and function more as a decorative element. However, they can help you achieve goals such as temperature control and noise muffling. Most of these commercial ceiling tiles come in sizes of 12X12" or 16X16". They are attached directly to the ceiling with adhesives or hooks. These commercial ceiling tiles come in a variety of materials, colors, and designs, and can even mimic the look of other types of ceilings for a more affordable price.
Plank Ceilings
If you are looking for a way to incorporate real wood into your space, plan ceilings are a great way to do it. They can be placed over an existing ceiling or installed using a suspension grid system, so it's a fairly easy process either way. Though wood planks are going to cost more than ceiling tiles in most cases, this is an economical option to get the look you're going for in our space. Just remember planks are going to be heavier than tiles usually, so make sure you have the foundation you need to support the weight.
Recessed Ceiling Panels
Recessed ceiling panels were originally used in Greco-Roman design and are sometimes called coffered ceilings. You find them in both residential and commercial design. This option uses a similar system used in a drop ceiling with tiles and a grid, but the system is reversed. The panels are supported by drop beams and can cover an existing ceiling that is worn or not the style you want.
Drywall Ceilings
This is the basic ceiling you'll likely start with in a new building. It's the most common type of ceiling in homes and other environments and can be painted, textured, or altered in other ways to make it more interesting. It's also likely going to be your starting point for most commercial ceiling tile projects.
Now that you have some idea what options are out there for your commercial ceiling revamp, you can begin to assess your needs and make your decision based on your exact space.
---
What Should You Consider When Choosing Ceiling Tiles in a Commercial Environment?
Making the right choice in commercial ceiling tile will save you the trouble of having to replace and repair problems in the future. And if problems still arise, the right tile for your space can make fixing the problem easier.
Keep in mind, commercial ceiling tiles tend to go unnoticed most of the time – unless there's an issue. But this doesn't need to be the case. If you're looking for a way to make a space bolder or unexpected, ceilings tiles can do it. And commercial ceiling tiles can also add an important design element, improve the acoustics of the space, and make it function better all-around. Even if you think people won't notice your tile selection, they'll most certainly notice if you make the wrong tile selection!
Ultimately, what you choose in a commercial ceiling tile is up to you but it can help to have guidance when you embark on the project. Ceiling tile decisions should not be based on a single factor. Even if you have a strict budget, there are likely plenty of options available that can give you exactly what you need for the price you can afford. The use of the space, your environment, your region and location, and a variety of other things should play a role in your decision. And once you've met all of your functional needs, you can still choose something that suits the overall design of the space and offers some aesthetic appeal.