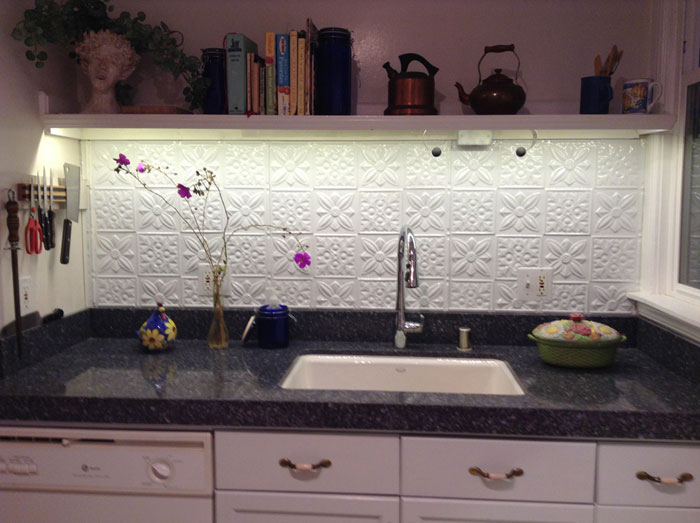 Perhaps one of the qualities that define tin backsplash tiles is their durability and the fact that they look great anywhere you install them. Tin backsplash tiles are made of metal, last long and keeping them clean is no hustle at all. Additionally, they never rust, so once you install them, you won't have a reason to pull them out for a long time.
If you are looking to upgrade your home or business premise, you can always rely on tin backsplash tiles. They come with many different patterns, which is why they handle light so well. You are guaranteed to draw people's attention.
Tin backsplash tiles are not only perfect for your home but other places that could benefit from a little more light including the basement and bar. If there is a room in your house that could benefit from a bit of elegance, a tin backsplash is your best bet.
---
The Purpose of Tin Backsplash Tiles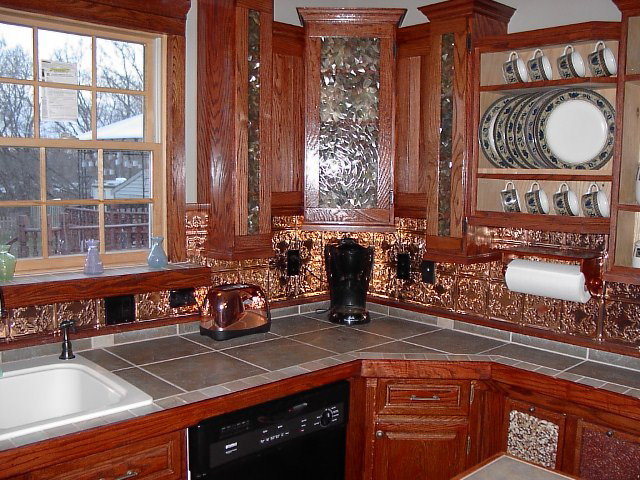 Tin backsplash tiles are usually installed as a vertical addition to your counter. They are often found in the bathroom and kitchen design. These tiles protect your wall from any unintended splashes from your sink area.
Backsplash tiles are designed to offer you functionality. There is nothing as bad as having to deal with water damage caused by splashes to your walls. There are many other important reasons why you should consider tin backsplash tiles in your bathroom and kitchen apart from protection.
Style and design
With backsplash tiles, you get both design and style around your space. You could also install tin backsplash tiles that match the rest of your interior décor in your home or office. There are many types, color designs and styles at your disposal meaning you can stretch your ideas as far as you want. In each case, you will find something that works well with your décor and style.
Tin backsplash tiles provide you with a sanitary way to keep your kitchen neat as they are easy to clean and don't attract any type of germs, bacteria, or other unwanted visitors.
They cut down on cleaning
Backsplash tiles add a lot of personality and style to your bathroom or kitchen. Also, they are very practical, which helps you minimize the need to do a lot of cleaning. Just wipe your tile with a damp cloth, and your kitchen becomes Spick and span. There's no need for you to spend hours scrubbing your wall or worrying about the paint peeling off.
No more stains
Using backsplash tiles to cover your kitchen or bathroom wall minimizes staining and accumulation of dirt. Walls without a backsplash can get damaged increasing the risk of mildew and mold growth as well as liquid and food splash. With a backsplash, you can hide away your wall, which protects it from moisture.
---
Choosing the Right Backsplash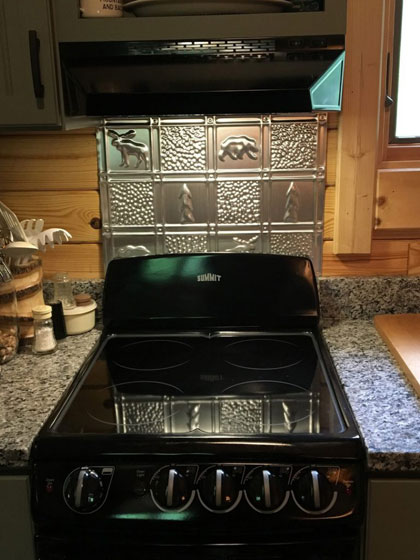 Finding the right tiles is a huge decision that requires a lot of time and research on your part. There are many things to consider during that time, so we have listed a few tips to help you during that journey.
Color or Neutral
Color is among the first things you should consider. For you to get it right, you need to decide whether you want a colorful backsplash or something neutral. While a colorful tile backsplash provides an instant impression, neutral tin backsplash tiles add an equal measure of character and personality to your kitchen or bathroom.
The décor in your room has a bearing on the direction you take. The color in your kitchen will be a factor to consider before you choose tin backsplash tiles. Consider whether your tiles match your décor together with your general color preference.
Backsplash height
Backsplash height is one of the things people disregard when installing tin backsplash tiles. Your backsplash has to reach a certain height, although the exact height is a matter of preference. In other cases, the maximum height is dictated by the cabinetry in your kitchen.
If you prefer a whiff of tin backsplash tile, install your backsplash right up to the bottom of your first shelf or cabinet in case your kitchen has an open cabinet arrangement. However, if you feel a little more tile would capture your personality, you can extend the tiles right up to your ceiling in places without cabinets.
Counter to ceiling tin backsplash tiles will make the wall become your kitchen's focal point. Thus, if you prefer to follow this approach, ensure you choose a size, layout, and color that works for you.
Material
Like color, the material is another important factor to consider. Therefore, think through and find a material that will complement your room's overall design. You can choose between brick, ceramic tile or hand painted.
Make this decision based on your preference as well as the final design you envisioned. If you own an industrial or rustic kitchen, go with brick. A clean and modern kitchen would benefit from mat glaze ceramic tiles.
Shape and pattern
There are many different shapes to choose from including laser cut, diagonal and subway. These are the most popular shapes that you can use to lighten up your room. Try to find a style, color, and cut that fits your overall design.
---
Installing Backsplash Tiles
Installing tin backsplash tiles requires you to plan your layout beforehand. That way, you can easily decide the right height and then work out the number of tiles you will need. Before you install the backsplash, clean your surface thoroughly and then apply grout or adhesive as specified by the manufacturer. Also, ensure you cut your tiles into the correct sizes before laying them in place.
---
Final word
Places that are usually exposed to water such as kitchen or bathroom walls often tend to get damaged a lot faster than the rest of the house. Besides, cleaning such places requires a lot of hard work and hours of scrubbing.
With tin backsplash tills, your walls are protected from water, and other kinds of splatter. Finally, you can say goodbye to mold, mildew or stained surfaces. Also, tin backsplash tiles add beauty to your room making it easy for you to capture your personality and taste.