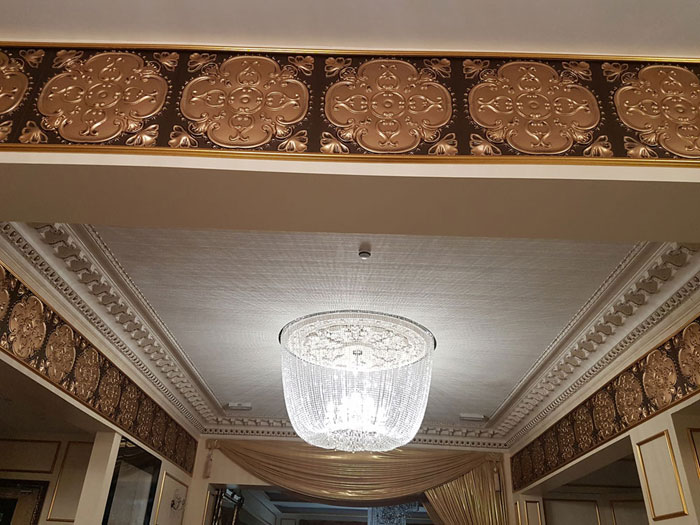 Glue-up ceiling tiles are manufactured such that they can overlap, which makes their installation easy. You can place these tiles on your ceiling or wall. Unlike other ceiling tiles, these can be installed with just adhesive. The tiles connect to each other via a butt joint, and decorative strips are placed between the pieces as to cover up the joints.
Best suited for people who are not that confident in their DIY skills, these tiles are a great addition to your home as they are to your office space. You can easily transform the look of your room within a few hours.
With Glue-up ceiling, you have a quick way to improve your home's appearance, or even enhance the moral at your workplace with a new and clean ceiling.
The glue-up ceiling comes in a range of styles and includes fire and soundproof rated tiles. If you wish to remodel a room that needs soundproofing such as your child's room, glue-up tiles are exactly what you are looking for.
---
Tips for Installing Glue-Up Ceiling Tiles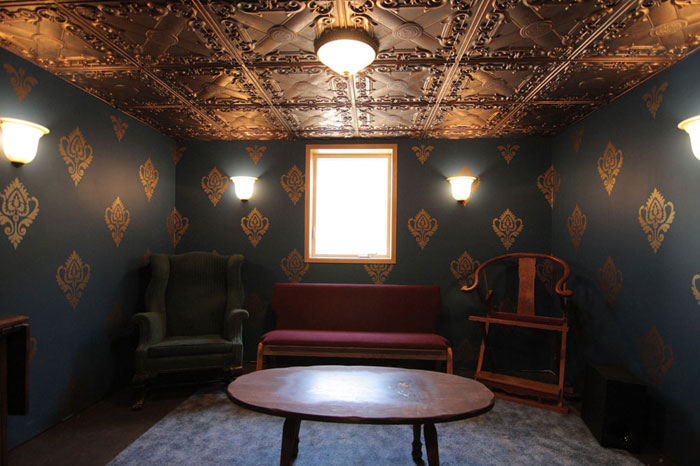 Avoid being clingy
Sometimes, glue-up ceiling tiles unpack with a little bit of static charge, and this causes them to draw all sorts of dirt. For that reason, it is best that you finish off everything else that may cause dust to float around such as drilling, sawing, sweeping or sanding before you install your tiles.
Also, before you proceed with installation, ensure your surface is flat. Texture such as popcorn has to be removed and where necessary, patch and sand any uneven surface. Ensure your working surface, hands and the ceiling are all smooth, dry and clean.
Measure twice and glue only once
Begin by mapping out your entire ceiling. Locate and mark the walls, doorways, and closets. Also, locate and map out heating vents, lights, and any other ceiling fixtures. Once that is done, choose the best way to create a margin around your ceiling's perimeter.
With your ceiling map in hand, place two chalk marks along the midpoint to form a cross at the center. However, be mindful that not all ceilings are regular in shape, so you may have to adjust your chalk marks as you go along.
Installing your ceiling
This is the fun part. To start with, apply adhesive on the perimeter and at the center of your tiles. Since glue-ceiling tiles are flat, an edge-and-center adhesive pattern is good enough. But, if you opted for a three-dimensional glue-ceiling tile, you will need to place another bead around the formed grooves to encourage better adhesion.
If it's a DIY project, remember that it's not the quantity of adhesive that matters but where you place it on the tile.
Offset your tile about ¼ inch from the chalk marks you made and gently press it against the ceiling. Ensure you slide it into place so that it sits correctly relative to your chalk marks. As your tile settles, press firmly around the glued regions and smooth off bumps that may be in the glue.
Once the first tile is in place, continue placing adjacent tiles as well. The next tile should lie right next to the first one. Take caution and do not put tiles too close together since seams between tiles vary. Just slide your tiles into position.
Decorative strips will be used to cover the joints once all tiles are in place so don't worry about the gaps you see between pieces.
Border Tiles
Most likely, your ceiling area may have areas smaller than your typical full tile, particularly around the corners. Worry not. There are border tiles purposely designed to help you cover such spaces.
Border tiles are made in a way that allows you to trim and install where there is space that needs filling up. To cover such areas, just measure starting from the edge an existing tile right up to the wall and then cut your tile to size.
Before installing strips
Clean all the tiles and ensure you remove all contaminants. Why? Well, oil and dust tend to accumulate as you construct or remodel your room. Thus, new ceilings tend to get dusty.
Also, be sure that you installed all your tiles correctly. Otherwise, the strips will not fit in properly. The temperature should also be kept between 60 and 80 . If not, your strip adhesive will melt causing it not to stick properly.
Installing strips
Dry-fit ordinary strips by placing the starting point at the junction of four adjacent tiles and stretch its length in the joint between two neighboring tiles. For decorative strips, put the dot end at the intersection and trim the strip to an appropriate length where necessary.
Butt one end of your strip to the end of the previous one and don't overlap. Decorative strips require a little more attention because of their repeating pattern. Thus, the last dot must land at an intersection surrounded by four tiles.
All strips running in the same direction must be installed first before you move onto the perpendicular direction.
---
Cleaning Glue-Up Ceiling Tiles
New tiles do not require special treatment. Simply wipe off any dirt with a damp cloth. Stubborn stains can be eliminated using all-purpose cleaning agents. The panels are waterproof, so water will not damage them as you clean.
Stay away from cleaners with organic solvents because they can easily damage the surface appearance of the tiles.
---
Benefits of Glue-Up Ceiling Tiles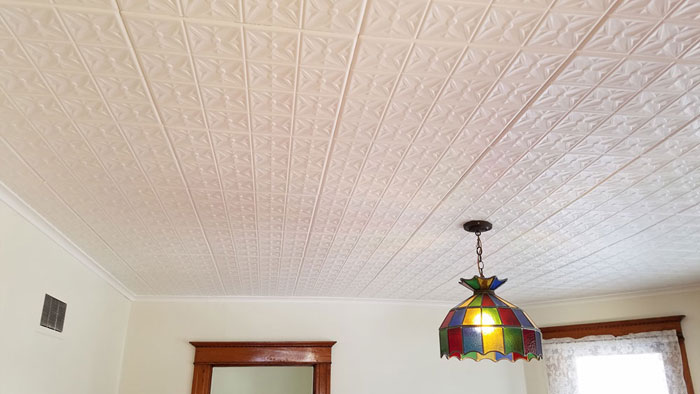 Glue-up tiles can be installed directly so long as there is a flat surface. They also come in a variety of colors and patterns allowing you to choose what you feel is best for your home. Plus, they are budget-friendly, meaning you can decorate larger rooms without feeling the pinch.
---
Wrap Up
Glue-up tiles provide you with a new way to personalize your ceiling. Gone are the days when you had to stare at an unfriendly ceiling. Since they come in many different patterns, you have a variety of options, and you can style your ceiling and walls with the same tiles. They are cheap and durable, so there is no limit as to how far you can stretch the creativity in you!