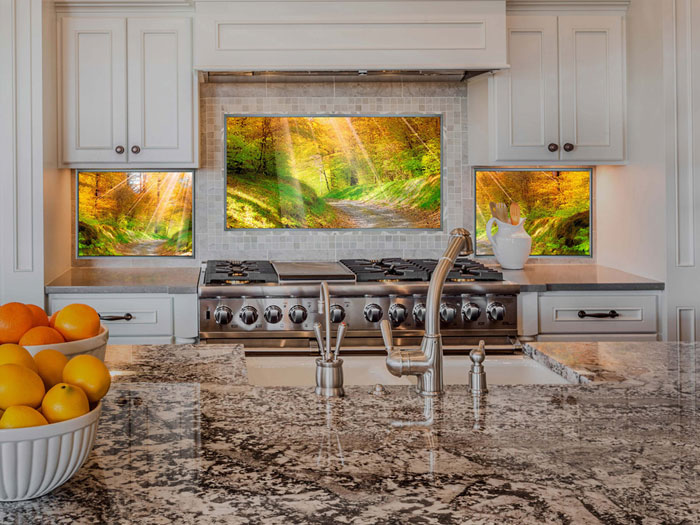 Good lighting can completely alter the atmosphere of any space. A brightly lit room is pleasing to the eye and gives off a comfortable vibe that makes you feel at home. This is especially true for kitchens which are one of the most important rooms in any house and should be welcoming to you and your guests.
Increasing the amount of lighting in your kitchen can be difficult. If your kitchen lacks natural lighting due to an insufficient number of windows or skylights, it can be extremely costly and difficult to correct the problem. Older homes, in particular, seem to lack the natural kitchen lighting that suits modern tastes.
Kitchen lighting can also suffer because the space can be very overcrowded. The walls of our kitchens are covered in bulky cabinetry and there are also large appliances like your refrigerator and stove. It is no wonder so many of our kitchens are dark and dreary instead of bright and inviting.
If this sounds like your kitchen there is no need to worry. Our backlit kitchen backsplashes are the solution! If you want to introduce more light to your kitchen without doing a costly and disruptive major renovation, consider introducing an LED-backlit kitchen backsplash to brighten up your space.
---
What is an LED Backlit Kitchen Backsplash?
LED-backlit kitchen backsplashes are multi-layered, ultra-thin decorative laminate surfaces that emit light evenly across their surface.
Essentially, these products feature LED lights that are encased within a frame. The light they generate is similar to what you would get with a fluorescent under cabinet fixture.
The backsplash uses a translucent decorative face that is backed by LED lighting, not only drawing the eyes but also adding much-needed brightness to your space.
By installing an LED-backlit kitchen backsplash, you are introducing an attractive piece of décor that will turn heads and offer genuine functionality.
---
What are the Benefits of Installing a LED Backlit Kitchen Backsplash?
There are plenty of reasons why you should be considering a backlit backsplash for your kitchen. Below we will go over some of the many benefits, including:
Added Brightness - Backlit kitchen backsplashes enhance new or existing kitchen countertops while adding decorative light. Additional lighting in your kitchen is a major plus. Not only does it give your kitchen a warm glow, but the additional brightness also helps when preparing meals. Think how much easier it would be to cook and read recipes in a nicely lit kitchen.

You can adjust the brightness to your panels, too. Whether you want them to serve as ambient light or to brighten up your countertop for a specific task, the choice is yours.

Draw Eyes Where You Want Them - You can also use a backlit kitchen backsplash to create a focal point. Our eyes are naturally drawn to light sources. If you have countertops or appliances you would like to highlight, using additional LED lighting could be the solution.
LED Lights Offer Their Own Benefits - There are plenty of advantages to using LED lighting. The bulbs last for a long time. On average, you can expect your lighting panels to last at least 60,000 hours. Because they are edge-lit, there is also no need to have access to a lightbox.
Ease of Installation - Our LED-backlit kitchen backsplashes are also really easy to install. Our backsplashes are extremely thin and lightweight which makes mounting them very easy. You do not need to be a professional electrician or carpenter to install the panels; in fact, they were designed to be installed by homeowners.
Durability - We know that kitchens can be messy places so our backlit backsplashes were designed with durability in mind. They can withstand 9,150 abrasion cycles and are not easily scratched or damaged. Plus, they are chemical, stain, impact, and scratch-resistant. Once installed, you can rest assured that your new backsplash will remain in good condition.
Adaptability - Our backlit kitchen backsplashes are adaptable to any kitchen and easily altered during installation. Their easy on-site fabrication design lets you cut the panel to size as you work. You can also easily make outlet and sink cutouts on the job. If running electricity is not feasible, you can use our rechargeable battery system to power your backsplash for eight to 10 hours.
---
What Are My Options?
Your options are nearly limitless. If you can think it up, there is a good chance it can become a reality. Take a look at our page to see how our backlit kitchen backsplashes, countertops, and bar fronts have been used.
Once you are inspired, feel free to get started request a quote through the following LINK.