LumiSplash is a patented, multilayered, ultra-thin 1/4″ (6mm) decorative laminate that emits light evenly across its surface and has impressive impact, scratch, chemical, and abrasion resistant properties. LumiSplash is:
The first ultra-thin, lighted laminate system with no air gap required for LEDs. This system uses a Light Bar and Light Guide Panel to produce luminance across a translucent surface.
A one-of-a-kind product that combines art with lighting in a durable laminate, creating a unique focal point for any home or business.
A low-voltage system that comes with the necessary electrical components to simply plug into a 110-volt receptor. LumiSplash can also be hardwired for permanent installations by a local electrician.
Suitable for most vertical and horizontal applications where other decorative laminates could be used.
Easily fabricated with standard woodworking tools such as routers, saws, and drills.
Easily used to backlight your own stone, acrylic, or other translucent materials with it's Light Guide Panel.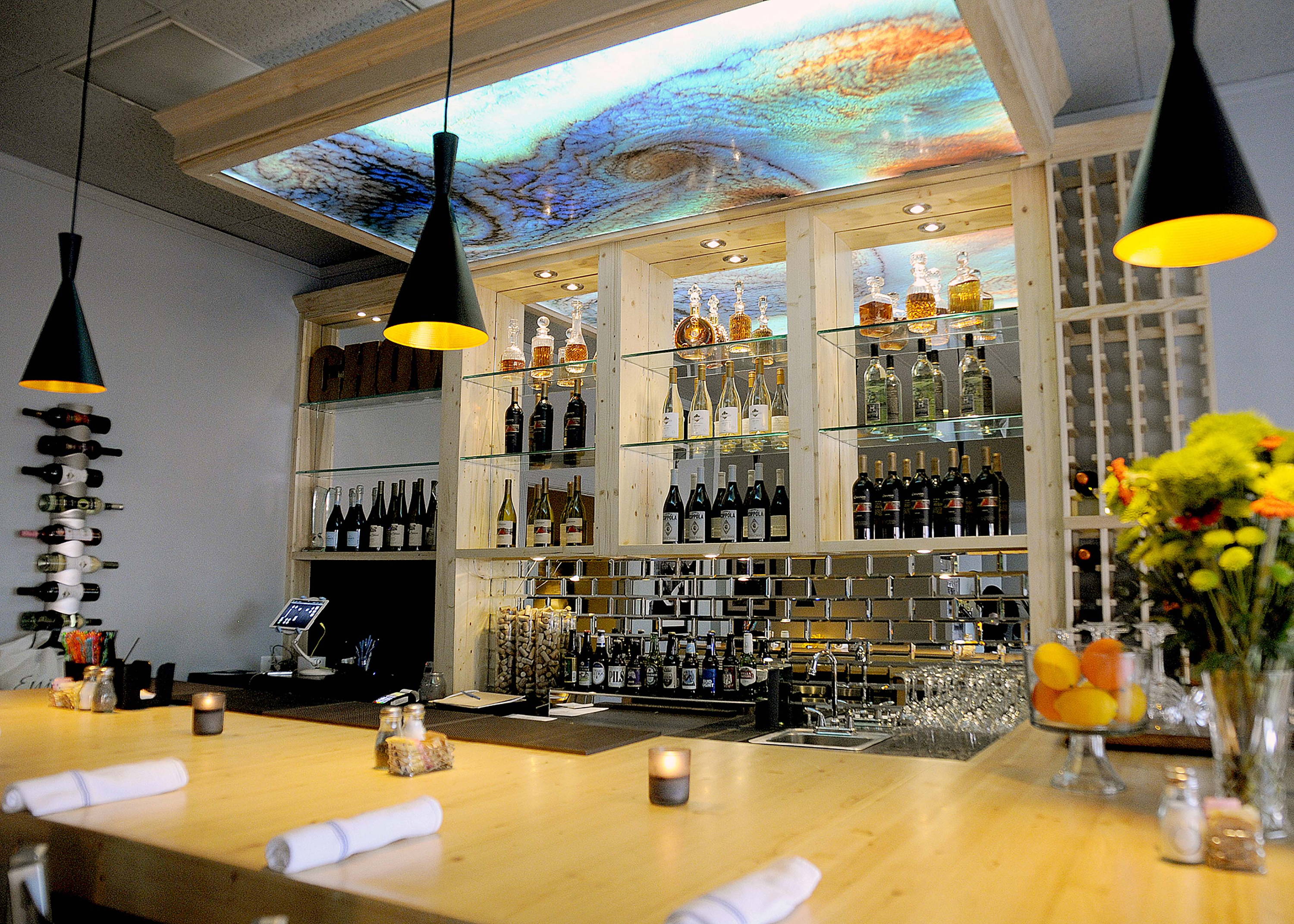 ---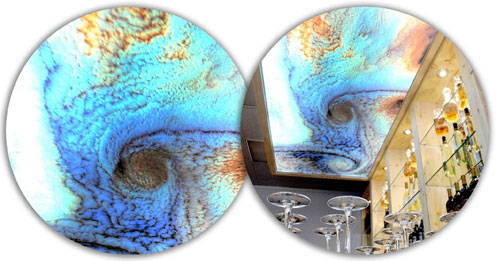 Let's Create Your Success Formula
By combining our ever-expanding line of graphics or your own artwork with LumiSplash, you can make a unique, custom design perfect for your project.

Earth 15 + LumiSplash (Pictured)
---
Fusion Team prepares graphic solutions for your LumiSplash project, assisting from the beginning of the process to help ensure your outcome looks great from art concept to final production. Customization is key when dealing with architectural graphics, as is the ability to solve just about any layout or environmental challenge. Our graphics specialists will work with you as a team to ensure that we are not only achieving your desired results, but also doing so in the most cost-effective way possible.
One of the advantages of LumiSplash is the ability to use your own artwork. Simply upload your art for technical review, and our LumiSplash specialists will guide you through the process. From space branding to retail imaging and everything in between, We has the solution to help you achieve success.
#1 Choose Graphic Pattern

#3 Get a Sample /Approval or Edit
#4 Production
#5 Delivery
#6 Installation
Explore LumiSplash Applications
Walls, Caseworks, & Partitions
Turn walls, casework, and partitions into statement pieces with LumiSplash. Create a unique and inviting environment that will capture guests' attention with soft, illuminated walls. Use LumiSplash Double-Sided Design partitions to separate spaces in commercial office spaces or boutique retail environments. Create a focal piece installing LumiSplash into existing or new casework. LumiSplash walls, casework, and partitions can easily compliment a spa or hospitality environment with illuminated art and available dimmer accessory to tailor the space's ambiance with a simple adjustment.
LumiSplash tabletops and bartops can transform an ordinary piece of furniture into a functional, illuminated work of art. Unique as they are beautiful, these laminates provide soft light that may be dimmed to serve as either task or ambient light.
Utilizing our multilayered panel, graphics, and edging systems, LumiSplash tabletops and bartops are an easy addition to your space. We can provide welded and powder-coated edging systems that creates a flawless, complete look (minimum order quantities apply). Bartops and counters can utilize custom moldings to create various effects. When running electricity is not feasible, use our long-lasting, rechargeable battery system to supply light for 8-10 hours.
Our RGB LED Light Changing System provides a smooth lighting transition from red to green to blue, creating a beautiful ambiance for your space.
LumiSplash backsplashes and islands help enhance new or existing kitchen designs while adding decorative light. It is simple to trim to size, cut out outlets, and more at the jobsite without affecting luminance. Using photography or art, you can create a one-of-a-kind look with LumiSplash that brings the image to life.
Create the illusion of skylights to help the environment feel more relaxed. Consider LumiSplash for a suspended system to become a functional focal point of any room. Ceiling installations will require onsite framing and may even require engineering. Bring beautiful works of art to life. Use any of our LumiSplash applications for brand emphasis and stand out from the crowd in a variety of industries – hospitality, healthcare and institutional, retail, commercial, and residential.
Interchangeable Graphics & Signage
LumiSplash's Interchangeable Graphic Panels can easily be removed and replaced with new designs making it possible to change out looks as season, mood, or design preferences change. While Our own creative Idea Library is available, we invite you to work with our sales associate to discuss your vision and have a custom LumiSplash design created for your next project. On the opposite page, the homeowner installed a photographic 32″ x 42″ LumiSplash panel to help complete the design of her basement wine cellar. Her contractor designed the custom wood frame over the buffet. Not only does the luminance create the desired ambiance, she can also change out the graphics quickly and easily to refresh the décor.
How Does LumiSplash Work?
With LumiSplash, using light as a design element is easy. From backsplashes to tabletops and ceilings to signage, there is a LumiSplash design to fit your space. LumiSplash is available in kit form with all necessary hardware supplied for installation. This all-in-one contained system saves time and money compared to other products that require extensive fabrication and set-up or bulky bulbs and wiring. Click on the LumiSplash Single- and Double-Sided Design images (pictured right) to enlarge.
Single-sided available in standard heights of 16", 24" and 48" and in lengths of 48" and 96"
Single-sided custom lengths can be made to order or may be cut to smaller dimensions from stock panels
Double-sided available in standard sizes of 24" x 48" and 24" x 96"
Custom sizes can be made to order for both single and double-sided panels
Dimmers
RGB LED Light Changing System
Various framing and molding options
Battery powered system
Transformers
Ultra-thin and lightweight
Can withstand 9,150 abrasion cycles meeting NEMA Standard LD3-2005
Chemical, stain, impact, scratch, and abrasion resistant FRP surface
Customizable with Interchangeable Graphics System
A variety of edging, framing, and mounting systems available
Value engineered for maximum functionality and design
Easy on-site fabrication allows for accurate outlet and sink cutouts as well as the ability to cut to size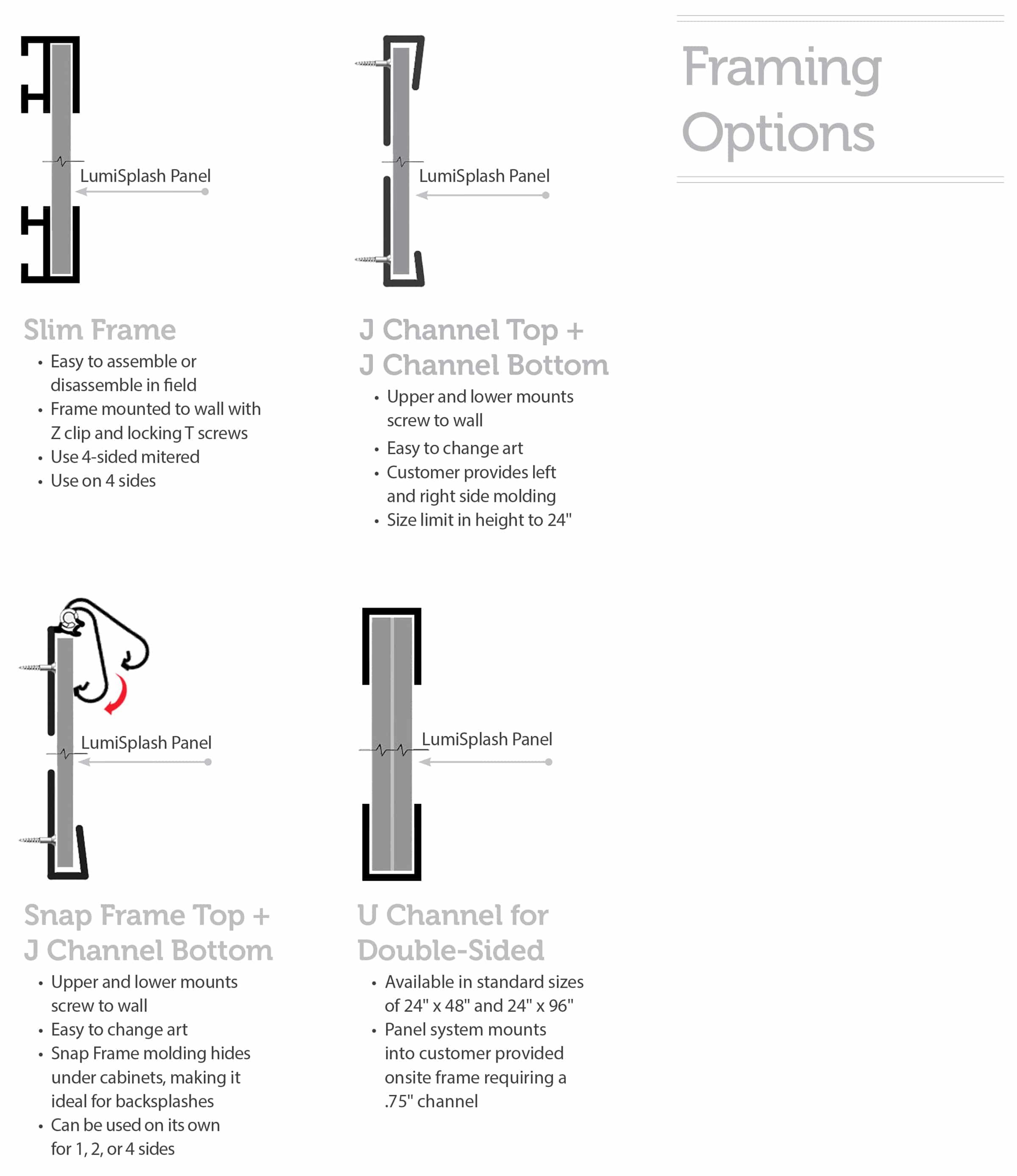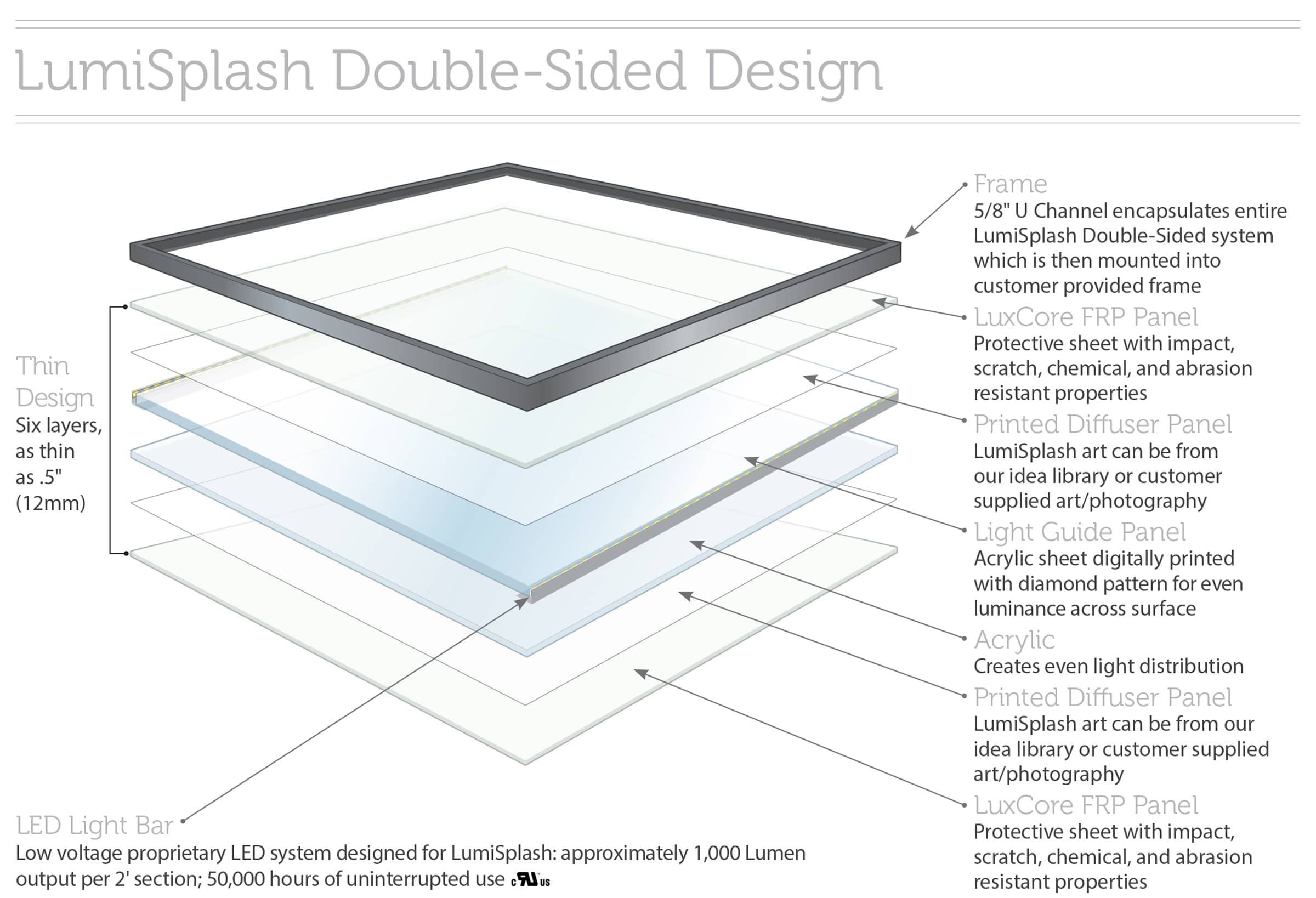 ---
Idea Library: Ever-Expanding Line of Graphics for LumiSplash
Choose from our extensive Idea Library, where hundreds of images have been specifically developed to work with both our Fusion and LumiSplash™ processes. One of the most unique features of LumiSplash is that virtually any image can be used with the LumiSplash application of your choice - from tabletops and bartops to interchangeable graphics and signage.
---
---
Enhance Your Space with an Innovative Solution for Ambient & Task Lighting
Watch our product video to learn how you can enhance your next project with LumiSplash. Ideal for hospitality, healthcare and institutional, retail, commercial and residential design markets.
Installation Instructions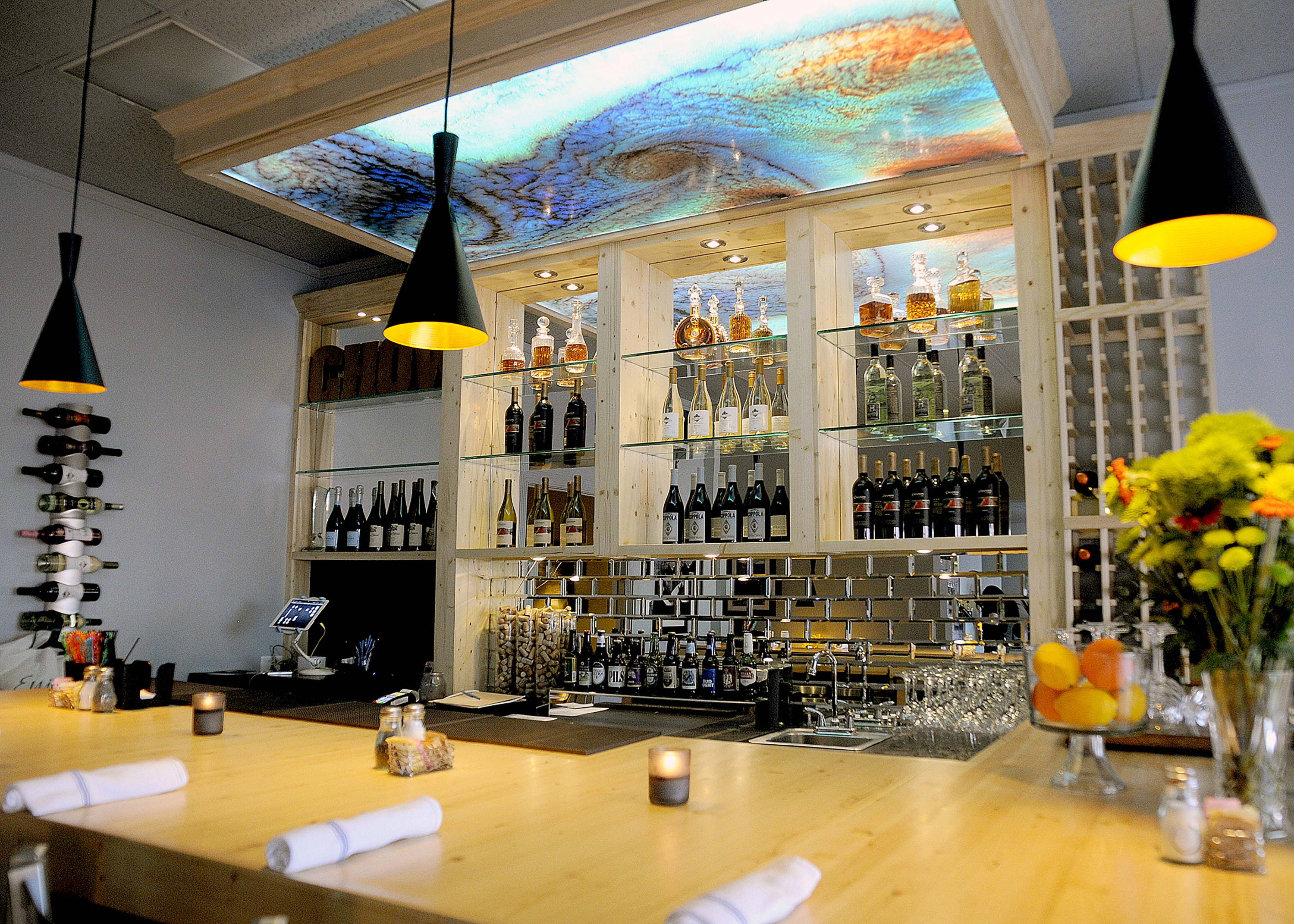 Earth 15 + LumiSplash Ceiling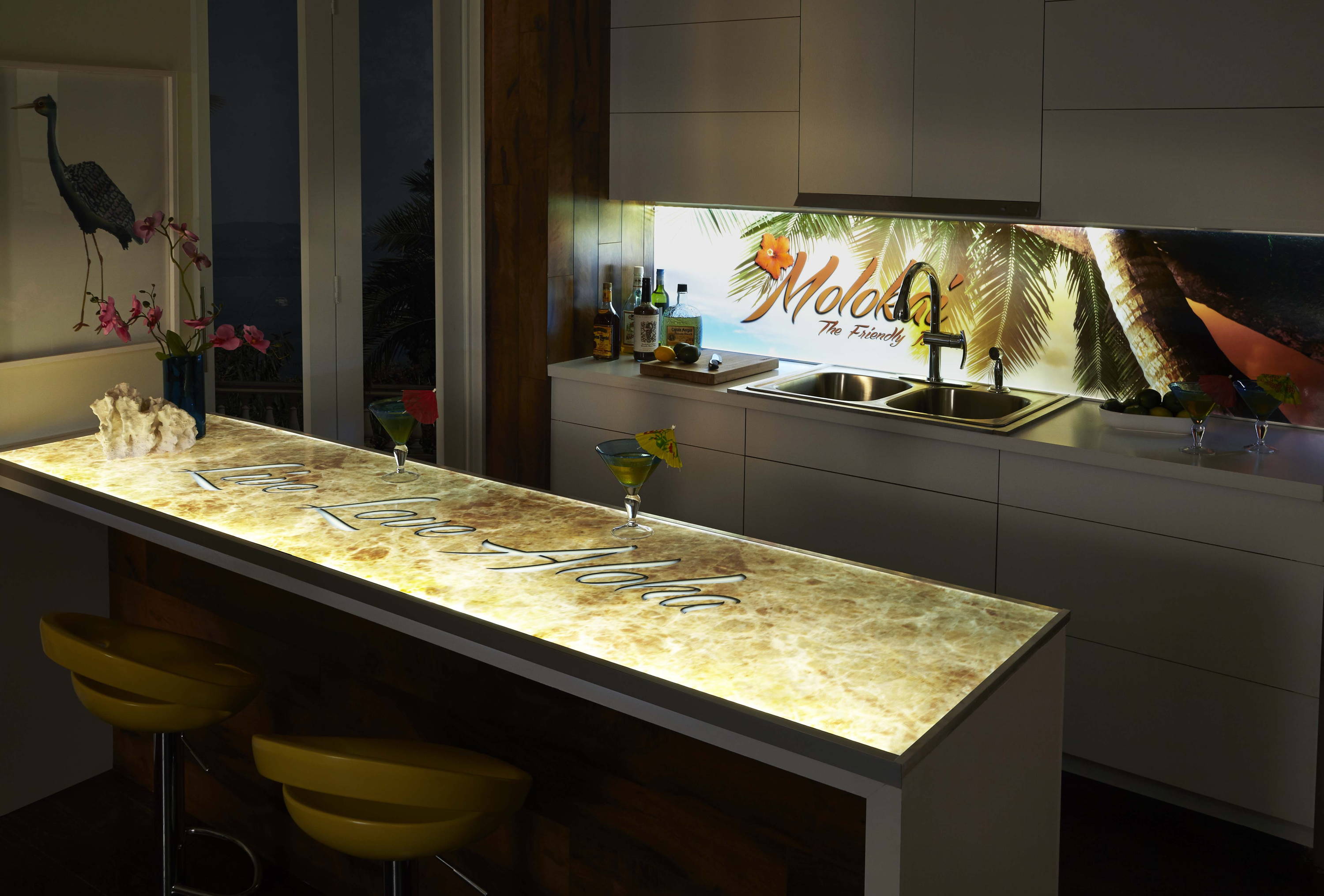 Beige Marble + LumiSplash Backsplash and Bartop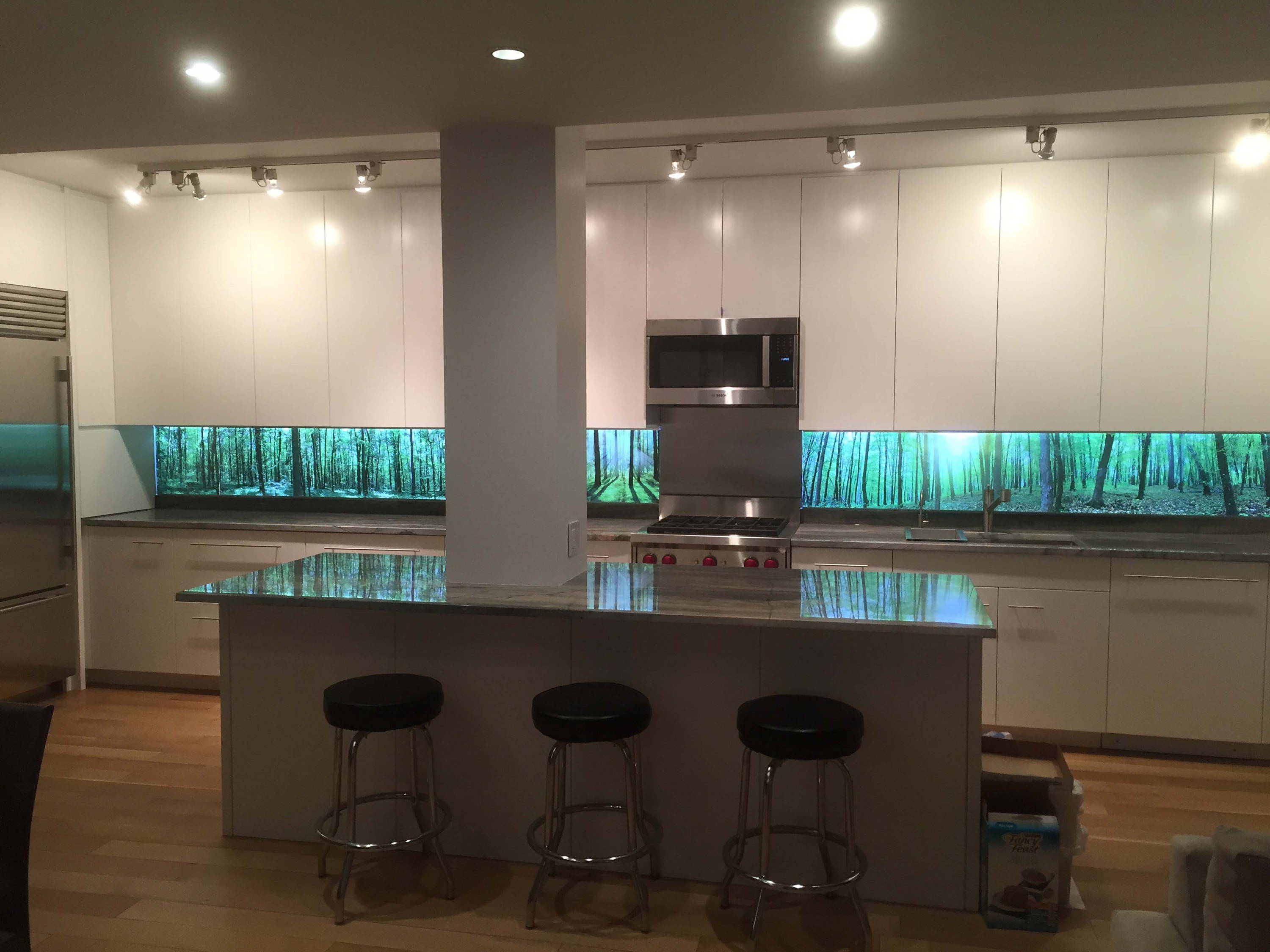 Custom Art + LumiSplash Backsplash
Nautilus + LumiSplash Art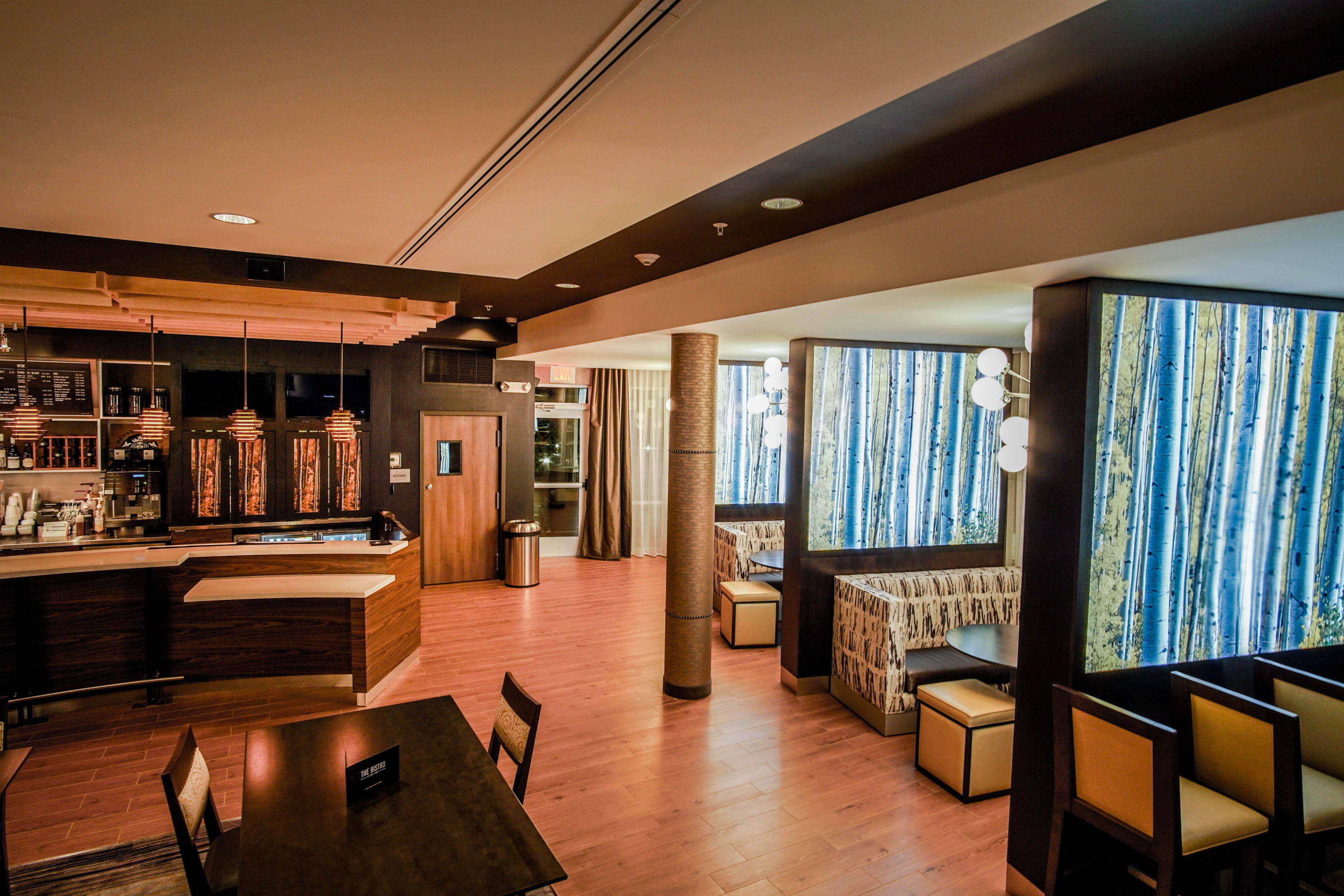 Birch Forest + LumiSplash Partitions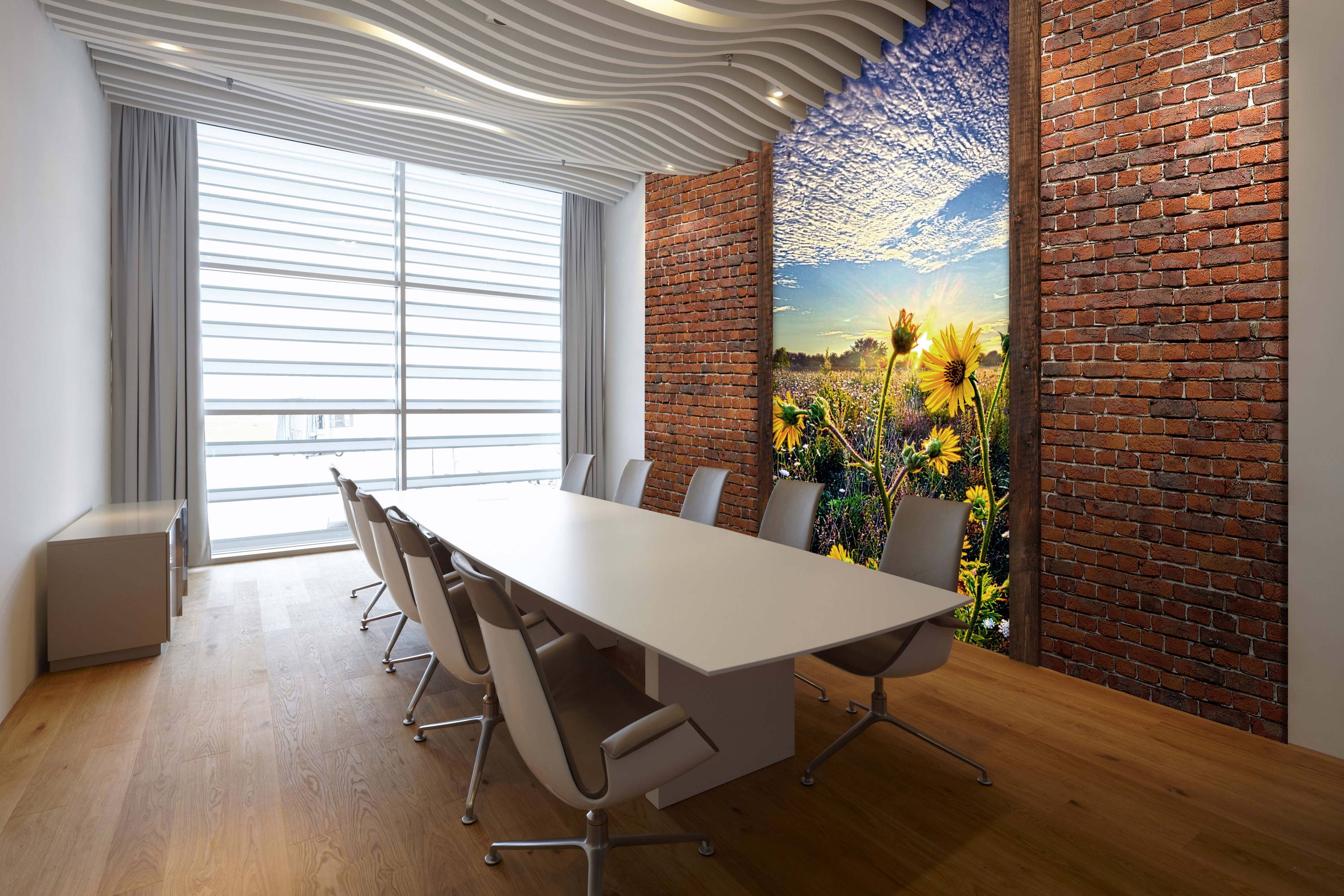 Sunflowers + LumiSplash Wall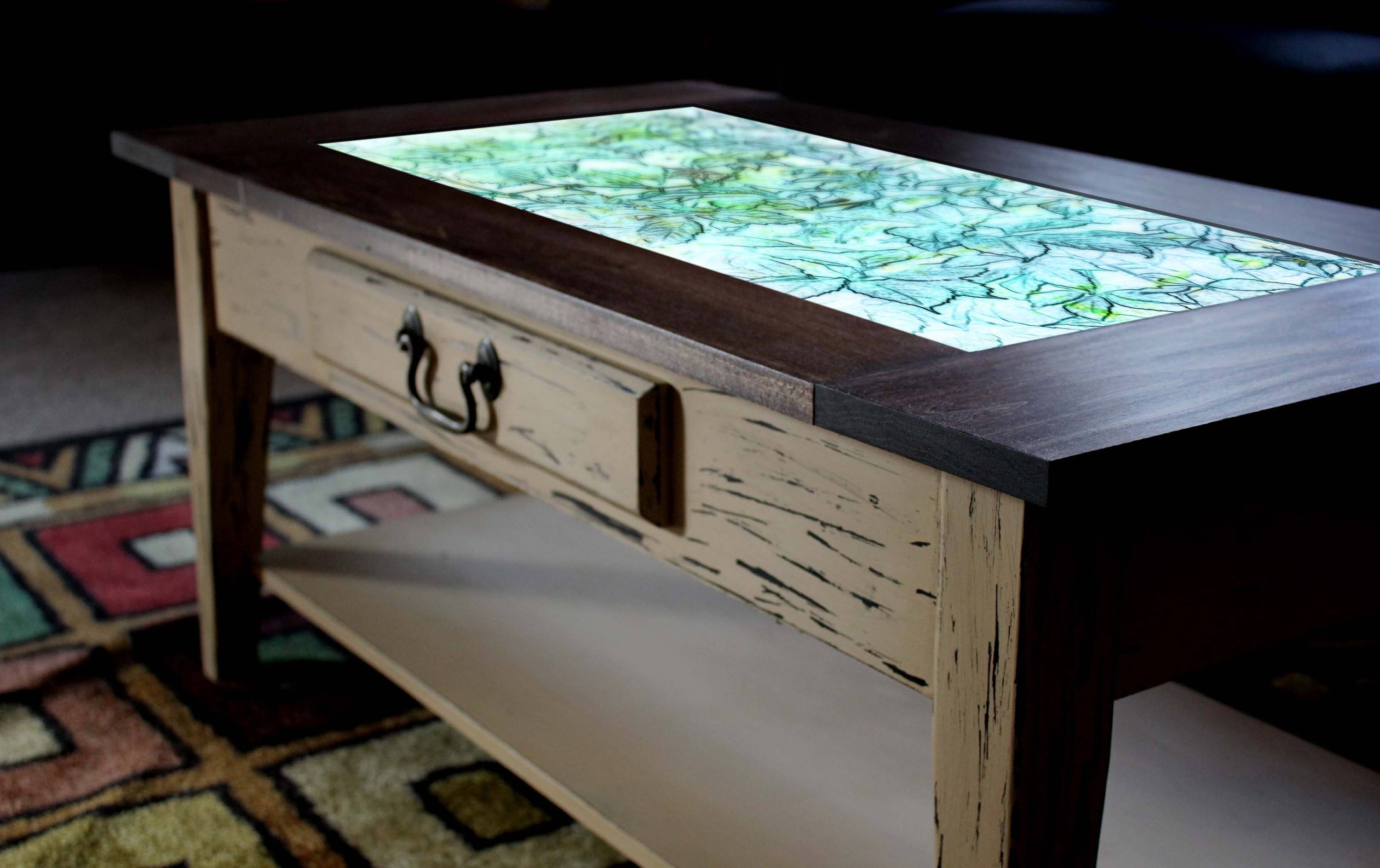 Hedgerow Indigo + LumiSplash Tabletop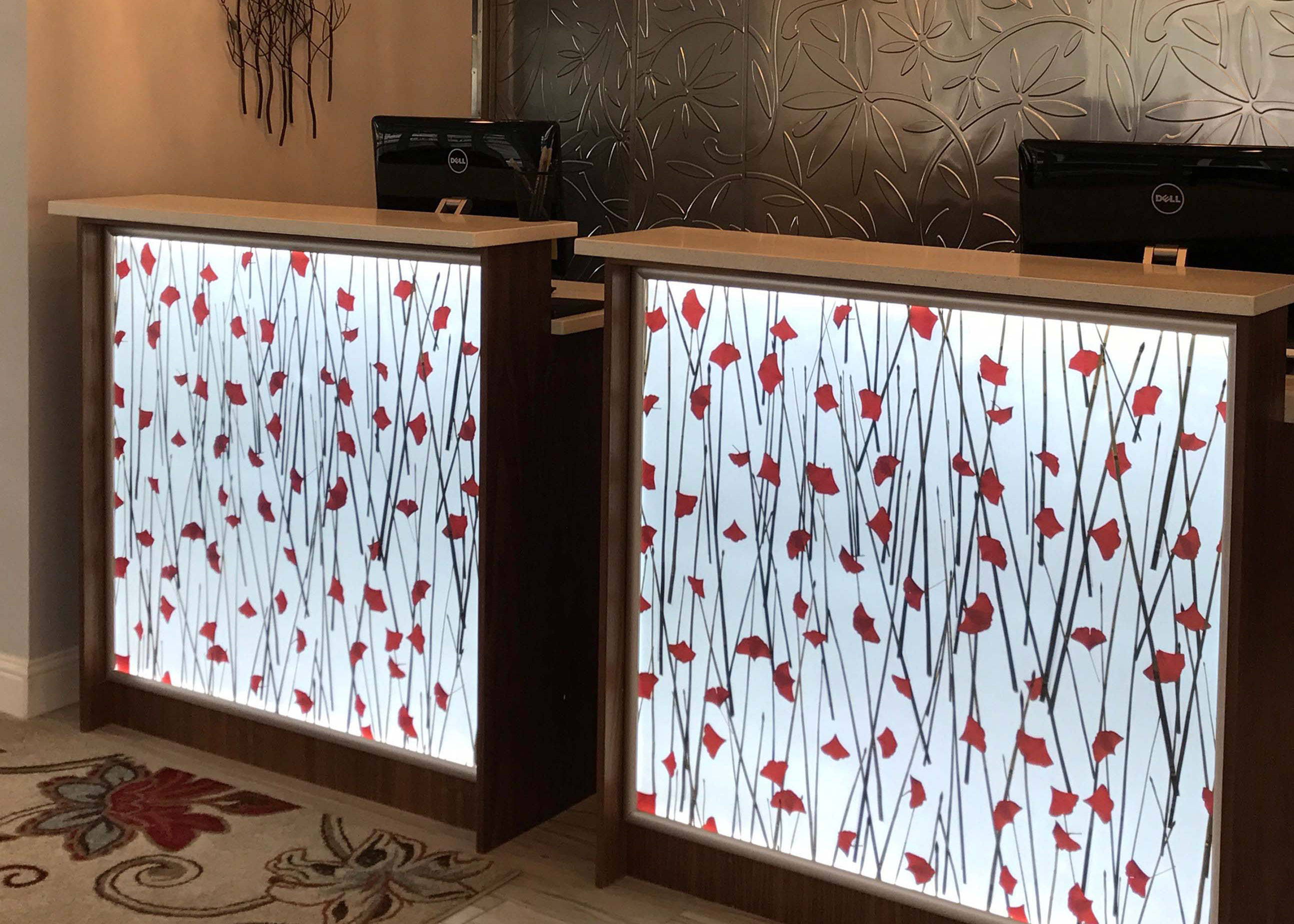 Ginkgo Reeds, Red + LumiSplash Casework