Posted by Milan Jara on 13th May 2020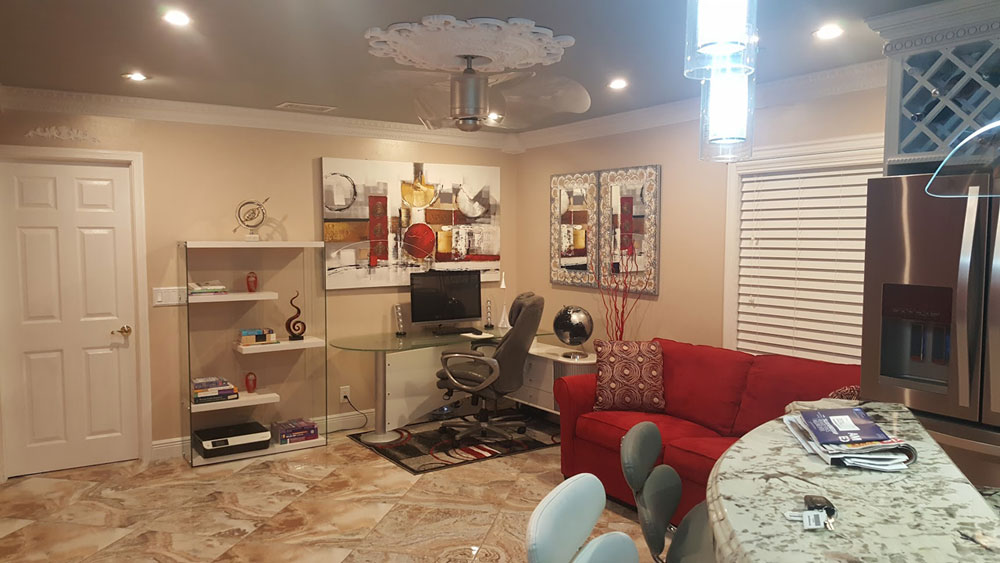 Whether your home has a contemporary style or traditional flair, ceiling medallions change the look of a space within an instance.
There was a time when ceiling medallions were usually made of plaster, but now they are made in lightweight and affordable polyurethane. With this innovative material, installing them has become a lot more DIY-friendly. With a range of styles, colors, and sizes readily available, they're a great way to add texture and visual interest to a ceiling and can complement any house style, whether it's traditional or contemporary.
If you're looking to learn how to install ceiling medallions, then this guide will give you a useful step-by-step guide on how to get started.
---
What Materials can be Used?
When it comes to ceiling medallions, there are a few options to consider. As mentioned, the more popular choice is a polyurethane medallion, but there are others on the market. At Decorative Ceiling Tiles, we have a small range of choices for you to think about. These materials include steel, copper, and aluminium. Check here to see the options we have available.
Whichever material you decide to purchase, you don't have to worry about the differences in installation steps. It's the same process except for the material in which you have chosen. However, if you do decide to go with a metal or wood medallion, then there will be slightly more work for you to take on. Aside from this, the majority of the process is the same.
Another difference with wood or metal medallions is that they are more expensive than polyurethane. However, you will get what you paid for as they are more durable and tend to give your room a much more elegant look.
The most important part while you shop for a medallion, is making sure it matches your overall design of the room you want it placed in. There are many design choices you can shop for. Common styles include Jefferson, Chelsea, Rochelle, and egg and dart. However, you don't have to pursue with these popular designs. Many manufacturers offer dozens of styles and with floral designs, curves and historical patterns that can come in a variety of different shapes.
Size
This is certainly an important point to consider. When choosing your ceiling medallion, the size of it needs to be correct. You don't want one that's too small and will go unnoticed. You also don't want a medallion that's too big and stands out for the wrong reasons. Your job is to make sure that the new medallion's size matches well with the size of the room.
Typically, people place their ceiling medallions to accent a light or a fan that's the focal point. As medallions are generally installed above the fixture, they will appear smaller than they actually are. To get this concept as accurate as you can, it's best to measure the room – not the size of the fixture.
If you want to calculate your medallion size correctly, using the steps in the following example will help you achieve that:
Measure the room and find the square footage. For this, multiply length times width (10 x 10) = 100 ft squared
Divide the square footage by (100/7) = 14.3
The medallion size for a room with these dimensions would be 14 inches or less.
What You'll Need: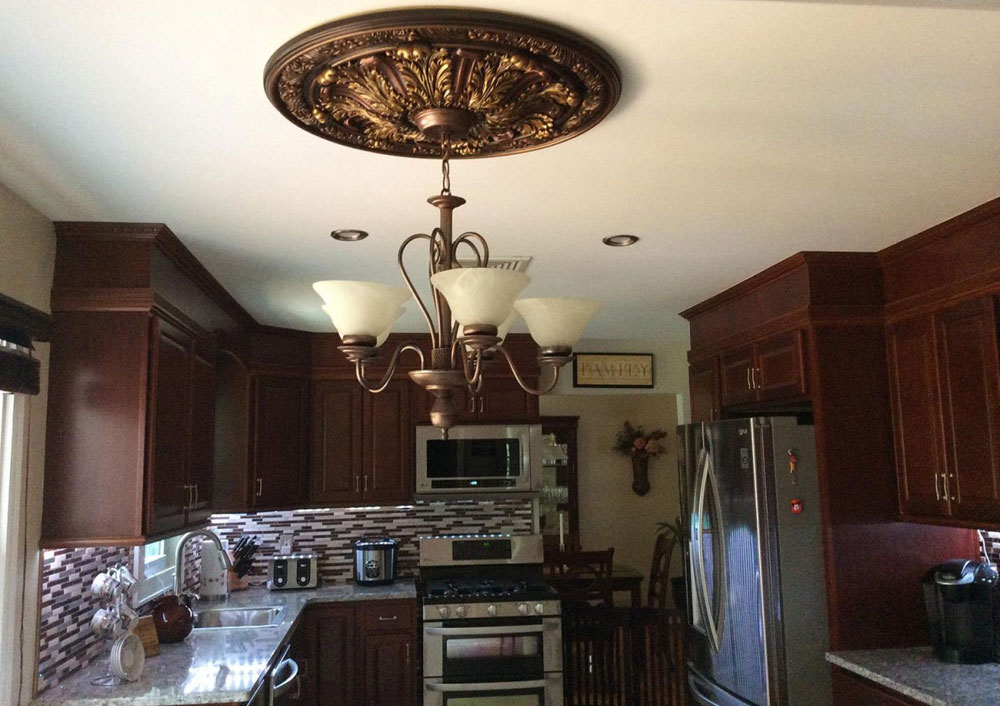 Ceiling Medallion (made of polyurethane, steel, or aluminium)
Drywall Saw
Sandpaper
Paint
Trim-head Screws
Drill
Adhesive Caulk
Step1
Firstly, for obvious reasons, make sure that you switch off the power to the light in which you're removing. Take down the fixture and cover all wires with wire nuts. Now, level and clean the section of the ceiling where you will hang the medallion.
Step 2
This step perhaps involves some measuring. If your ceiling medallion doesn't have a hole, you'll need to create one for the light fixture. This hole will allow you to pull the light fixture's electrical wiring through, but will be small enough to hide the wires. This is where you'll measure the light fixture's cover plate, and match it to the measurement of your medallion. To complete this step, draw a second circle that's about ½ inch smaller than the first circle.
Step 3
This is where the large bit comes in handy. You'll need to cut the medallion hole. To achieve this, drill a hole in the center of the medallion to provide access for the drywall saw. Insert the saw into the drilled hole and cut along the small circle you previously created. Make sure you sand the edges smooth. When completed, check that the light fixture's threaded bolt is long enough to reach past the ceiling medallion. If it isn't, then use a longer threaded bolt.
Step 4
This step is about prepping the medallion. For this, paint or finish the medallion as you desire. Then, apply adhesive caulk to the back of the ceiling medallion. Complete this action by aligning and attaching it to the ceiling.
Step 5
Now, grab the trim-head screws and attach the medallion to the ceiling while the adhesive dries. This process takes about two hours. Then, caulk over the screw heads. Once you have done this, it's time to reattach the light fixture and turn the power back on.
This is where you can take a step back and realize the decorative element it gives to your room. Once you've seen it up on your ceiling, there should be no reason why you wont love it.
Ultimately, installing ceiling medallions is considered an easy DIY project, but that doesn't mean everybody is capable of completing the job. For some, they aren't comfortable in dealing with electrical projects and others may not be comfortable in carrying out work being high on a ladder. If this applies to you, then avoid taking on the project. Alternatively, you can ask somebody else or even hire a professional to get the job done for you. Whichever way works for you, the end result will be the same – and that's having a ceiling medallion that will give your room a rich and polished look.