Dress up your plain walls with stylish trim that can also prevent scuffs and scratches. Wainscot panels (or boards) and moldings cover partway up the wall, it allows you to spruce up a room with such a simple strategy. Wainscoting is a blend of form and style that's endured for centuries. Even though this feature has been popular since the 1300s, it can still create a stunning elegance to any room you have in mind.
This article will show you different wainscoting ideas you can use for your home.
What Is Wainscoting?
As mentioned, wainscoting is a set of panels or boards and moldings covering a large section of the lower half of your walls. It sits at the same height as a chair rail (approximately 32" above the floor) or below. Typically, wainscoting is usually a complete piece of paneling, normally made from wood.
A key function of wainscoting is that it protects your walls. Plenty of scenarios can occur inside your home where your walls may suffer from sudden impacts, whether it's children bringing items in and out or whether it's you who is kicking off your garden shoes. Covering your walls with wainscoting has plenty of advantages, but the one that's most admired is they're incredibly easy to install.
Is it Right for You?
Wainscoting is available in various patterns and panels to match with almost any decor. There are many options to choose from, including plastic wainscoting panels, ship lap, or bead board. Usually, wainscoting is most often a safeguard for walls that are positioned to take a beating. Rooms that can benefit from wainscoting include kitchens, bathrooms, and foyers. If you have any of these rooms that contain a lot of wall damage, then wainscoting is a worthwhile option for you.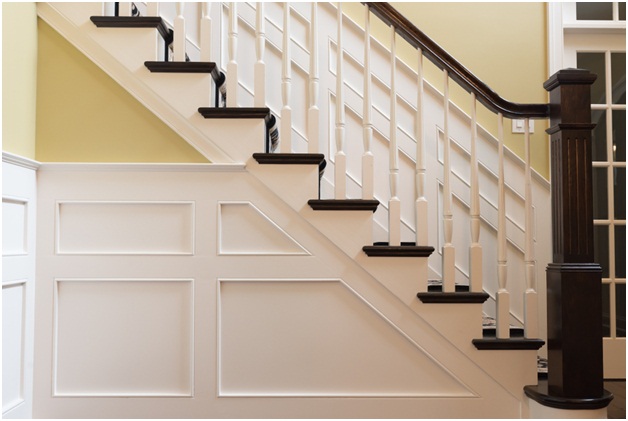 The Different Ways to Use Wainscoting
1. Entries:

Mudrooms or entries are where backpacks, boots, and wet umbrellas can impact your walls. A wood wall paneling offers a smooth and clean surface while also concealing flaws and unsightly features like wiring and cables. Wainscot in your entry way will give it a more refined look and add visual interest to otherwise boring walls. If you blend well with the paint color or pattern and add some color or even a shelf, then you'd have yourself a greeting space that's inviting and a lot more functional.

2. Stairs & Hallways:

These narrow hallways can always benefit from wainscoting because the walls are much closer together, giving far less room to avoid the walls from being hit or scratched. Wainscoting a stairway may be a little more work than any other area of a house, but it's still not as complex compared to other DIY projects available. As you are placing panels and bead boards on your wall upward at an angle, you must make sure that the trajectory is on an even path, taking a little more work and planning, but the result leaves you with a magnificent feature for your stairwell.

3. Eating Areas:

If you plan on wainscoting your dining room, get the planning on point so that you can end up with an eating area that feels inviting and warm.

If you plan on having a formal dining room, you'll most likely want a classic decoration. Wainscoting is an option for creating a classic theme, as well as adding an extra flair to your space.

When it comes to dining rooms, they often have limited furniture. Typically, you see a dining table with chairs and maybe a bookcase or a Chinese cabinet. Therefore, it can be a space that gets cold and unfriendly. By adding a wainscoting installation, you'll create a structural element that will add texture and make the room feel more accomplished and homier.

4. Family Rooms:

Adding wainscoting in areas where children – and pets – often hang around. A wood wall cladding mixed with upholstery can make a soft and warm ambiance, usually an important goal to achieve when preparing for a living room. Moreover, installing wainscoting within your living room also adds interest, style, and above all, a focal point. When you bring family and friends around for visits, the living room is likely to be the primary room for them to be in. Therefore, having a key feature like wainscoting is a chance for you to present a stunning space and create a warm and inviting place to feel at home.

If you're fortunate enough to have a recreational room in a basement, attic, or spare room, wainscoting is an ideal element to install because there are certain benefits it ignites. For instance, with a cap rail that's wide enough, you might be able to place a drink, pool-cue chalk, or even ping pong paddles between matches. If your recreational room is inside your basement, then perhaps try a corrugated metal – Dakota Tin – rustic steel wainscot. This would be an ideal material suited for a basement recreation room, especially if you already have a corrugated metal ceiling.

5. Bathrooms:

Wainscoting using warp-resistant wood is an excellent alternative to costly tiled walls and treated MDF that protects the plaster underneath the wall from water damage. Moreover, it gives it a warming effect in your bathroom, where porcelain fixtures, tile, and tub enclosures can prevail.

Wainscoting can match and unify a bathroom's decor and create a cohesive design that incorporates the bottom portion of the walls and features like the bathtub and the sink.

Bathroom wainscoting can be usefully practical, especially if you own a freestanding tub and you're looking to protect the walls from water damage. In addition, the wainscoting can continue to the adjacent walls and frame all sorts of features, including benches and vanities.
Wainscoting is a highly recommended feature that can highlight any room with almost any kind of decor theme. Not only does it bring beauty and elegance, but it also acts as a functional element, transforming various spaces for many purposes.