Posted by Milan Jara on 6th Apr 2022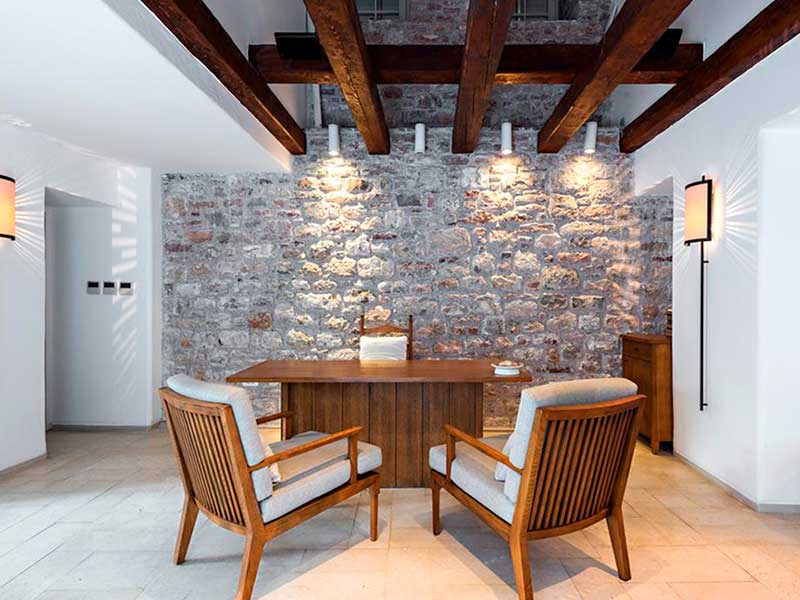 Faux stone panels are a great way to add character and value to your home's interior or exterior concrete walls. This guide shows you just how easy they are to install.
The popularity of faux stone panels is on the rise. More and more people are choosing to use faux stone siding to add some decorative style to the concrete walls of their homes and offices. There are a few reasons for this increase in popularity. One is that industry innovations in high-quality artificial stone veneers have improved massively in recent years, especially in terms of appearance, which is now identical to that of real stone.
Another factor contributing to the popularity of faux stone veneer paneling is more people are deciding against using natural stone veneer. Mainly because of how difficult and expensive the masonry work is to add to existing homes. The difficulty and high cost are from the cement board or metal lathe needed when the natural stone veneer is installed, which is attached with a mortar mix and galvanized nails and covered with a scratch coat of type S or type N mortar. Lastly, every square foot of the area is covered in natural stone. Often, you must cut natural stone siding and real stone veneer to fit into certain patterns, which are also difficult to do. This rather intricate installation process is also commonly used to install manufactured stone panels made of porous cement. As you can see, real stone and the cement variety of manufactured stone are very tricky to work with and absurdly expensive to install.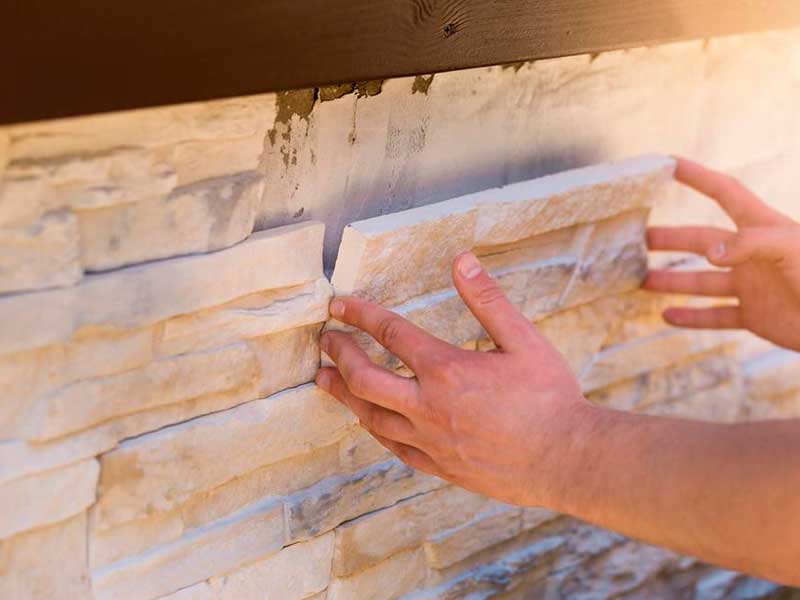 For these reasons, anyone looking to upgrade their concrete walls should certainly consider faux stone panels made with lightweight polyurethane. These innovative faux stone panels are so much easier to work with and are considerably less expensive than all other options. This versatile faux stone product also lends itself to a variety of DIY projects without requiring the need to hire additional labor. Some of the most popular applications include concrete foundation facades, chimneys, fireplaces, and interior and exterior concrete walls.
Installing faux stone panels on concrete is particularly useful for adding value and decorative flair to an otherwise plain-looking wall. So, if you're looking to spice up your interior or exterior concrete walls, then this guide will be your best friend. We say this because although stone veneer installation is much easier to install than natural or manufactured stone, you still want to ensure that it's done properly. This tutorial is not only going to show you how to install faux stone panels on concrete but also do so in a way that ensures it will stand up to the tests of time. We'll also let you in on some expert tips and tricks to help you get the job done quickly and easily. Let's begin.
Keep in Mind
Before we get into the specifics, it's important to stress that there are a few different ways to install faux stone panels on concrete. The install methods are determined by location and the faux panel type. For example, outdoor installation differs from indoor installation, and polyurethane panels don't install the same as cement ones. This tutorial mainly focuses on installing polyurethane faux stone panels on concrete surfaces indoors and outdoors.
You should also know the installation of cement faux stone veneer can be physically demanding since this type of faux stone siding can get heavy for some folks during the later stages of installation. Also, considering you'll be working with a compound that dries quickly, maintain focus throughout the entire process so that all steps are completed on time.
Tool and Materials Checklist
Tape measure and level
Construction adhesive & caulking gun
Electric or hand saw
Screws
Power drill
Exterior varnish
Safety Notes
Use the recommended tools.
Wear proper protective gear.
Follow power tools and adhesive instructions, and user manuals.
Use common sense and follow good construction practices.
Preparation
If you plan to install stone veneer indoors, allow the faux stone panels and the adhesive to adjust to room temperature for at least 24 hours.
Keep faux stone siding indoors and store flat for 24 hours before installation to prevent sagging.
Mark and cut the flat backside of the panel, not the textured front of the panel.
Because the panels interlock at the ends and along the top and bottom, you will create a seamless appearance.
Cut the first panel if necessary to get a straight edge.
It is advisable to install panels on a clean, level, and dry surface.
For best results, the first row of panels must be level and straight.
Always lay the panels in complete rows, working your way up. If your floor is not straight, the undersides of the panels may need to be trimmed slightly to make sure your installation is straight.
When installing the siding, we recommend staggering the panels.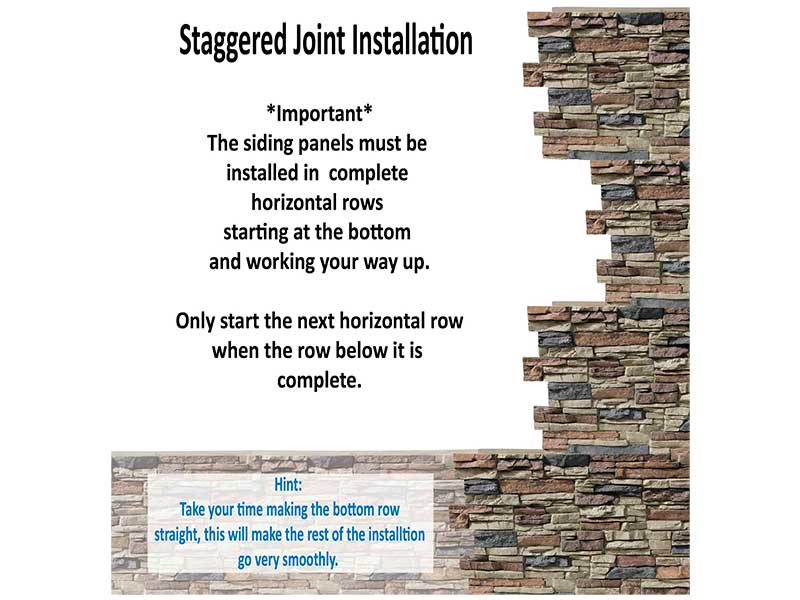 Install
You need to calculate the install space, then lay your panels in a horizontal row and make any cuts needed to ensure that they fit nicely.
*PRO TIP: For a cleaner install, it's best to use a putty knife to scrape off any bumps or other small imperfections from the backs of the faux stone veneer.
Next, you'll apply construction adhesive to the back of your first panel and press it firmly to the mounting, and nail or screw the panel into place as necessary.
*PRO TIP: We recommend TapCon screws when installing onto concrete.
As mentioned earlier, these panels must be installed starting from the bottom corner and laid in a straight, level horizontal line, ensuring that each panel fits straight and tight until the entire row is completed.
Once the first row of panels is in place, repeat the processes on the row above and continue until finished.
*PRO TIP: Insert screws/nails along the tongue of the panel or among other inconspicuous places.
To conceal any visible screw holes, use wood filler, and once dry, apply touch-up paint. We recommend you stagger the panels from row to row for a more natural-looking stone pattern.
*PRO TIP: To maintain the siding's structural integrity and beauty, we recommend painting it with a UV/fade resistant, exterior varnish.
Conclusion
If you want a natural stone look but prefer greater design freedom and lower cost, a faux stone veneer is an excellent choice. Because of its super easy installation, you can perform this project by yourself over the weekend with very little effort. Remember that there are plenty of options to consider regarding both stone veneer type and installation method. The methods and products outlined in this guide are, without a doubt, the most cost-effective and easiest way to go about transforming your boring concrete walls into a lovely decorative finish. Do your research regarding these products and install methods to ensure you're getting the most bang for your buck.