Posted by Milan Jara on 3rd Nov 2021
In this article, we're checking out one of the most popular building alternatives for stone. Faux stone is a popular substitute for natural stone in price, ease of installation, and even appearance. Keep reading for a rundown on the basics of faux stone and a full installation guide.
What is Faux Stone?
Faux stone is a somewhat broad category of product. In simplest terms, it means any man-made material made to emulate the look of natural stone. Also referred to as the stone veneer, faux stone is built to such exacting standards that it is often difficult to tell apart from real stone.
Not all faux stone is made the same, but it often uses some combination of materials, including lightweight natural aggregates, cement, and iron oxide pigment. Its lightweight nature makes faux stone only acceptable for decorative purposes and is generally not used structurally.
Why Faux Stone?
There are a few notable differences that make faux stone the preferable option over natural stones in many installation settings:
Cost
The most obvious factor is that it looks just like real stone but costs less. Faux stone often costs one-third to one-half of what natural stone costs. It's a great way to get that rustic, all-natural look without breaking the bank.
Weight
Faux stone is much lighter than natural stone, often in the realm of 75% lighter. Faux stone is easier to work with, and you can use it for applications that you can't use natural stone, including the ability to attach faux stone directly to most surfaces, such as concrete, brick, drywall, and more. Often, you attach faux stone using a special adhesive. It's an excellent way to add a finishing touch to a construction project.
Style
There's sometimes a tendency to think of faux stone as having a manufactured look, but we're happy to report that this is not the case if you buy a quality product. Many different manufacturers make many varieties of faux stone in all sorts of colors, shapes, textures, and more. You can find faux stone to achieve pretty much any look you are going for.
Workability
Faux stone is sold either as individual pieces which can be interlocked and installed piece-by-piece or as faux stone panels installed across a wall all at once. Faux stone panels are also generally more suitable for outdoor use. We show you how to install both types in the next section.
Installing Faux Stone
As mentioned above, faux stone comes as either pieces or panels. Faux stone pieces have a more arduous installation process but give your space a more natural look. Let's cover the installation of each in turn.
Installing Faux Stone Pieces
Process At a Glance
In a faux stone kit, you will find different faux stone pieces along with a natural adhesive material used to attach the stone. The kit will generally include flat, natural-edge, and corner pieces of faux stone. The stacked stone is meant to be stacked together with little to no gap between each piece, so the surface below is not visible.
Before You Begin
Before you begin the installation, you want to be sure that the surface to which you are attaching the stone is perfectly clean – free of any dust or debris. You also want to place your stones and adhesive in the room for at least 24 hours so that all the materials acclimate to the room's temperature and issues don't occur attaching the adhesive.
Measure
After preparations, you need to measure your surface to get an idea of how much area will be covered by stone and how to organize the stone to make it fit seamlessly. Do this by multiplying the length and width of the area to be covered and then subtracting the area that won't be covered (ie. a fireplace).
Lay Stones
Once you have the size and area settled, you need to lay the stones on a flat surface to get a suitable fit. Be sure that you don't have vertical seams extending from stone to stone as they appear awkward.
Check for Flat Surface
Install your stones on a level surface, so you need to check that the floor, countertop, or wherever you are installing the stone is level. If not, find the lowest part of the installation area and make a consistent line across the bottom of the installation surface. Then, create a vertical wooden board to be placed along this line and used as a guide. If the base is level, the entire installation will be level.
Begin Attaching
To install each piece of stone, take your adhesive and spread a consistent layer across the back of the stone using a putty knife. The adhesive layer should be roughly 1/8" thick. Press the stone against the wall to evenly disperse the adhesive.
Begin attaching stones from one end, using a natural-edge piece, since one side of the stone will be exposed. Work your way to the other end, piece by piece.
Cut Stone
As you place your stones, you will inevitably run into a problem where the last piece of stone on each corner or edge will not be the proper size to align flush with your desired edges. Therefore, you need to cut edge pieces to size. Measure where each edge piece needs to be cut and use a circular saw to make desired adjustments. Place modified pieces along each edge of your display.
Once you have got a handle on this process, it's a matter of repeating until your faux stone installation is finished – working upward, row-by-row. Remember to fit pieces tightly together, and always use natural-edge pieces where edges are exposed.
Clean Up
Clean any dust or debris from your stone-cutting, and wipe any excess adhesive off your installation surface (using warm water).
Installing Faux Stone Panels
Unlike the installation process above, faux stone panels don't involve stacking. The installation process is generally much more straightforward, but there are still many important things to note when installing a stone wall. Here's how to do it:
Indoor and Outdoor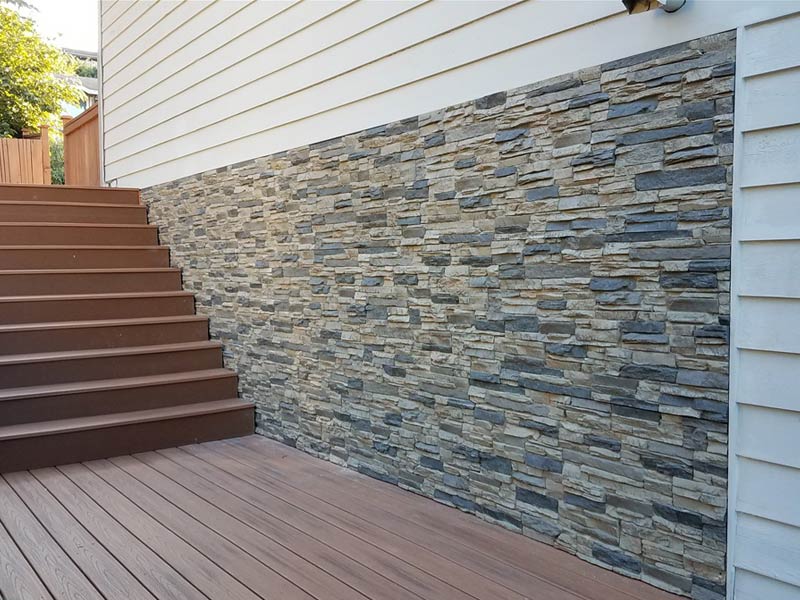 Unlike faux stone pieces, faux stone panels are often suitable for outdoor installation. If you are installing panels outdoors, you'll need an outdoor-grade adhesive, as well as masonry screws. For indoor use, you'll need regular adhesive and wood screws.
Measurements
Before installing a stone panel wall, you want to take accurate measurements of the area where you plan to install them. Take account of the entire area and attempt to lay your panels in place before installation.
Place Panels
Before installing the panels, we recommend that you place them temporarily along the wall to ensure fit. Make sure the panels rest level along the floor. If the floor isn't perfectly perpendicular, draw a flat line and insert nails to rest the panels.
Install Panels
You should install the panels left to right along your work surface, ensuring a tight fit between each panel (the panels might have slots on the back for interlocking). To install each panel, apply several lines of adhesive across the back and affix them to the wall. After that, use nails or screws (roughly 8-10 per panel) to affix securely to the wall. Be sure that the panels are placed in proper order and positioned to interlock with each other in a row. Continue along your work surface, repeating this procedure for each panel.
End Panels
You will likely run into problems with fit at the end of each row of panels. In this case, you will need to use a saw (table saw, circular saw, mitre saw, etc.) to adjust the panels to fit neatly against the edges or corners of your faux stone installation area. Measure the dimensions and cut before installing.
Horizontal Panelling and Seams
Because each row of panels may be identical, you will want to adjust the panels to avoid any vertical seams. To do this, cut the first panel of the second row in half, which effectively staggers the panels in each row, eliminating vertical seams in your work.
Repeat the above steps until all your panels are installed.
Corners
If installing faux stone panelling around corners, make a 45-degree miter cut in your panels to attach them around the corner, creating an inside and outside corner where the panels can be attached.
Don't Be Afraid to Contact a Professional
Faux stone is a great building material, and its lightweight nature makes it much easier to work with than natural stone. That said, it's still a complicated process that involves plenty of precision. So if you're uncomfortable installing the faux stone yourself, don't hesitate to contact a professional. A professional takes special care to address the particulars of your installation area and is familiar with common hazards and roadblocks in the installation process.
Conclusion
Thanks for reading our guide to faux stone. We hope we convinced you of the benefits of faux stone as an alternative to natural stone and the many areas in which it is superior to natural stone. Use our guide to learn about the installation process, but don't be afraid to contact a professional at any point!