If you've ever dreamed of adding a stone look to your home or office, this article will guide you through the process of installing faux stone panels on interior walls.
With their design flexibility, speed of installation, and affordability, faux stone panels are rapidly taking over the masonry market. No other product offers DIYers the number of easy and rewarding home improvement options that faux panels can. Using it also has many advantages over natural, cultured, or manufactured stone veneer. These advantages result from the fact that some of the best cast/faux stone panels are foam-like, made mostly of polyurethane, which has the following qualities.
Durable and heat resistant like actual stone
Much less heavy
Polyurethane-based material comes in just about any color, texture, and design you can think of
Perfectly mirrors the look of different home décor and natural stone walls
Can easily cut to shape
Practically maintenance-free, needing only a quick wash now and then
Thanks to these unique characteristics, fake stone veneer is extremely versatile. Because it can mimic the look of real stone without being too heavy, it's relatively easy to install anywhere, including your fireplace, an exterior wall, or an interior accent wall. These fake stone panels typically only weigh about a pound per square foot, which makes carrying a bunch of them and lifting them to the wall for installation a breeze when compared to the thirteen or so pounds per square foot of real stone.
For those who want to beautify their interior walls easily and inexpensively but aren't sure how to, this article is something you're going to want to read. We say this because there are a few helpful tips and useful information you need to know before installing manufactured stone on your interior walls. Following this guide on how to install faux stone paneling on interior walls will show you how the process works and provide you with a few vital details on what to expect when working with these faux stone panels. Hopefully, this information will show you how easy this product is to install and further convince you that this is the wave of the future in decorative panels.
Preparation
Before beginning your installation, you first want to prepare to ensure that the process goes as smoothly as possible. Here are a few things you need to do before starting your faux stone panel install.
Acclimatize all panels by storing them indoors, out of direct sunlight, and lying flat for at least 24 hours before installing. If you stored your faux stone panels in a cool climate or at room temperature, you can install them immediately.
Throughout the installation process, follow all safety instructions and recommendations provided by the manufacturer.
Comply with all applicable building codes.
Always maintain clearance from stoves, fireplaces, heaters, and other heat sources, as specified by the manufacturer.
Inspect the wall to ensure it is structurally sound and in good condition.
Double-check to ensure you have all the correct materials and tools needed.
Pro Tip: Storing faux stone siding panels indoors and flat will help to prevent bowing. On rare occasions, there might be some random bowing of the panels. If so, you can lay them flat, and they will correct themselves.
Required tools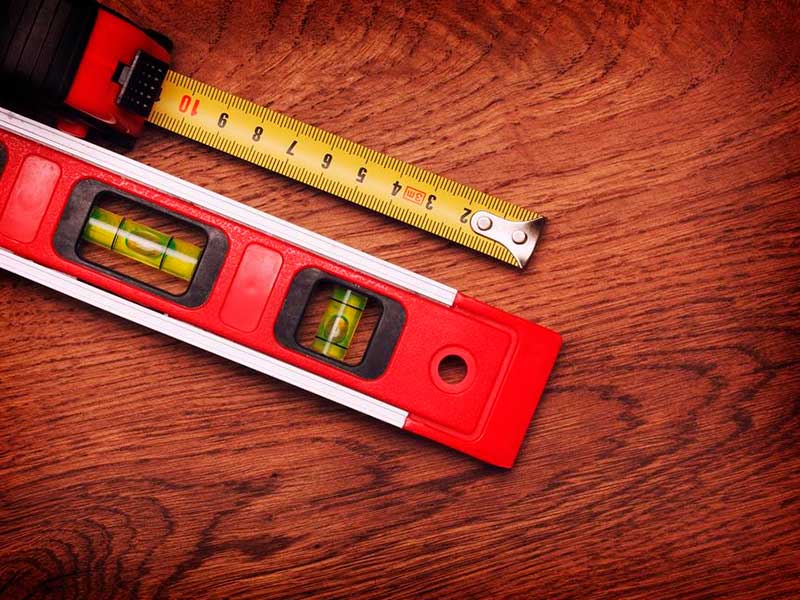 Tools You'll Need
Screws
Hammer
Nails
Level
Pencil
Construction adhesive/glue
Screwdriver
For custom cutting: table saw, circular saw, miter saw
Installation
Before we get into the installation process, it's important to stress that there are a few different ways to go about installing faux stone panels. No methods are as simple as the ones in this guide. Check the manufacturer's install information for your brand before attempting this installation.
Most faux stone panels can only be installed by interlocking panels at each end from left to right or right to left in horizontal rows and then along the top or bottom. This method allows the individual panels to come together with a seamless look. Some types will also need to be staggered when applied to the wall and may require adjusting and cutting for proper alignment. For example, often you only need to trim the first and final panels to make sure the edge is straight. So, to accomplish this, it's important to inspect your panels to determine which way they install and whether adjusting is necessary.
PRO TIP: To reduce waste, try using pieces from previously cut panels for the beginning and end of each row.
Once you have a solid grasp of how your panels line up, you need to clean the install surface. Remove any loose dirt with a moist clean towel and give it some time to dry. Doing this will allow your panels to adhere to the wall better.
Optional: Often people like to take extra precautions by marking guides on the wall when installing to ensure that their panels are level and perfectly straight. Use a laser level to determine the high point of the floor. Mark this height and draw a horizontal line through the high point across the wall.
PRO TIP: If the floor isn't perfectly level, the panel's bottom may need to be trimmed slightly to ensure a level installation.
Next, figure out how many panels will fit in the first row. If you're installing from the floor to the ceiling, trim the bottom of each first-row panel, ensuring they sit flush with the ground. Next, if necessary, trim the "fingers" on the first panel to create a straight edge.
PRO TIP: Due to the panels being highly textured, and to avoid unnecessary damage, we recommend that all measurements be marked and cut on the flat backside of the panel.
Next, apply a generous amount of construction adhesive to the first panel and, starting from the bottom corner of the install area, press it firmly against the wall surface and screw or nail it into place. Repeat this installation process with the other panels, making sure they are pressed firmly against one another in a full horizontal row. Once you reach the end of the first horizontal row, begin the second by starting right above the first panel of the first row. The first, second-row panel needs to be stacked on top and fit in behind a protruding lip on the top first-row panel. Once the first row is in place, finish the second horizontal row by fitting each panel snugly on top of the panel below and on each side. Repeat the process by working your way up only after completing each horizontal row until you finish the wall.
PRO TIP: You must install the first row of panels level and straight; otherwise, the entire area will be out of line.
Install Notes
You can cut panels with a table saw or a miter or circular saw. Using a blade with 80 teeth or greater is necessary when using a circular saw.
Accessories, like corners, ledge trims, outlet covers, and more are usually available from the manufacturer. Using these can help make installation easier and the finished appearance nicer.
You may need to fill screw or nail holes or other openings with wood filler.
Conclusion
Again, some faux stone interior wall panels may install differently than what we described in this guide. Always check with the manufacturer of your particular faux panels to confirm the install method.
Hopefully, this guide will show you that faux stone panels are easy to install and that the unique attributes of these panels make them one of the best ways to add a bit of decorative flair to your interior walls. There are very few products that can accomplish so much with such little effort.