Posted by Milan Jara on 31st Mar 2021
Although faux tin tiles are usually made of Styrofoam or PVC plastic, they normally look like real tin. That makes them a great option if you're looking to implement tin tiles without the extra installation and maintenance work. Faux tin tiles possess many advantages. For example, their versatility means they're not confined for use on your ceiling or as a backsplash. Here are some creative ways you can use your faux tin tiles.
Unusual and Creative Ways to Use Faux Tin Tiles
Faux tin tiles, which come in various styles and colors, can really change the entire look and feel of a room. You can use them for projects you never thought possible.
Here's a range of unusual yet creative ways to use your faux tin tiles:
Picture Frames - You can cut and glue a faux tin tile onto a standard picture frame. It's a fun project that will bring more beauty to your home and add something extra to the memories or artwork you love.
Custom Tabletop - This is a great way to use faux tin tiles, depending on the size of the table you're planning on customizing. These tiles will add new life to any vintage table.
Mosaic Arts - Mosaics, whether for a mixed media art project or a collage, are a great way to get creative. Implementing faux tin ceiling tiles will help turn these ideas into something stunning.
These are just a few examples of what you can attempt with faux tin ceiling tiles. Their uses are plentiful if you can use your imagination.
Home Theaters
Faux tin tiles can also be used for untraditional rooms. For example, they're a fantastic match for a home theater.
A home theater's acoustics aren't always ideal because it can be enclosed in a hard-surfaced area, often making speaker vibration an issue. Faux tin tiles made from Styrofoam can resolve acoustic and vibration issues for nearly any home theater setup by lining them up on the shelves where the speakers are mounted. You can also cut them to fit the bases of the floor speakers. Just let your imagination flow and allow these tiles to enhance your sound quality.
Restaurant Ceilings
Faux tin tiles are a great option for your restaurant's ceiling. They can give your establishment a classy, modern look to make your customers feel welcome and comfortable.Plus, the installation process is so straightforward, you might be able to do it yourself.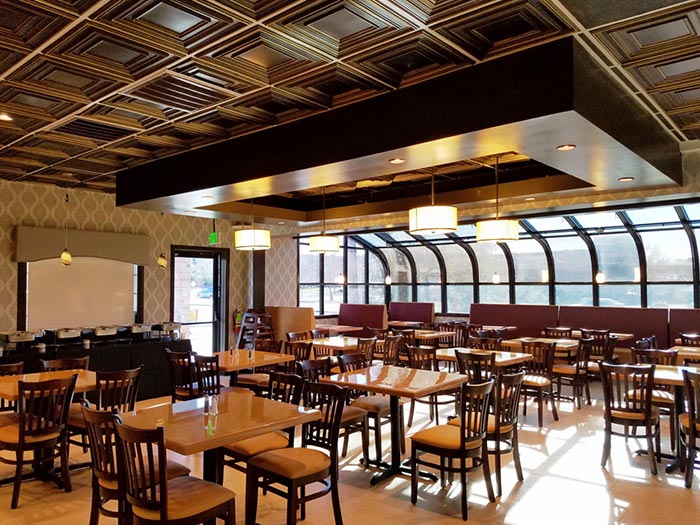 Faux tin tiles will also enhance your space's sound quality, as mentioned above. They'll help you sell your environment and keep customers happy.
Conclusion
Many crafters and DIYers use faux tin tiles to undertake projects we would never have imagined. That's the beauty of this kind of ceiling tile -its versatility allows you to create items and spaces sparked by your creativity.