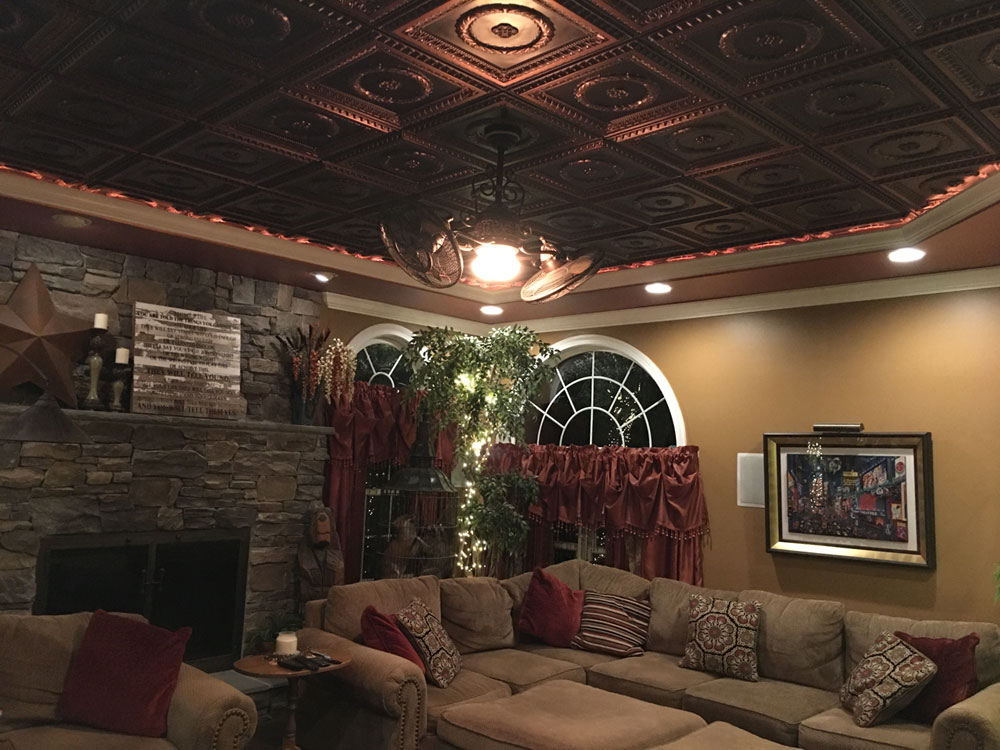 Decorative dropped ceiling panels are an effective way to glamour up your old ceiling in need of a facelift. What makes drop ceilings a popular option is that they are easy to fit, completely affordable, and surprisingly creative.
The evolution of drop ceilings has changed the way decorators visualize their plans of revamping their ceilings. Drop ceilings are no longer considered a convenient cover-up for hideous basement wires or a popcorn ceiling. They are now a way to add highly-styled patterns and textures and express your personal taste. With a wide array of modernized decorative options, it's simple to create a look you'll instantly fall in love with.
Here are several ideas for selecting a style right for you.
---
Faux Tin
This option is perfect if you intend to make this a DIY project. Don't be fooled by the way these tiles look. They may appear to be solid metal but they are indeed made of strong, durable PVC that's incredibly lightweight and an easy ceiling grid to install.
A common issue that people have when it comes to metal ceiling tiles is the echoing effect they generate. That said, our faux tin tiles do not have this problem. They are immensely affordable and feature a Class A fire rating which should make you feel more secure – whether it's in your own home or in a commercial setting like an office or warehouse.
What Kinds of Faux Tin Tiles Are Available?
One of the most in-demand options is the Elizabethan Shield design. This wonderful design is easy to install and becomes the focal point of any room.
That said, there are numerous faux tin options available and they all come in styles and finishes that complement any type of decor. Some of our popular choices include:
La Scala
Laurel Wreath
Lilies and Swirls
Steampunk
Princess Victoria
Milan
There is no denying that Faux Tin tiles are more popular than any other option for a drop-ceiling. The designs listed here are the more in-demand options on the market. However, if you check out our catalog, you'll find many other faux tin options to choose from.
---
Aluminum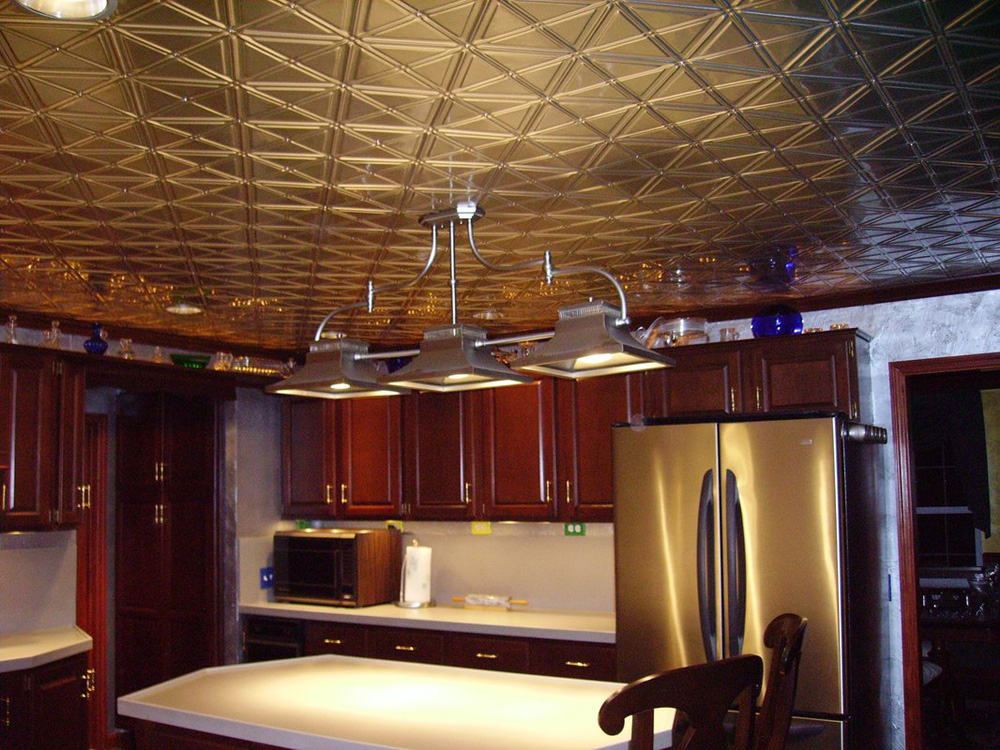 This option tends to be for those who dislike painting. If that sounds like you, consider aluminum tiles for your drop ceiling. These pre-finished tiles are available in many different patterns as well as a large number of color options that eliminate the need to paint.
The key features of aluminum tiles are that they're elegant and versatile plus they complement both cool and warm tones while bringing distinction to any home décor.
What Kinds of Aluminium Tiles Are Available?
One design that stands out in our collection is the Princess Victoria style. The tiles are compatible with many surfaces, including plywood, furring strips, suspended ceilings, and suspended ceiling systems.
Just like our faux tin collection, there are many aluminum ceiling tile designs to choose from. Some are more popular than others. Here is a list of the more popular designs:
Detailed Fleur de Lis
Mini Fleur de Lis
Al Fresco
Jazz Age
The Lounge
Guardian Cherub
All of our aluminum ceiling panels are well-detailed and can become the focal point for many rooms.
---
Copper
The intricate designs on copper ceiling tiles recreate vintage tin patterns. Beading, scrollwork, and other decorative flourishes make a textured and visually enticing focal point. As the eye is swept up by this striking visual element, the sense of depth expands and the room feels more open.
The natural copper color adds a sophisticated flair that not only draws attention but also enhances most decorating schemes with its warm undertones. A reflective glow from the finish opens up space, making the room feel larger and full of energy.
What Kinds of Copper Ceiling Tiles Are Available?
There's a range of patterns and textures in our copper ceiling tiles collection. Some of them are hugely popular and in-demand. Here are some of our customer's most popular choices:
Piazza San Marco
Gingerbread
Manhattan
Wine Country
English Garden
With a wider range of options, you might be ready to add copper tiles to your home. If so, start by choosing your installation method. Copper tiles can be installed in a drop ceiling grid or directly to your existing ceiling. If you have enough ceiling height, create a false ceiling to give you easy access to the wiring, duct work, or pipes above which makes it easier to do repairs when needed.
---
Tin-Plated Steel
These drop ceiling tiles are extremely budget-friendly and incredibly easy to fit, whether or not they're installed by you or a professional.
When it comes to this specific material for your drop ceiling, it gives the room a classic appearance. This is one of the most popular historical tin ceiling tiles and can be used for nail-up or drop-in ceilings or even backsplash.
What kinds of Tin Plated Steel Tiles Are Available?
As a popular material for a drop ceiling, there are hundreds of designs that are available to choose from. Our most popular are:
Princess Victoria
Queen Victoria
Edgerton Square
Shanko
Lincoln Square
Jazz Age
There are a lot of other options in our collection so you're sure to find one that works in your home.
Before you pick out your perfect design, take precise room measurements before ordering tin panels. If the panel designs don't fit exactly, there's no need to worry, patterned filler panels compensate for inexact proportions or corners that are not at 90-degree angles.
Now that you have some ideas for the room you want to change, it's time to step up and get the job done. Remember, don't be afraid to be creative. Revamping a ceiling is a big decision so make sure you're set on a design that you're going to love for a long time to come.