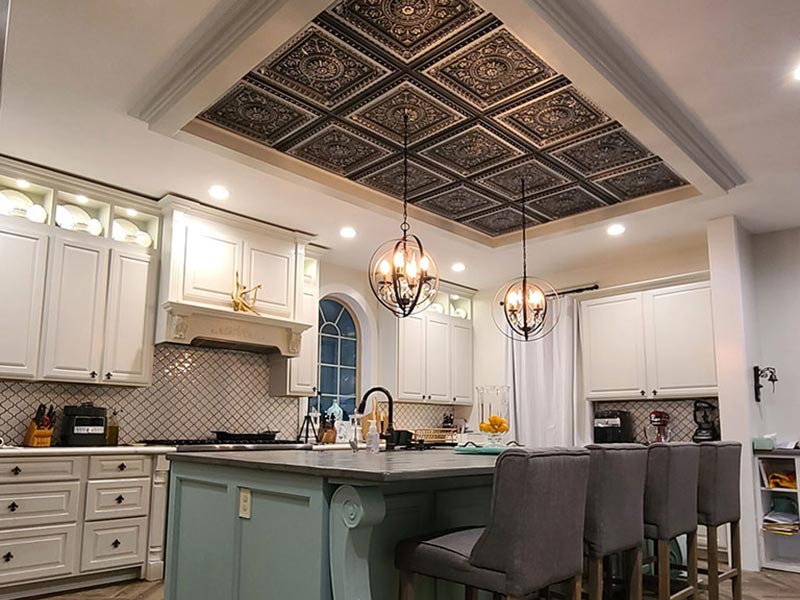 With more home owners deciding to take on home renovations themselves, there are certain factors that need to be identified before taking on projects around the house. When you knock down walls and tear out floor tiles and old pipes, you might be contaminating the air you breathe with toxic asbestos fibers. That's why it's essential for you to check up on this before you even begin fitting new ceiling tiles.
This guide is to help you become aware of the dangers of asbestos and what to do if you suspect it's within your home. You will learn how to manage it so you and the rest of your family will be unharmed by this toxic mineral.
How Can You Tell if the Ceiling Tiles You Need to Remove Have Asbestos?
For decades, there were many cases of decorators removing asbestos from buildings and homes during renovations. The reason for this was that asbestos was used in ceiling and floor tiles, cement, adhesives, and plastics, among other materials. However, as evidence suggested, it's too dangerous. Such products were discontinued unless given permission by the EPA.
With this in mind, if you happen to have an older home and are keen to have a particular space renovated, it is important to identify whether or not you could be dealing with asbestos. If you know your home was built between the 1920s and 1980s, then there is a high chance your home contains asbestos. This mineral became a standard option for kitchen ceilings as well as remodeling basement areas in order to cover up hideous duct work. If this applies to you, then it is best to have a sample tested by a professional as it is difficult to identify asbestos if you are not trained to do so.
However, if you are strongly determined to find out whether your home contains asbestos before passing the inspection onto a professional, these are some tips to consider:
Look out for the manufacturer stamp on the back of a tile
Several companies were known to use asbestos when it came to their business projects. These companies included Armstrong Corporation, Celotex, Conwed, and United States Gypsum. If any of their stamps are printed on the back of the tile you need to remove, and your home was built prior to 1980, it is more than likely that asbestos has been used.
Drop ceilings, suspended ceilings, and acoustic ceilings
If you happen to know whether your ceiling tiles belong in one of the above categories, then this may be an indicator as to whether you do have asbestos ceiling tiles, especially if each ceiling tile is sized between 2x2 and 2x4. For further identification, if the tiles are either shaped square or rectangular, then it is best to have them further inspected by a professional.
Other features to determine asbestos ceiling tiles include:
Light in color
Pinhole markings
Mild texturing
Powdery appearance
If any of these features are identified in your ceiling tiles, and if your home was built between 1920 and 1980, then it is almost certain that asbestos has been used inside your home. This will be the time to seek a professional for further assistance.
Popcorn Ceilings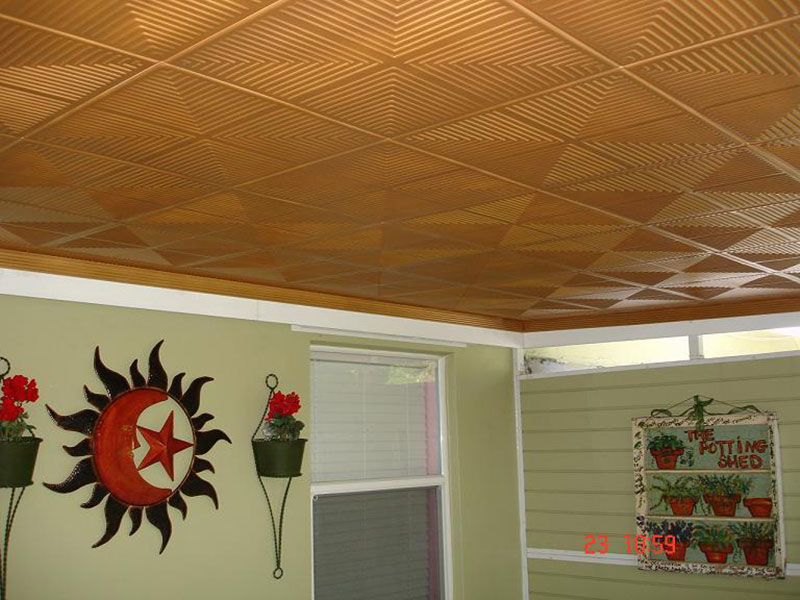 This type of ceiling is common within homes across the United States. It is a plain ceiling that contains dimpled drywall that was highly used throughout the 1940s to the early 1990s. This should tell you that the likelihood of asbestos being trapped within this kind of ceiling is plausible. Therefore, if you are living under a popcorn ceiling, then chances are you have been beneath asbestos since the date you moved in.
Throughout this era of construction, asbestos was a common feature for building materials as it was fire-resistant, inexpensive, and strong. If your home contains a popcorn ceiling and you are adamant in having it renovated in some way, then it is best to weigh up your options on what to do.
Typically, when it comes to renovating a popcorn ceiling that may contain asbestos, two options tend to be carried out:
Asbestos Removal: This involves carefully disposing your ceiling's asbestos products. This should be carried out by a skilled professional so that you aren't exposed to this mineral.
Asbestos Encapsulation: This is the term to describe a cover up of a popcorn ceiling. This may be the best option as it prevents fibers from releasing into the air.
What to do when Asbestos has been Identified Inside Your Home?
If you're almost certain that asbestos is inside your home, it is critical that you do not touch it. Even if you think the material is in adequate condition, it's still best that you leave it untouched.
If the material happens to look damaged or if future activity could make it worse, contact a trained professional immediately.
How much Asbestos Exposure is Harmful?
It generally takes a lot of repeated exposure to asbestos for related conditions to advance. Although it is rare for someone to get sick from asbestos pollution in their home, it still remains a possibility.
It is important not to take this for granted as short-term asbestos exposures have been known to cause immediate effects, including certain diseases.
How to get Tested for Possible Asbestos Exposure?
If you are concerned whether you or your family members have been exposed to asbestos, then arrange to talk to your primary care physician. Although there is no test to determine asbestos exposure, there are tests to detect asbestos-related diseases.
Bear in mind that asbestos-related conditions are difficult to detect, and not all doctors have the equipment and experience to determine them. However, if you're adamant that you or a family member has been exposed to asbestos, then it is crucial for you to arrange annual screenings with a qualified lung specialist so you can properly monitor the health of your lungs.
How to Cover Up a Ceiling Containing Asbestos?
As long as you do not disturb, remove, or saw off any tiles that contain asbestos, then you should be safe from any form of exposure. That means that if you are considering covering up your existing ceiling that contains asbestos, then it is safe to do so.
There are various ways in which you can cover up asbestos ceiling tiles, whether it's by using brand new ceiling panels or by using vinyl paint to get the job done. For further information and other ways to cover up your asbestos ceiling tiles, here is a list to help you decide on what to do:
Drywall
As previously mentioned, as long as you do not remove or disturb your asbestos ceiling tiles, then it is safe to cover them up. In fact, you're only making it even safer to prevent asbestos exposure.
When it comes to covering up such tiles, using a drywall is perhaps the most popular way as it's incredibly simple to perform. This method involves the installation of a layer of ¼-, 3/8-inch drywall over the ceiling containing asbestos. Next, you will screw the drywall into the ceiling joists above the original ceiling.
Pros:
Can be textured
Creates a smooth surface so that you can easily paint
Cheap due to drywall materials being inexpensive
Cons:
Requires finishing skills that beginners will find difficult to apply
Difficult to install without a drywall lift. As drywall is heavy and unwieldy, carrying out the installation alone is a vigorous challenge
Increases the total weight of your ceiling. This may not be an issue as you're fastening into the ceiling joists, but you need to consider this if the ceiling joists are small or are undersized
Styrofoam
Typically made from styrene or polystyrene, Styrofoam ceiling tiles are made to be mounted directly onto the ceiling. They have recently grown in popularity due to their easy-to-install approach and sleek design. Today, there are nearly an endless variety of architectural styles, colors, and textures available.
Aluminum
If you want to cover up the asbestos-ridden ceiling in your home, then aluminum ceiling tiles are another option. By implementing aluminum tiles to your ceiling, you will brighten up your room as well as bring some class to the environment. If you are willing to decorate your ceiling to achieve elegance that will immediately draw attention, then consider aluminum ceiling tiles to help cover up your asbestos ceiling.
Copper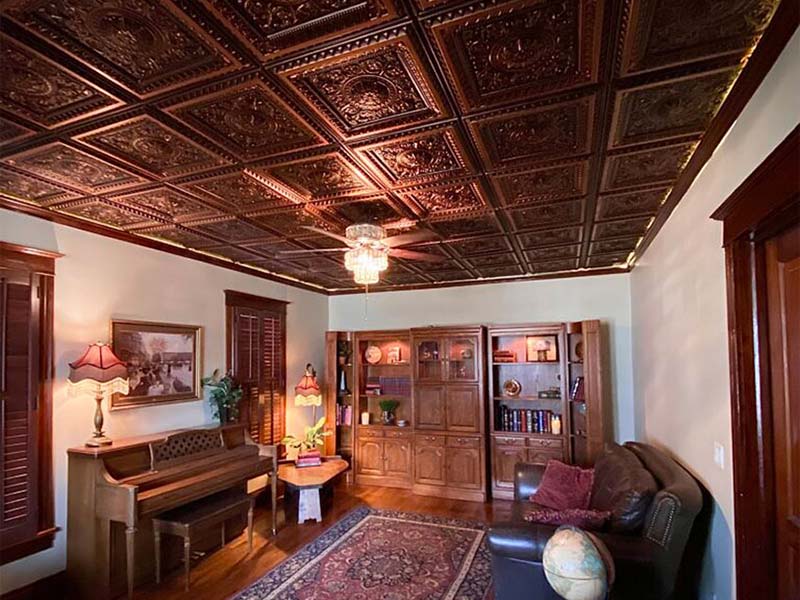 Available in a huge range of sizes and styles, copper ceiling tiles provide creative finishes to a simple painted or textured ceiling. If you have happened to discover asbestos upon your ceiling in either your kitchen or bathroom, then note that these particular spaces are tailor made for copper ceiling tiles. However, if you are considering them as an option for another type of space, this should not be a problem as they can add richness and depth to virtually any room.
PVC
If you want to find an even cheaper option for ceiling tiles and mimic the look of a copper ceiling, then PVC is a strong contender. Made of polyvinyl chloride, PVC ceiling tiles are a great choice to renovate your ceiling due to their simplicity. The tiles come as thin, lightweight, durable, and waterproof. Moreover, they come in a wide range of architectural styles and colors, making them a versatile option for your project
Ceiling Planks
This is a great option to cover up your ceiling containing asbestos, especially if you have a popcorn ceiling. The planks are made of fiberboard, meaning they're suited for this kind of purpose. The process includes installing the planks on to metal channels that are placed over the old ceiling and screwed to the ceiling joists.
Pros:
As the planks are even, they fit nicely together
Quicker and less mess created compared to drywall installation
Can come as prefinished, preventing the need for painting or staining
Straightforward leveling of channels to compensate for dips and humps on the ceiling
Cons:
Expensive
Limited plank styles
Paneling
This is more of the traditional way to cover up a ceiling, especially one that contains asbestos and/or even a popcorn ceiling. Such panels can either be planks or beadboard. Neither is any better or worse than the other, it's just simply down to personal preference. However, either can do a great job in covering up a ceiling.
If your ceiling is reliably flat, you can install the paneling directly over the drywall. However, begin with furring pieces of 1x2 lumber if the ceiling is wavy and even them with shims so you can produce a nailing surface that's flat for your planks to be fitted.
Pros:
Cheaper than manufactured systems
Quicker and less mess created compared to drywall installation
Gives you the look of natural wood that you cannot replicate with any other material
Provides the best variety of styles, as real wood planks come in different forms of wood
Cons:
More expensive than drywall
Can require carpentry skills and attention to detail, so it's more difficult for a beginner
Can create a darker atmosphere in rooms with a low ceiling. However, this can be prevented by whitewashing or painting the paneling
Ultimately, if your old ceiling is contaminated with asbestos, or if you suspect there's a chance of it existing within your ceiling, then it's best to seek professional help. As soon as you determine whether asbestos is contained on your ceiling, then consider any of the options on how to manage it.
For the best results, and to enhance the protection against exposure, covering up the ceiling is perhaps the better option. That way, it stops any asbestos dust becoming airborne and increasing chances of any health threat.