Ceiling tiles create a path to decorating innovation. They are something that has been introduced to the decorating market and is adding style and new options. Decorative ceiling tiles allow you to plan, change and create a great space that is fresh and adaptable.
Ceiling tiles choices can be overwhelming as you try to choose the direction you want to take with your decorating so sometimes it's easier to get some ideas to point you a general direction. This idea library can be the basis of planning and selection allowing you to go forward from there. Decide what area you want to redesign and then start your research on the various styles and ideas you might find intriguing. You can get some great decorative ceiling ideas along with design inspiration that will highlight areas such as:
Ceilings
Home
Business
Wallcoverings
Backsplashes
Kitchen/Bathroom/Bar
Break room/restaurants
Door skins
Crown Mouldings
Shower Tubs/Walls
There are so many ideas to get you started.
Home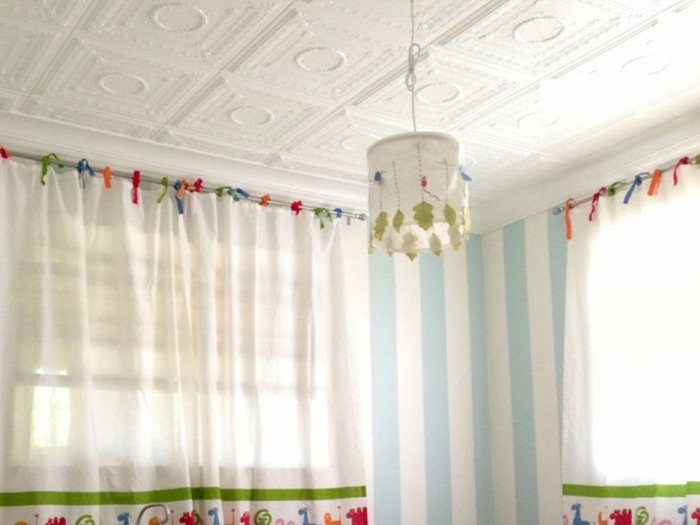 Home is the place we may fall into a rut when we are looking for decorating ideas. Many are trying to make sure the style of each room suits its particular use while still tying everything in the aesthetic of the house together. There are some good ceiling ideas to help you pull a particular look off while not being too over the top for the rest of the space around it. If you are looking for some classic elegance, childhood whimsy, or some games room hominess, there are some great examples to look at. You can find lots of decorative ceiling ideas to spark your creativity. A splash of color or a hint of wood can set the tone for any room in your house.
---
Business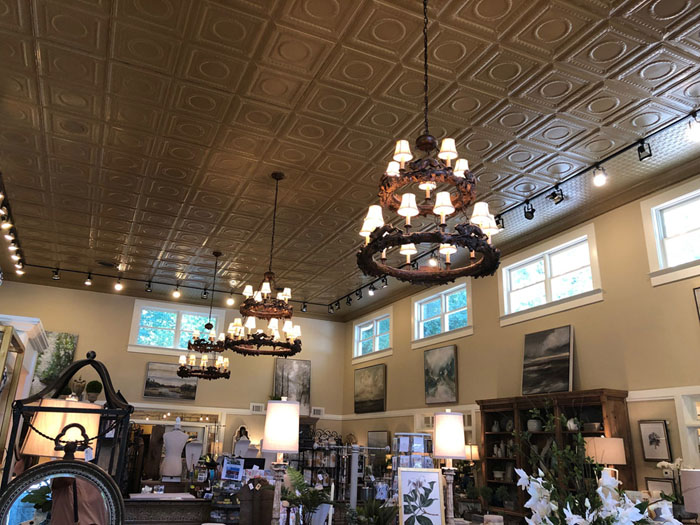 Ceiling tiles are a great way to stylize an area where you want to set a tone as soon as someone walks in the entrance. A nice looking business area attracts customers and makes them want to stay and enjoy. There are some great ceiling ideas to highlight a retail store, meeting room, or dining area. These are just a few ideas but can get you started as you choose ceiling tiles that will set the tone of your business.
---
Other Options for Ceiling Tiles
There are plenty of other ways to use the tiles other than on the ceiling. Here are some ideas for other ways to incorporate these versatile design elements into your home.
Home
Wallcoverings are a great alternative to paint and wallpaper. They can offer a look that can't be achieved with just a coat of paint. Creating bedroom elegance, a grand entrance, or a modern living area is easy once you see what ceiling tiles have to offer. The options seem endless when you begin to look for new ideas to up your home decorating style.
Business
Wallcoverings are the perfect accent for a business that is looking to create an environment that is positive for both its staff and customers. A good wall design can convey a lot in that first impression. You can create a clean, fresh tone, some relaxation and style, or convey that your place is a great business to hang out in. Wallcoverings are a great way to invite your customers to come in, enjoy the ambiance and stay.
Home
Backsplashes are easy to clean and can create a distinctive look for any room that needs one. Whether it's your kitchen or bath, a little bit of color is a great way to create a new look. While unlike a ceiling or full wall install, a backsplash can be enough to create a stylish room accent that pulls the design altogether.
Business
A backsplash in a business can make things pop with style. Decorative ceiling tiles used as a backsplash can make a room look inviting, clean and stylish. While the area of a backsplash isn't a full wall or ceiling, it can have the same décor changing effect as a bigger project. You make a stellar impact with a bar or an innovative entranceway. Doing a smaller project to accent your business décor is financially manageable while creating an aesthetic that shows your business cares about their maintenance and look.
Door skins are an interesting way to change the décor in your home or business. While they don't have the full room impact of a tiled wall or ceiling, they can still change the style of a room, create a welcoming entrance, or give a clean matched look in an office area. Door skins are an easy and economical way to change a plain, standard door into something a little more special whether its at home or work. They clean up a used door making it fresh and appealing as people walk into a particular room.
While decorative ceiling tiles on a wall or roof add new life to a room, crown molding styles can finish those designs off with a touch of finality, quality, and flair. While moldings are not ceiling tiles, they can complete a tile project and add to the final finished look. Whether you want it for specialized lighting, creating stylized corners, or finishing a ceiling project, molding is a great accent piece to use to give your area a clean, professional look. The ability to work in tandem with ceiling tiles, lights and other decorating mediums adds to the options when you're creating a look and style that is new.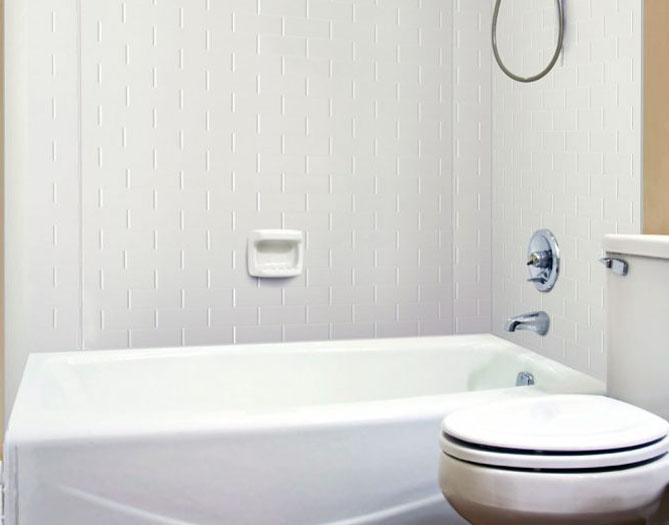 When we are redecorating a bathroom, we don't often look at anything other than ceramic tiles for backsplashes and tub and shower areas. But here are some decorative ideas that transfer to the bathroom area and look great. They offer clean, finished looks that can give your bathroom a new style and personality without a lot of fuss. Full wall inserts are available and can offer many different looks. If you want a standard look with clean sharp lines or something that offers a little artistic leeway these options are great for your redesign. The fuss and muss for a new looking bathroom are minimal but it looks fresh and new.