Posted by Milan Jara on 14th Oct 2019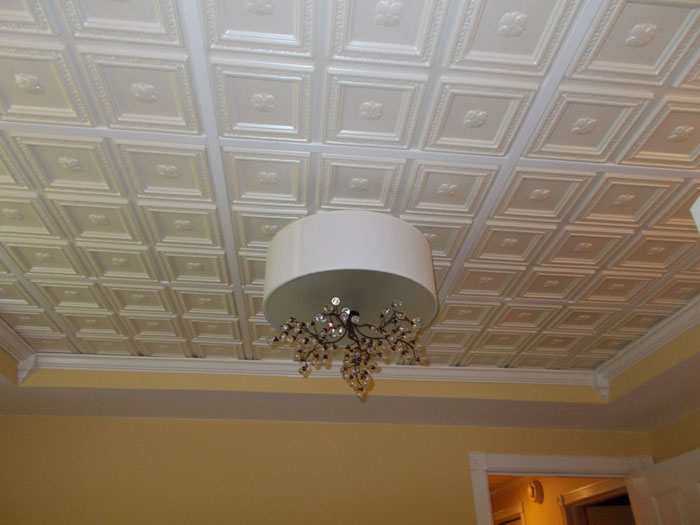 Now that you have decided that you're going to update a room, it's not always easy to know where to start. You know you want a change, but what next?
If you've decided on adding adhesive ceiling tiles, you're already ahead of the game. You've chosen one of the easiest ways to add a lot of impact without a lot of work. But how do you choose the right tile?
First, think about how you use the room. If the room is in your home, decide whether it's going to be an updated space or a stand-alone décor. Is it supposed to fit in with the rest of your current decorating scheme or is the goal to set a new tone with the room?
There are lots of questions to ask when you are choosing the adhesive ceiling tiles for your project:
What is the room used for?

Dining Room
Family area
Library/Study
Kitchen
Bedroom
Size of the room – this is important as darker tiles make a small room seem even smaller. While this isn't always a bad thing, it's something to consider when you want to set the tone of a room.
Personal style – are you going with classic, modern, busy, subdued, vibrant? Adhesive ceiling tiles offer choices in all stylistic areas
Color & Material – Are you redoing the whole room or needing to match with the current furniture and floor coverings? Do you want wood, metal or a leather style tile?
Once you have thought through these questions surrounding the details of your room, then you move on to pick what you like best and suits your decorating decisions. The choices of adhesive ceiling tiles are not a small one. The choices available gives you lots of options to experiment with. Sometimes a retailer will send you home with samples so you can contrast and compare our choices before you make a larger monetary investment. Here are some of the adhesive options you can look at:
---
Wood Grains
Tiles that are made to look like wood are something that can suit the décor of many different rooms depending on the look you are going for. Your ceilings can be fully covered with these tiles, bordered, or done with a central design in a lovely wood style. Walls can be paneled in a specific pattern or one static style depending on your preference. Backsplashes usually are not often done in a wood grain style simply because they are near water and don't always suit the small area but if you find one that matches the nearby wood found in cabinets or furniture then there is no reason not to do it.
If you want to decorate with wood-style tiles, dark woods like cherry or mahogany can make a large room look rich and elegant whether they are put on a wall or ceiling. Tiles with a wood style that is a little bit lighter such as pine may allow for a more country stylization and look nice and homey. You may also find smaller wood style tiles that suit a backsplash if you're looking to match your cupboards or wall coverings. The wood-style adds its own look to a room and can create a warm and inviting room.
---
White Finishes
Adhesive tiles that come in white have an immense amount of flexibility when it comes to where they are used and what type of room atmosphere you want to create. White tiles are very versatile and can create a décor that has one of many personalities. There are ones the exude subtle charm and sophistication, old fashion style, a childlike whim and others that show a clean or a precise business style. White adhesive ceiling tiles can be highlighted with some color or just be put up on their own to contrast the decor around them. While there are lots of other adhesive tiles available in solid colors, white allows for flexibility when it comes to the current wall color, window dressings, furniture, and flooring styles. Using adhesive ceiling tiles may save you from having to completely gut a room. As soon as another color other than white is brought in beyond an accent color you are bound to keep within that particular color scheme so white keeps a room finish easy and subtle.
---
Faux Finish
After looking at the more traditional basics of wood and white ceiling tiles, you have the option of choosing tiles that have finishes that are done to showcase various metals, fabrics or colorful styles. These types of tiles take a little more work when it comes to integrating them into your décor simply because they are less flexible in what they go with. It takes a little more work to get matches with current décor. While some of the copper styled ones go with an older room design, the brighter colors are more for a new style business, teens, or games room. There are lots of great options when you want to spark the style in a room.
---
A Little Off the Wall
The great versatile thing about adhesive ceiling tiles is their ability to change the dynamic of a room with little work on your part. If you have the right tape or adhesive and the proper foundation to attach the tiles to, you are on your way to creating a room that can convey whatever you wish. While wood, white and faux tiles are all great for setting a tone, other adhesive ceiling tiles offer the chance to make a room fun and personally inspiring. If you want to choose something a little different from the norm to try something like Bollywood tiles or maybe Steampunk. A simple browsing session through the adhesive tile stock and you'll find something that not only suits your room's style but can make it reflect your personal tone as well.
---
Onward with the project
Many homeowners can be stuck in a decorating rut where they are using the old stand by methods. They choose a wall color from a standard paint chip palette, match some wallpaper or border with that particular paint and make sure it all coordinates with the furniture and floor. It's easy to forget that we can go the extra mile by looking at our ceiling styles or maybe consider putting something innovative on our walls.