It's no secret that your garage is one of the most neglected spaces in your home. For some, it's nothing more than a space that's useful to store your car. For others, it's a room with endless possibilities. You can turn a garage into a workshop, home gym, or music studio. If you're a homeowner who likes the idea of transforming your garage into a space you always dreamed of, then it's time to plan what needs revamping and what décor is available to add some life to your garage.
One area that you should always consider during a refurbish job is your ceiling. A ceiling offers a substantially unobstructed view of a room, and it's usually the first area that people notice when they enter it. But, too often, people ignore the ceiling and focus on all the other areas of the room.
Reasons to Renovate Your Ceiling
When people first hear the idea of renovating a ceiling, they automatically wonder about how much it costs and whether it would be better to spend that money elsewhere. That said, adding a finished ceiling isn't as costly as you may think, and it's such a noticeable difference that it delivers a lot of bang for your buck. There are excellent finishes that are inexpensive and impressive-looking while also making your garage a more functional space. Plus, renovating the garage ceiling allows you to install insulation, increasing heating efficiency.
We have listed some of the best garage ceiling ideas to help you create not only an elegant looking space, but also one that generates a cozy feel for you, your family, and your guests. Using decorative ceiling tiles, you can hide the existing ceiling with simple drop ceiling panels and a grid, drastically improving the look of the room.
Before you get started on any garage renovation, you must check local fire codes before picking out your new garage ceiling, especially if your garage is attached to your home.
Garage Ceiling Ideas
Corrugated MirroFlex Ceiling Tiles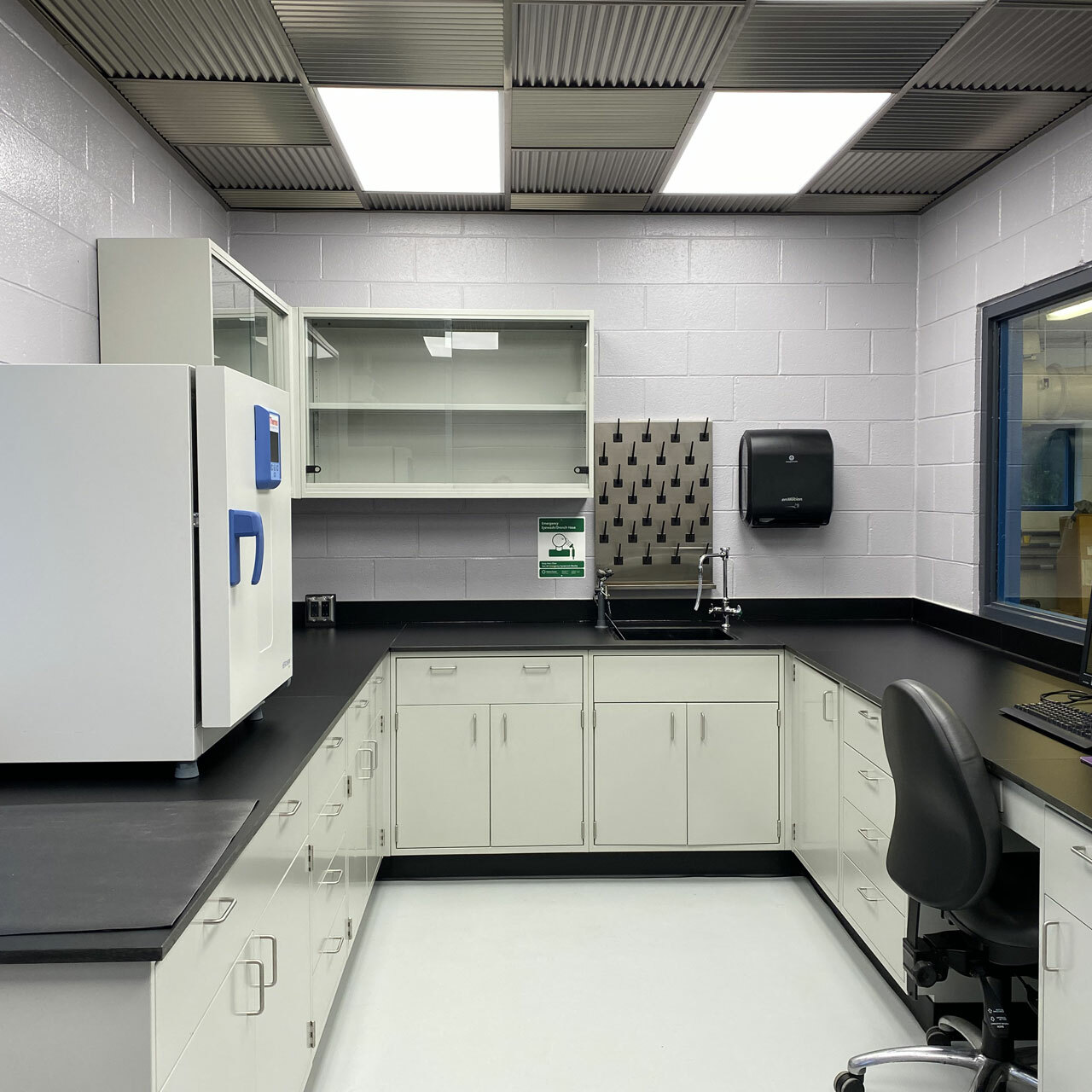 MirroFlex is made from PVC (polyvinyl chloride), which is a plastic suitable for ceiling tiles. These tiles are 24-inches square and are available in a variety of different colors and styles – including wood grain finishes.
Whether you have opted for wood grain or standard finishes, these tiles make your garage a great place to spend your time. Some important information you should know before choosing corrugated MirroFlex tiles is that they are compatible with any suspended ceiling system, but these decorative ceiling tiles are best-suited for drop-in installation.
Some of our best finishes include:
Silver
Gold
Green
Brushed Aluminum
Brushed Copper
Ultimately, MirroFlex structures are deeply textured decorative panels suitable for ceilings and wall panels. You get design flexibility as you have the option to use them for walls, wainscoting, backsplashes, display fixtures, and other interior designable needs. Lastly, you'll be glad to know that the installation process is so easy, a motivate beginner can do it.
---
Rustic Corrugated Steel Wainscoting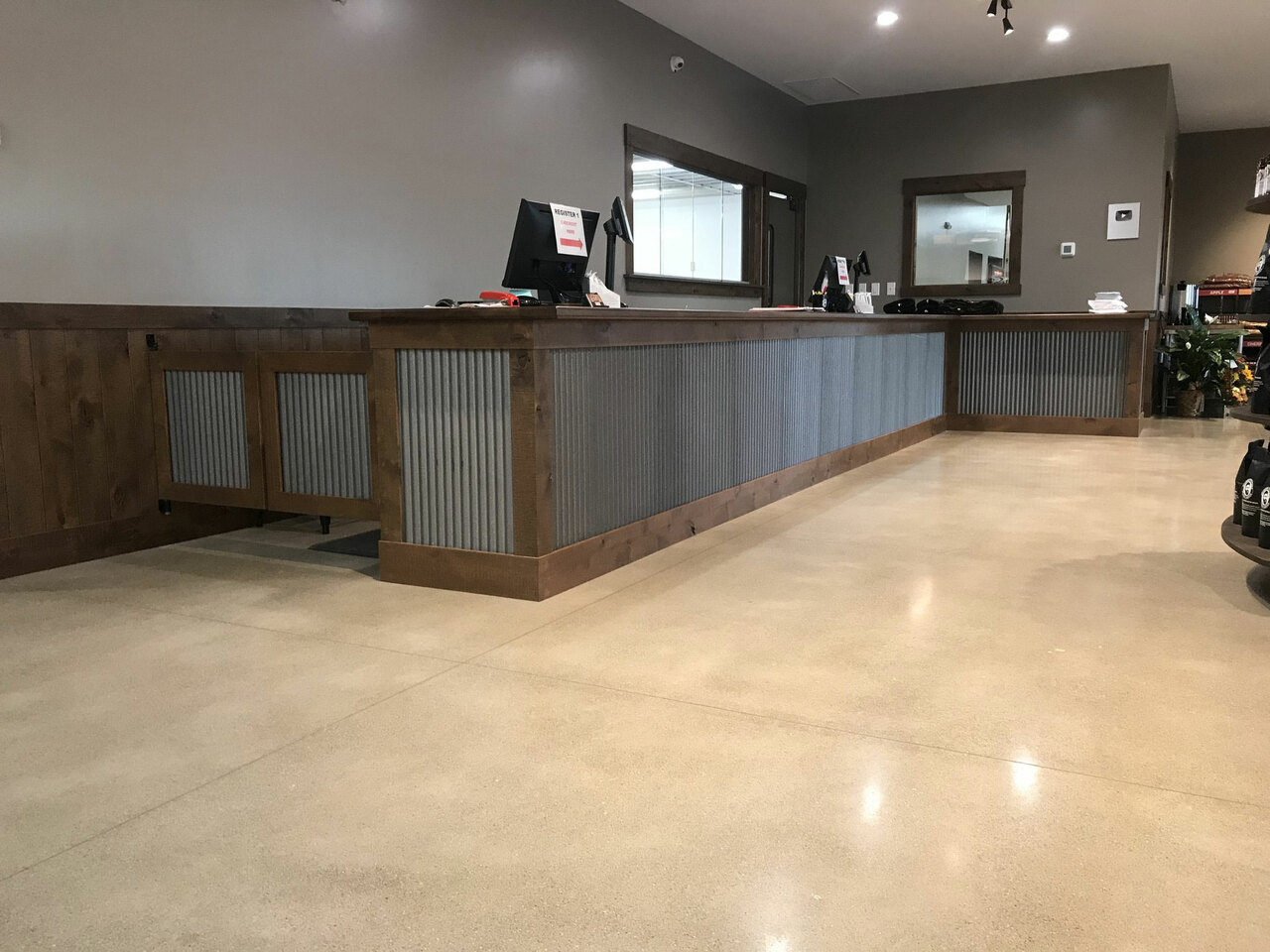 This design system creates a picturesque and modern complexity to spruce up a room – and your garage can benefit from this added method. These tiles are made from rustic steel and measure 24 inches by 36 inches.
Rustic corrugated steel wainscoting is a growing trend as it's found in more homes and commercial spaces than ever before. If you're looking to turn your garage into a bar and want to create a ranch or southwestern-style look, then corrugated metal wainscoting along the wall is an excellent option.
Why is Colorado rustic steel wainscoting so popular? Simply put, this system adds a consistent design that's free of nail holes and warps. It creates a rustic feel and adds uniqueness, warmth, and coziness to any place or space inside your home.
Steel Wainscoting Options:
Rusted. This design comes pre-rusted, created with all-natural and accelerated rust treatment. Because the treatment is sprayed on, the rust disperses evenly, and the result is an even coating of rust that still has small versions of the blues and greys that you'd get from vintage galvanized steel.
Galvalume. This material is a new galvanized metal that is mild grey and semi-sheen with no color variations or rust.
Lightweight. Faux tin ceiling tile is perhaps the lightest material you can go with, which makes it one of the easiest materials to work with.
Antique. Antiqued metal has a dark grey weathered look with a flat texture. There is no rust or color variation.
---
Faux Wood Beams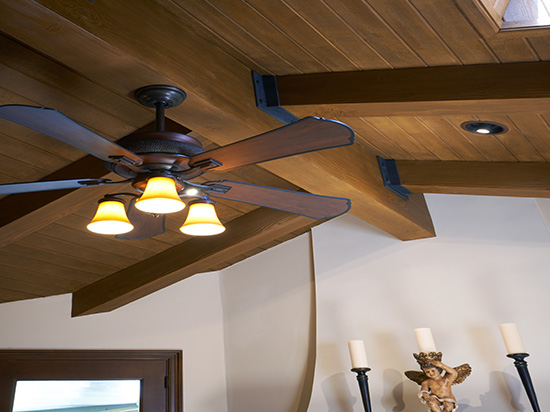 Another great option to improve the existing ceiling in your garage is faux wood ceiling beams. This approach is simple, budget-friendly, and can drastically change your space for the better.
Faux wood beams replicate the look of older, weathered wood beams with natural grain patterns. We have a variety of styles and textures that mimic the character of natural wood and all of its elements. This rustic ceiling idea creates a rugged exterior and adds three-dimensional, eye-catching detail to any space– including your garage.
Here's why faux wood beams are a great option for your garage:
Affordable. Faux wood beams cost much less than traditional, natural products.
Inspirational. Provides a warm, cozy feeling, regardless of what style and texture you decide to go with for the finish.
Innovative: These faux wood beams are designed for seamless integration and straightforward installation.
Ultimately, exposed ceiling beams are an architectural feature that can make a ceiling look even higher. One of the best things about installing faux wood beams is that they are maintenance-free. Unlike natural wood, these faux wood beams aren't impacted by the weather, and they will not split, crack, warp, twist, or rot like natural wood.
Conclusion
Let this be the year when you make big changes to your garage, especially if it's something you've been thinking about doing for a while. Ask yourself, what is stopping you? The best advice we have is not to rush everything all at once. Start small and build from there. Just remember your goals and move towards them one step at a time. Ceilings make a huge impact on a room and are a great place to start when revamping the interior of any room - even the garage.