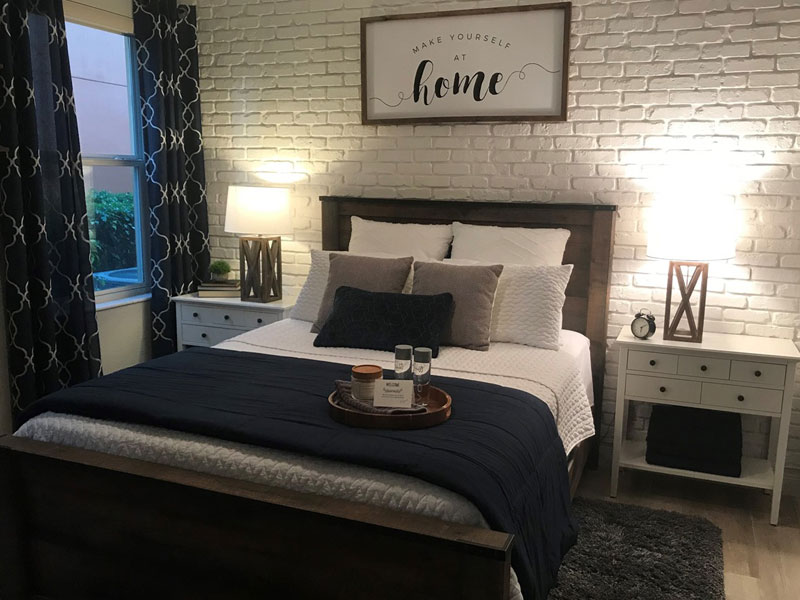 Looking for ways to create a delightful atmosphere with a faux brick bedroom wall? You've come to the right place. Check out these 15 irresistible ideas!
Depending on your budget, expertise, and how much time you have on your hands, there are two ways to put up a faux brick bedroom wall. You can use either single-piece faux bricks or faux brick wall panels.
Single-piece faux bricks are more challenging to install on your own, but you can always enlist a professional installer to help you out.
If you want an even easier process of transforming your bedroom to sport brick walls, faux brick panels are the way to go. They are easier to install, and you can comfortably complete a DIY faux brick wall project over the weekend.
Regardless of which option you prefer between faux brick paneling and single-piece faux brick siding, your bedroom wall should look great and bring the desired cozy and delightful atmosphere.
If you are looking for creative ways to put up a faux brick wall in your bedroom, here are 15 ideas to inspire you.
15 Ways to Create a Delightful and Cozy Atmosphere With a Faux Brick Bedroom Wall
Putting up a faux brick bedroom wall doesn't have to be hard once you have the idea to implement and the tools and materials required for the project.
Check out the following bedroom brick wall ideas you can implement in your home.
1. Faux Brick Fireplace in a Bedroom Wall
If you already have a fireplace on a bedroom wall, then you're in luck! You can transform the fireplace and make the wall a focal point using faux brick around the outline of the fireplace, as depicted by A. Jennison.
A fireplace in the bedroom looks better if you use single-piece faux bricks, but you could also use wall panels.
The advantage of brick pieces is that they create a more natural look because some bricks project outward more than others. This mimics the appearance of a rugged natural brick wall.
Depending on the size of the fireplace, you could buy a large wall panel. The advantage here is that you'll install it faster and more easily. However, it might be wasteful since you must cut out part of it to leave space for the fireplace cavity.
2. Faux Brick Bedroom Wall Without Headboard
Small bedrooms require a minimalist approach to remain delightfully inviting, and you can't go wrong with an exposed brick wall appearance using single-piece faux bricks.
If you do the brick wall right, you won't even need a headboard for the bed, which helps stick to the minimalist design in the room.
A faux brick wall becomes the focal point in the room, but you could also spice it up with some subtle wall decor that doesn't interfere with the minimalist design.
3. Faux White Brick Bedroom Wall
If you aren't a fan of the natural color of faux brick, you can always paint it white to have a white brick bedroom wall set up within no time.
You could leave the wall simple and plain or add some wall decor to break the monotony of the white color.
4. Gender-Neutral Kids Bedroom Brick Wall
The children's bedroom is an excellent place to put up a creative faux brick wall to contrast with other shiny, attractive room decor.
The white exposed brick wall in this child's bedroom contrasts well with the brighter details on the opposite wall and the multicolored map and books. Some wall decor is good for the wall to break the monotony of the white brick.
5. Farmhouse Faux Brick Bedroom Wall
For a farmhouse bedroom, you want a rustic appeal with a minimalist approach to brick painting and wall decor. If you want a full-length brick wall, it's better to use faux brick panels as they are easier to install.
You can further enhance the look of the wall by adding a high rustic headboard to cover up part of the wall and reduce the amount of full-length paneling.
6. Semi-Whitewashed Brick Wall in Kid's Bedroom
A brick wall in the children's bedroom doesn't always have to be bright. If the room itself is minimalist in furnishing and lighting, a subtle brick wall will work well, such as this slightly whitewashed wall.
The light whitewashing means that most of the brick remains in its original red brick color, which helps keep the wall a bit dull as desired so that it doesn't attract all the attention.
7. Minimalist Kid's Bedroom Brick Wall
Another way to keep a kid's bedroom wall within the minimalist style is by applying no paint at all to the brick panels. Leave the panels in their original color once you are done installing them.
8. Minimalist Traditional Bedroom Wall
The traditional approach to a bedroom is to keep everything at a bare minimum, including the home decor and wall styles.
Even as you add a faux brick accent wall, you'll want to keep it low-profile with very few alterations, except highlighting the bricks by using a soft paintbrush to apply some white paint along each grout line.
9. Textured Faux Brick Bedroom Wall
Single-piece faux bricks are ideal for creating a textured faux brick wall in the bedroom. The protruding parts add texture, even when you keep the design minimalist and apply no paint or whitewash on the bricks.
10. Fake White Brick Wall
A faux brick accent wall is a good addition in the bedroom, even where you want to keep things low-key with minimal decor. Try adding a single piece of artwork or decor to draw attention to the whitewashed wall.
11. Aged Faux Brick Wall
It's possible to make an interior brick wall made of single-piece faux bricks look like an old, weather-beaten exterior brick wall, such as this model from Tree House.
12. Whitewashed Brick Wall
Once you've put up the faux wall panels or bricks, you can add some rustic or vintage character to them by whitewashing them with white paint, German smear, or joint compound.
The trick here is to apply the whitewash medium in excess and then randomly wipe some off to create random spots of exposed red brick. This achieves the whitish appearance of old, faded real brick.
If this makes the room a tad too dark, you can soften the feel by installing brighter lighting or fixing some wall lamps on the wall.
13. Faux Brick Wall Using Wallpaper
When you can't get ahold of faux bricks or wall panels, brick-style wallpaper will do the trick. It's also an excellent option when you are pressed for time and only want a stick-and-go installation process that you can complete in a few minutes.
The brick wallpaper resembles faux brick or real brick. The color you choose should go well with the rest of the room, even when you want it to be the focal point.
If the chosen color becomes too dark for the room, you can always brighten it with brighter lighting or lamps installed on the wall.
14. Faux Brick Bedroom Wall With Creative Lighting
The creative lighting system in this setup requires you already have an existing wall with excellent structural integrity, such as a wall made with real brick or natural stone. Brick veneer or thin brick is also suitable if the wall is a partitioning wall and not part of the outer shell.
The design allows for a lot of natural lighting, which can be enhanced with artificial lighting using the lamps installed in the holes left strategically in the half brick.
Regardless of the wall construction material, which is primarily important for the wall's structural integrity, you can add faux brick wall siding to transform the wall, preferably using single-piece faux bricks.
15. Multiple Faux Brick Walls in the Bedroom
There is no harm in having multiple walls in your bedroom fully or partially covered with bricks or brick paneling.
You can have one full-length brick wall and other partially covered walls. Partially covering the different walls is also a suitable option, especially when you don't want to overdo the brick siding.
Conclusion
Any of the faux brick bedroom wall styles we've presented will be easy to complete yourself or with the help of a professional faux brick installer.
Since there is a wall already in position, you only have to add the brick siding, whether single faux bricks or wall panels, to transform the space.
The important thing is to be fully prepared for the project, complete with a plan, the desired look, the required installation materials and tools, and some technical know-how for carrying out the installation.