Your basement ceiling may not be a top priority when it comes to decorating your home. However, it may one day be near the top of that list, especially if you plan to turn your basement into a specific space like an office or a home theater.
Even if you decide to leave this area for a traditional basement environment, it's still essential to give its ceiling a little attention. There are many options for you to consider- from ceiling tiles to corrugated metal, and each option comes with various advantages.
This guide will focus on the common questions that tend to be asked before using basement ceiling tiles for renovations. It should then help you gain a better understanding of what's involved in this type of project.
Should a Basement Ceiling be Insulated?
A basement ceiling having insulation is a lot more ideal than one without it. A basement is an area of the house that loses heat easily. So, making sure there's insulation helps to maintain comfort and energy efficiency.
By insulating a basement ceiling, you also give yourself the chance of having sound attenuation. While it doesn't completely block the noise coming between the upper and lower floors, it considerably diminishes the sound.
How do You Cover or Hide Pipes in a Basement Ceiling?
Seeing pipes in a basement ceiling is common. For many people, this is something they want to eradicate, especially when they're trying to convert their basement into a more socially friendly place.
Sometimes, you can move pipes. However, when this isn't possible, there are ways to hide them. For instance, you could bring in a professional to build soffits. In this case, there are interior architectural features that hide unsightly objects like pipes and wires.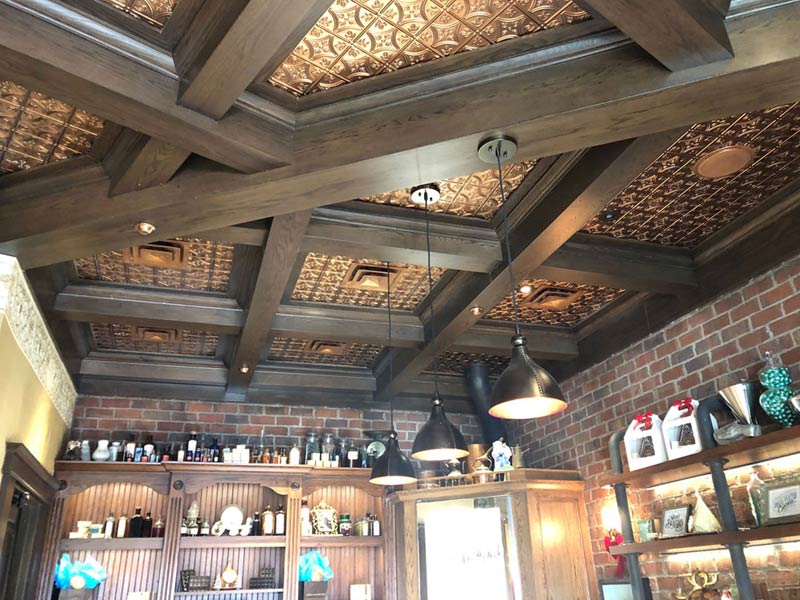 Moreover, instead of using soffits, there is always the option of basement drop ceiling tiles. Soffits are a common project for this type of space. It is recommended if your basement ceiling isn't already too low. A dropped ceiling will be lower your basement ceiling so that it can eventually cover any awful-looking pipes.
Additionally, you can also use a suspended ceiling if your room has enough ceiling height to cover pipes as well.
Do Basement Ceilings get Moldy or Sag?
It all depends on how you control the humidity in your basement. Also, whether you have the correct material for your ceiling. For instance, even though there are benefits to having drywall for your basement ceiling, this material is susceptible to moisture. Moisture inflicts problems like mold and mildew, as well as causing stains and sagging.
If you decide on ceiling tiles, know that many are designed to be mold, mildew, and sag resistant. If you install such tiles to your basement ceiling, you shouldn't have the problems of mold or sag. For further benefit, an acoustic ceiling tile controls noise-reducing disturbing echoes, dampening sounds, and helping to stop it from traveling to other areas of your home.
Can a Basement Ceiling be Raised?
As we've discussed how you can lower a basement ceiling, this section will now answer whether a basement ceiling can be raised, as this tends to be a popular question among current decorators.
Although it is possible to add ceiling height for your finished basement, do know that this project can be very costly, quite complicated, and not usually recommendable. It is something to consider before committing to such an idea since it's not always the best solution.
One way to raise the ceiling height is by lifting the entire home and lengthening the height of the existing foundation walls. Sounds complicated? That is because it is a complicating job that shouldn't be attempted by a beginner or even an experienced DIYer. It is usually a job for a professional, so keep this in mind if you're considering this project. If you're only looking to raise the ceiling by only a few inches, there is another way you can consider doing it. This option includes excavating the floor so that you can add space from below. It is also a job that a professional should be carrying out - not a DIYer!
Can a Basement Ceiling be Raised?
The answer to this question all depends on the layout of your basement and what the purpose is. However, if you're looking to create a timeless feel, installing metal ceiling tiles designed to look like antique tin may be the best way to go.
This option is ideal if you're looking to convert your finished basement into a home bar, a library, a wine cellar, and a game/movie room. By adding these types of tiles, you'll be filling your basement with elegance while obtaining a unique presence.
Other options you can consider are copper or brass - which can come quite costly, even though it would add extreme warmth. You can add a white basement linen tile that would give your basement a much more open look and feel, and as a basement tends to make you feel enclosed and trapped, this option may be necessary for you.
If you're a big fan of the farmhouse decor theme, like a log cabin, always check out the painted tiles, use wood beams, or create a natural wood look with ceiling planks. These always work well in basements- especially if you're planning on converting it into a type of man cave containing a bar, pool table, etc.
Is a Suspended Ceiling Ideal for a Basement?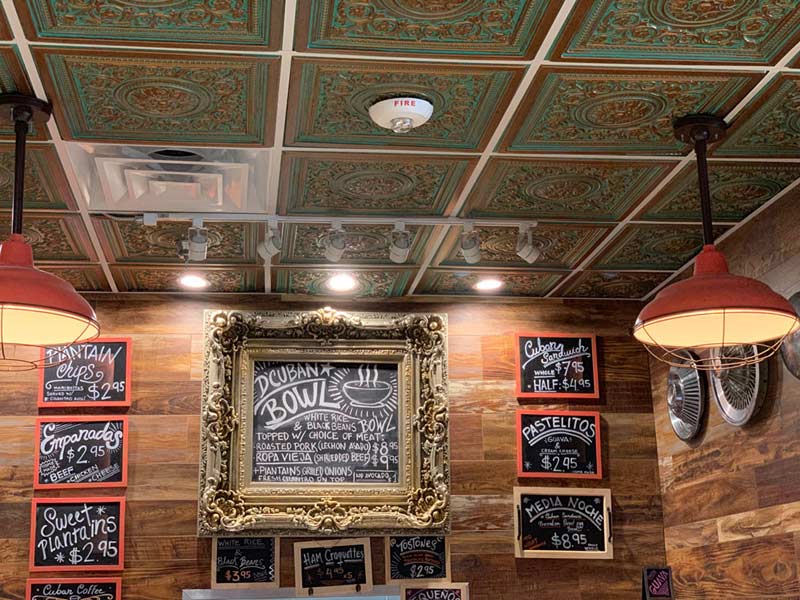 As established, suspended/drop ceilings are a perfect match for a basement ceiling. The main reason for this is that it gives easy access to plumbing and wiring. By installing a suspended ceiling, the plumbing and wiring are typically installed in the space above so that getting to it becomes straightforward.
Furthermore, today's ceiling tiles can vary from old vintage styles to beautiful geometric designs, and colors have a huge range, too. This means that you can drop your basement ceiling to a necessary height, but also give it a wonderful makeover with many designs and themes to choose from.