There are many ways to take on the task of updating and renewing the look of your home or office. Whether it's a fresh coat of paint, wallpaper, new furniture or flooring, they can all give a tired room new life. One of the things we often overlook when redecorating is ceiling tiles. We rarely think to look above us other than to paint or repair. But using ceiling tiles to renew not only your ceiling but walls and backsplashes can give a room renovation a whole new twist. Whether you are redoing an existing room or building a new one, adhesive ceiling tiles can set the tone and style.
If it's time to create a new look, look to getting rid of that old popcorn ceiling and stained backsplashes and wallpapered walls. Bring your room into the present with some flash and class. Ceiling tiles have so much to choose from no matter what your style goal is. Choosing adhesive ones makes decorating easy, affordable, and innovative.
While most people are ok with doing some painting and general fixing up, they aren't always comfortable with trying to create a substantial change in their décor. The thought of trying to put up a ceiling, decorating a wall or creating a new look behind a sink can be overwhelming and a huge deterrent in instigating décor change. But if you look at the type of ceiling tiles you think would suit the look you would like and where you are going to put them, chances are you can find a style that lets you do some easy decorating.
You can easily put adhesive ceiling tiles up with adhesive tape or glue. You can find everything you might want in your search for a new easy to install style for your space. Finding adhesive tiles is easy, deciding which one you want takes a little more work. There are so many adhesive ceiling tiles to choose from and narrowing down the field of choice is not always just a simple option.
---
What Are Adhesive Ceiling Tiles?
Adhesive ceiling tiles are also referred to as glue-up tiles. This means they are going to be held up by a sticky substance rather than nails, staples or a frame. The adhesive used on these tiles varies depending on the type of tile being used. Some have adhesive already on them while others need a specific type of glue or tape. Most installations use fiberglass reinforced panel adhesive (FRP), a glue called Liquid Nails FRP-310 or something similar. Some adhesive tiles also work as nail up or drop-in, but adhesive is probably the simplest way to proceed.
Adhesive tiles can be an issue if you don't do proper prep work. If you are mounting the adhesive ceiling tiles, note that they can not be used on popcorn ceilings. However, they can go on most others such as sheetrock, drywall, cement, paneling, plywood or furring strips. If a popcorn ceiling is in the way of starting your adhesive changeover, you either need to remove it or cover it with sheetrock or furring strips. Once you have the current ceiling primed for the tiles, adhesive installation becomes much simpler and not much work. You can do your own decorating even if you aren't a professional.
---
How To DIY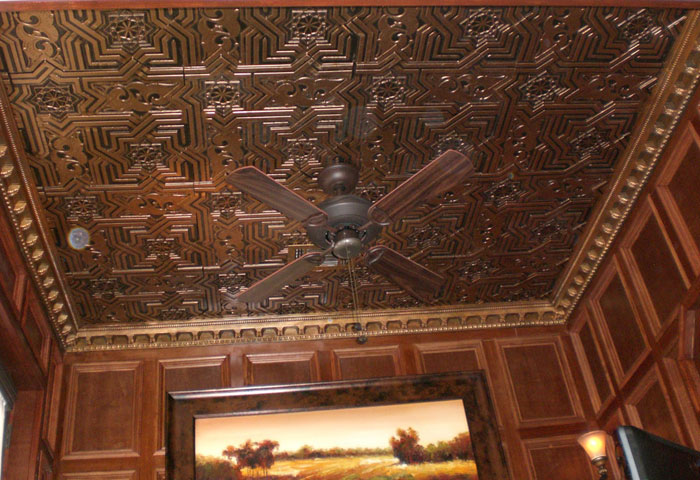 It's not difficult to install adhesive ceiling tiles once you've got everything ready to go. The major work is in the preparation of the installation base. To install adhesive tiles, do the following:
Prepare the surface that you are going to install the tiles on. This means to make sure the area is clean, smooth and even. Get rid of loose plaster, paint, wallpaper, and previous adhesive if you had tiles up previously. Popcorn ceilings need to be removed as well so there is a clean and smooth area to mount the tiles on. This applies to wall and backsplash areas as well if you are putting adhesive tiles up there.
Make sure the wall lines are straight. Put straight lines in the corners for width and length, so you have a clean 90-degree angle. That's your starting point if you are covering a whole ceiling.
Apply the adhesive to the underside of the tile. This can be fiberglass reinforced panel adhesive (FRP), a glue called Liquid Nails FRP-310. Many manufacturers prefer the 310.
Put the first tile in the position at a 90-degree angle and push firmly on it. Be careful not to press too hard in case it bends. Once this is done, overlap the sides of the next tile to put it in place. The overlap is on most tiles but make sure the ones you have chosen to have this feature otherwise there may be some different application requirements.
Continue to mount the tiles until the wall edges are reached. Some trimming may be necessary as not all walls may be a perfect angle.
---
Easily Elevate Your Space
Adhesive ceiling tiles can not only take the decor of a room to a new level, but it can also spice up a mundane plan and make it fresh and stylish going beyond the norm. Whether you want to create a whole new look or simply update an existing one, adhesive ceiling tiles are a simple and stylish way to go. There are lots of fashionable options that are straightforward to install without a lot of fuss and mess. Some setup, glue or tape and some great looking tiles can set the tone for a new decorating adventure.