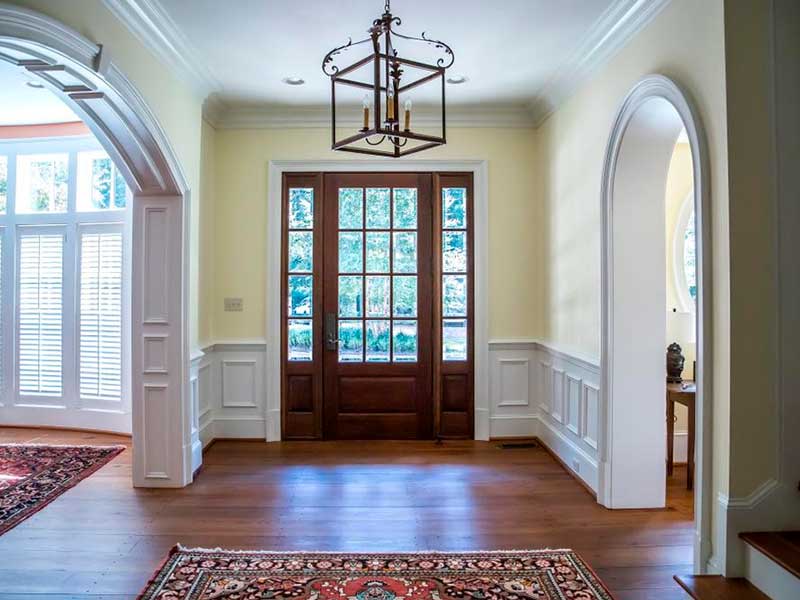 Wainscot paneling adds a decorative element to a house. Some homeowners simply use it to add interest to plain walls, while others strategically use it to prevent scuffs and marks left behind by kids. Wainscot is durable and requires little maintenance. It is a great product to use in many areas of the home, and you can incorporate it into any decor.
Since there are several styles to select from, the correct one to use will be dependent on your home's age, and style. Additionally, you will need to examine where you will be using it, and the desired effect. Since wainscoting comes in various materials, make sure that you buy the right one for the job. Otherwise, you may be disappointed because not all materials are equal.
Traditional Wainscoting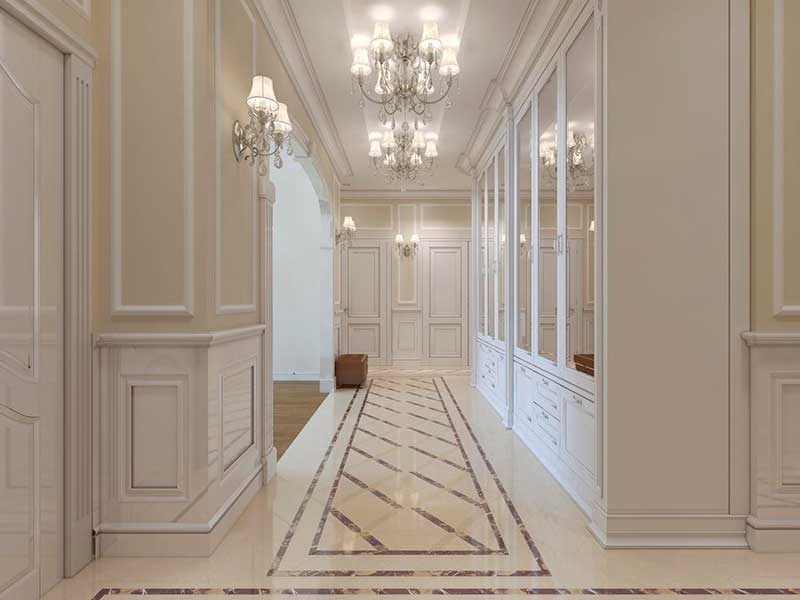 This decorative wood panel is used along the lower wall to protect it from damage. The height tends to be between 26-42 inches. A chair rail reaches the top of the wainscoting with the baseboard found at the bottom. The middle is raised panels, vertical v-joint tongue and groove, flat panels, or beadboard tongue and groove.
This type of wainscoting was prevalent in 18th-century England where it consisted of quarter-sawn oak. Homeowners finished the look with oil turpentine for a protective coating. This material is commonly painted a solid color, but some homeowners incorporate a stained look instead.
In that era, this paneling aided in insulation and provided a durable surface as opposed to painted sheetrock. Now, it is used for decoration to provide visual appeal or for practical purposes. Traditional wainscoting is for older, formal rooms. It is also called raised panel wainscoting since craftsmen must bevel the edges of each wainscot panel before adding wood trim.
Decorative Wall Panels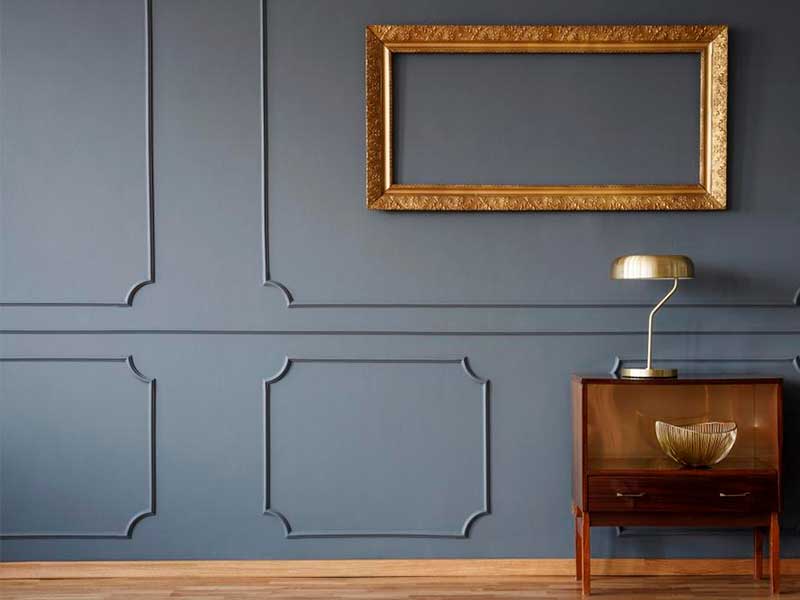 Wall paneling is a generalized term covering the designs and options to get the look of a wainscot with decorative wall paneling instead of having to use traditional wainscoting. This type of wall panel provides a more modern look. Decorative wall paneling allows homeowners to incorporate the look using various heights up a wall. It can also reach up to the ceiling in contemporary homes.
Flat-Panel Wainscoting (Shaker Panel/Board and Batten)
This paneling consists of thin plywood boards or MDF attached to the wall. You can decorate the boards with narrow wood strips over flat panels to generate a square/vertical framing or by using molding strips.
Beaded-Panel Wainscoting
A beadboard panel uses a long wood sheet of paneling accompanied by vertical grooves. It is a classic look that uses applied wood strips/trip to beadboard to generate panels.
What is the Perfect Height for Wainscoting?
While there is no exact measurement for the perfect height, there are several things to consider when determining height.
Think of what furniture and additional items are in the room. If there is a mirror or certain painting on the wall, you may want to ensure that it fits into the space without being overwhelming.
Consider the windowsill height. In older homes, wainscoting was a similar height to the window will. However, this becomes challenging with windows containing different heights or if they are lower in the room. For a lower window, wainscoting doesn't make sense.
Examine the room height. Will your wainscoting be in proper proportion? One-third of your room's height works excellently for lower wainscoting. For taller looks, it will take up two-thirds of the height of the room. The trick is to keep things in proportion.
Does it Add Value to the Home?
While it does enhance the appearance of your home, it won't increase the value. Appraisers won't add additional money because you used wainscoting. Yet it is an inexpensive way to increase the salability of your home because of the visual appeal. It will appeal most to buyers who appreciate small details.
Maximizing Salability Using Wainscoting
Not every buyer loves this look, but it doesn't mean that you shouldn't use it. Here are some ways you can strategically use wainscoting in the home.
Limit its Placement. While it is a beautiful architectural detail, it will lose its appeal if overdone. Limit usage to a few places where it provides dramatic appeal in key areas like dining rooms, foyers, offices, and kitchens. Avoid doing wall to wall in a bedroom or living room as it makes the room appear too formal. Although, you can use it as an accent wall.
Don't Attempt a DIY Project Unless You Are an Expert. Just because you can do it doesn't mean you should. If you can't pass it off as a professional install, you might want to consider hiring someone. By doing it yourself, you may hurt the home's value. If you are off by even a few centimeters, the paneling will look crooked, and the room will appear wonky.
Make Sure the Look, Color, and Style Fit with the Home. When designing the appearance of wainscoting, it is easy to overlook how it incorporates the rest of the home. It isn't easy to change out, so you need to consider the impact of the design.
Wainscoting can provide exceptional detail to a home by generating a big impact with minimal construction. Even though it does not increase the value of a home, it may appeal to buyers who appreciate the detail in a home. Some love the classic look of wainscoting or appreciate the more modern look offered by some designs.
When incorporating wainscot paneling into the home, consider the appearance of the room and how it integrates with the rest of the house. It needs to flow with the rest of the house while making the room stand out.
Use this feature strategically in your home design. There are areas where it is best used and areas to avoid. Wainscoting makes a great accent wall in bedrooms, but you shouldn't use it throughout the whole room. That said, it is great for the bathroom, kitchen, hallway, and formal dining room.