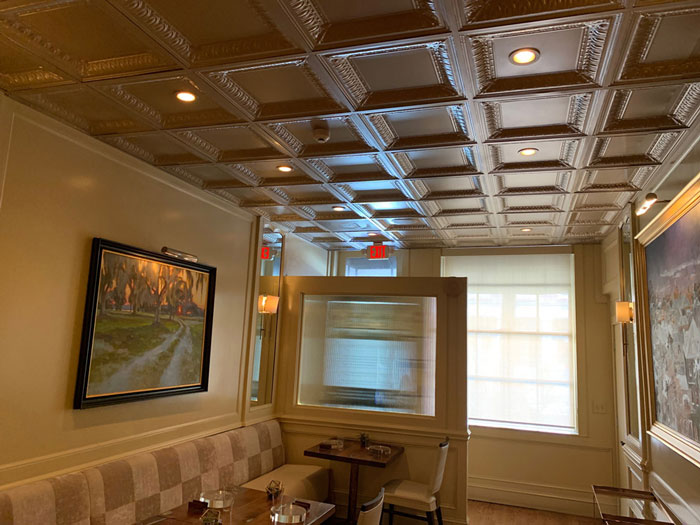 When you decide to redecorate a room in your home or business, you often think first of updating the paint, wallpaper or furniture. However, adding decorative ceiling tiles is a great way to freshen up a room. Using drop ceiling tiles is a fairly straightforward way to completely change the look of a room or simply update it so it is fresh and stylish.
Ceilings are often simply a drywall finished roof that is painted white to go with whatever the original decorating plan was. That's assuming there even was a decorating plan. Drop ceiling tiles can change this mundane look. While people who decorate professionally often use drop-in decorative ceiling tiles in offices, restaurants, and stores, they are also a great versatile item to when remodeling homes. Drop ceilings are especially good for areas like basements where there isn't already a ceiling up.
While you may not be a professional installer, you can certainly learn to put these tiles up quick and easy, without a lot of fuss. Once you have the grid in then you are ready to choose the drop ceiling tiles you like best for your new look. There are a plethora of options to choose from when it comes to these tiles.
---
What Are Drop Ceiling Tiles?
Drop ceiling tiles are also called drop-in or suspended tiles. They are all held up in a grid-like system that offers easy install, removal, and change. Unlike adhesive tiles, there is no glue or staples needed and old popcorn ceilings can simply be covered over without the mess of taking drywall down. There is initial work to create the hanging grid but once that is done you just "drop" your desired tiles in. It's a system that is very flexible while looking great.
---
Reasons to Use Drop Ceiling Tiles
While the initial set up and work to put in drop ceiling tiles is a little more than adhesive ones, they are a great choice if you are renovating or redecorate often. A drop-in ceiling or suspended ceiling is perfect if you are finishing a basement or have a business area where there are fire sprinklers and wiring running through the joists. A drop ceiling means you can access any type of wiring or piping with a simple movement of tiles vs pulling drywall down. There is no sawing or repairing as you would have to with drywall or glue-up. You simply do whatever you need to by moving some of the drop-in tiles then putting them back up once you are done whatever work you need to complete.
A second positive that a drop ceiling allows is that you can run electrical or plumbing lines in areas where you didn't have them before. They can run under the ceiling joists rather than having to drill through the beams if you used drop ceiling tiles. Again, this is great for a room that is being renovated but is also great for new builds.
Thirdly, drop ceiling tiles make decorating much easier and versatile. It takes you away from simply painting a drywalled ceiling. It also means you can change your style and design easily by simply removing one set of tiles and replacing them with another. Once the drop tile system is in you will have little to no mess in changing them out when you want to switch things up.
The other great benefit of a drop ceiling is how they work with houses that aren't always square even though their walls are supposed to be. Whether the issue is a poor build issue or the settling of a foundation, a drop-in ceiling means you can correct this without doing massive wall corrections. There is no demolition, no new wood just simply corrective measurement and the install of the grid used for the drop in tiles.
---
Getting Your Project Under Way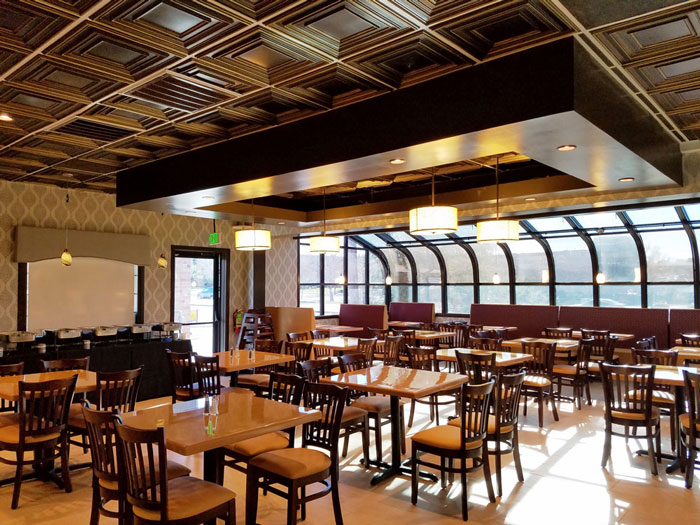 When you make the choice that you are going to put in drop ceiling tiles, you will have to get organized to decide on the style and tiles you want. This has to be done first as the grid has to be created to fit a certain size of tile. Once the choice is made then you get the grid in place and you are ready to go.
The first question to address is what tile you want to use in your new drop ceiling.
You will want to look at what the current style of the room is and what you are hoping it will be used for. The style of the drop ceiling tiles you chose will either be to fit your current décor or maybe create a whole new one.
You will need to assess the following:
Is this for a business area or room at home?

If business:

Board room
Personal office
Lunch area
Reception

If home:

Dining area
Den/library/study
Family Room
Eating area
Bedroom

Teenagers
Adults
Baby or Toddler

Room size – This is will play a role in the decision whether you want to use busy tiles or darker ones in a room that is smaller. This may affect how the room is perceived. You probably want to open up the space rather than make it smaller. However, if you want it warmer then dark tiles may make it cozy. This is all part of the evaluation you have to make before deciding.
Personal preference – This plays a large role in deciding what style of drop ceiling tiles you prefer. Maybe your home or business is chic and refined or maybe you prefer to have a clean and modern look. A flash of color or dark and warm can change a rooms demeanor. All of it is a personal choice and needs to be considered. You want to choose tiles that will make you comfortable because if you don't like what you choose you won't want to spend time in that room.

---

An Easy Choice

Drop ceiling tiles make a huge impact on a room and they're easy to install. Best of all, they're one of the easiest design options to change. If you get bored, just take the old tile out and swap in a new one to create a whole new look.