Posted by Milan Jara on 4th Oct 2018
Your home is nothing if not a stunning canvas to paint your ideas. However, simply setting up a splendid landscape with landscaping items is not enough for a cozy, warm and homey feel. Everything from the walls to the ceilings, window treatments, and flooring needs to be carefully thought out for a ravishing outcome.
And naturally, as walls cover most of the house, they play a crucial role in influencing how the rest of the house looks like. You might have a well-furnished house but if the walls are dull and rusty, you may be far from achieving the stunning beauty you want to.
And let's face it! There's nothing more frustrating than having a warp, stain or crack in your wall. Sure, you could probably get away with a stained wall by covering it up with paint and wallpaper. But repairing cracks and warps could take days and the inconvenience that comes with it can be frustrating. Not to mention the fact that it also takes a toll on your finances. That's why thinking through every aspect of your home décor is absolutely necessary before moving into your new house.
However, while enhancing the walls, investing in the right material is important. Like fashion, wall trends keep on changing every other day. So wallpapers and paint designs might have been a great idea a few years ago but not so much now. If you want a more modern and stylish solution, then the 3D wall panels are your best bet.
Luckily for you, at decorativeceilingtiles.net we have an extensive range of 3D wall panels that will add the wow factor to your home. If you're thinking of switching up your home décor, here is a sneak peek into some of our most prized 3D wall panels. But first:
---
What are 3D Wall Panels?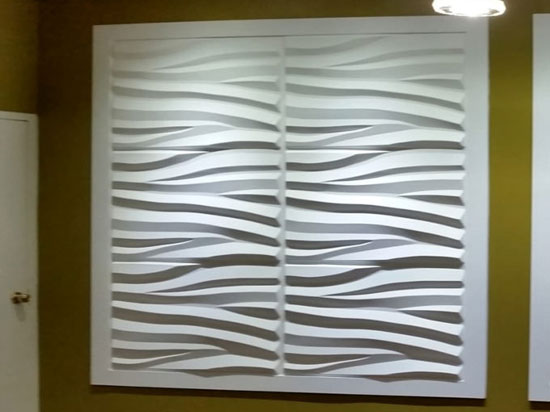 3D wall panels are innovative wall materials made of environmentally friendly materials like leather, rubber, and fabric. They come in form of tiles that are glued to the wall using an industrial adhesive and are often painted in light and dark colors so that they give a 3D effect when put up on the walls.
---
Factors to Consider When Buying 3D Wall Panels
Price
How much are the 3D wall panels? Will I be able to raise that money? Would I need to break the bank to get my hands on my preferred wall panels? These are all important questions that you need to ask yourself before setting out to buy 3D wall panels for your house. Sure, most wall panels are quite economical but some cost as much as $199.00 so you want to make sure the cost is well within what you can readily afford.
Location
Where do you intend to use the panels? Outdoor 3D panel walls are a tad different from indoor panel walls. For instance, outdoor panels need to be trendy with a rusty yet dusty look to better protect your outdoor walls whereas indoor panels tend to have a more royal elegance to create a beautiful ambiance so that onlookers get carried away in the illusion.
Whether They Will Achieve the Desired Look
What kind of look are you trying to achieve? A rustic plush look perhaps?A beautiful dreamy bedroom look?An elegant yet warm look for your living room? Wall panels are not necessarily cheap. In fact, some 3D wall panels cost a ton and so if you don't get the desired results you might not be very pleased. Before you make a purchase decision, you need to envision the outcome you are expecting. With this desired outcome in mind, you can easily buy a befitting pack of panels that will get you that amazing look effortlessly.
Type of 3D Wall Panels
There is a dizzying array of 3D decorative wall panel varieties and each one of them looks and functions uniquely. Depending on the type of wall you are decorating you might either need to go for leather wall panels, stone wall panels, metal wall panels, brick wall panels, gypsum wall panels, wood wall panels or acrylic wall panels.
---
3D Wall Panels Reviewed
Bamboo Pulp 3D Wall Panels (Pack of 12-64 Sq. Ft)
If you are looking for an eco-friendly option that won't cost a ton, then you'll love the bamboo pulp 3D wall panels. These impressive wall panels are available in a wide variety of styles and designs to give your home a more contemporary and homey feel and can be used to decorate the house and create an intricate and timeless design. They are also lightweight and fairly easy to install and maintain which is great if you are planning to do the installation yourself. Not to mention they are also quite uniqueso they set your house apart. And the best thing! You don't have to break the bank to stand out.
3D Bamboo Eco tiles Sample Pack
Available in whimsical and contemporary designs, the 3D bamboo eco tiles sample pack is the easiest way to create a luxurious ambiance and bring in a piece of nature to your house. However, it is a bit subtle and only comes in one hue so if you are looking for something bolder and that comes in different hues, you might not like this pack much.
Bamboo Pulp 3D Wall Panels (Pack of 24 – 64 Sq. Ft)
You can achieve that rustic elegant plush look with the 3D wall panels bamboo pulp. They have a sophisticated eye-catching look that will wheel you in no matter your taste and you can customize them and paint them with any hue you like.
Wrapping It Up
Who says you have to settle for crappy old wall styles when you can get yourself 3D wall panels to pomp up your décor and achieve a ravishing outcome? Luckily for you, we have an amazing array of wall panels to help you transform your space into a magnificent masterpiece. And the best part, they are just the right amount of trendy and catchy to give your home a rustic yet modern elegant look.