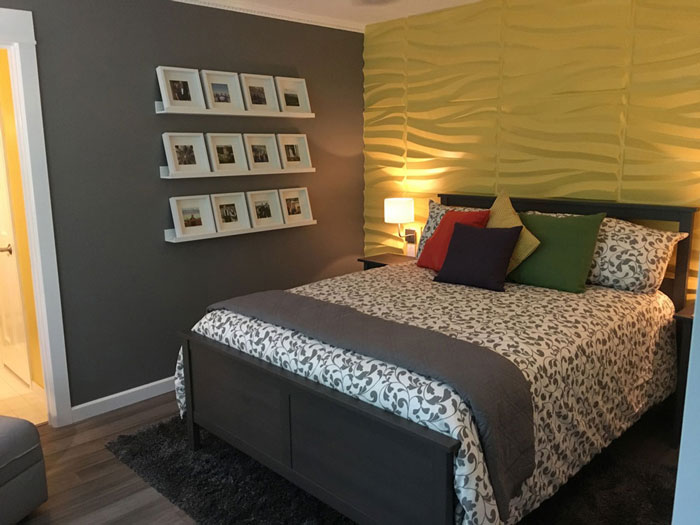 While 3D panels create some of the most interesting wall designs available, there are a lot of other reasons why you should install them in your home or office. You can increase the worth of the building, affect the overall acoustics of a room, and all but silence disruptive outside noises like loud neighbors, manufacturing noises, or the chatter from the office next door.
Of course, Installation of Innovative products such as these panels completely changes the look of a room. Modern wall panels aren't like the old-style cork board or Styrofoam panels that were simply used to dampen sound. Today's wall panels are sleek, full of personality, and add style you can't find anywhere else. You're moving away from standard fair and into a venue that allows the interplay of imagination and change.
Wall panels can be used almost anywhere you install ceiling tiles, paint, or wallpaper. The innovative part of 3D wall panels is their ability to create state of the art spaces that bring a room or particular area to life. While many of the panel designs are modern looking, some also give a classical style that both enhances and highlights already existing areas of your home or business. Research, style, and choose from many options to create a room that showcases personality and comfort.
One of the best things about this design choice is you don't have to pay someone to come in and install them. This can help your decorating budget dramatically and give you the satisfaction of a job well done. If you're up for tackling the job yourself, it's not all that difficult to do.
Choosing to install wall panels is just as easy, if not easier than working with other decorating mediums. 3D wall panels are similar to ceiling tiles in how they are installed. They aren't like drop-in tiles but use glue or nails as their primary installation options. Both of these are fairly easy and make future décor changes simple to accomplish. There's not much mess if you follow the step by step instructions and the job should take a limited amount of time.
---
Installing 3D Wall Panels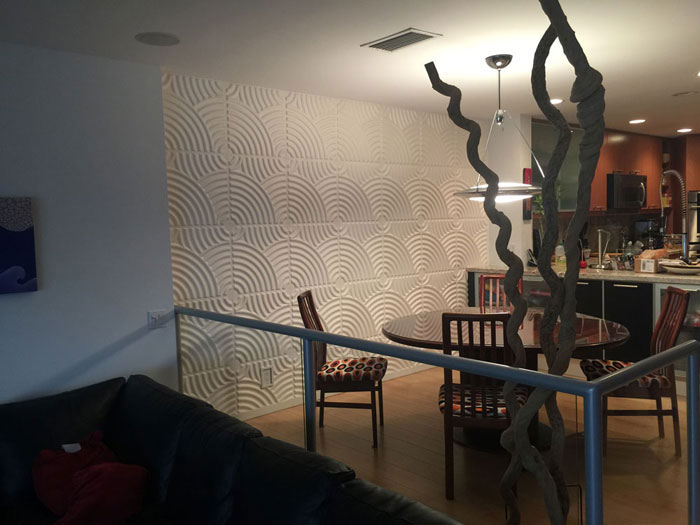 Unlike some ceiling tiles that are installed as the drop-down, 3D wall panels don't need a lot of preinstall preparation. They aren't hard to put up if the job is done in a step by step manner and you have the proper tools and adhesive on hand. Once you have decided on the panels you want to install, do the following to put them in place:
Clean the wall space thoroughly.If there is any dirt, oil, or loose paint then you may have trouble getting the wall panels to stay in place as the glue may not hold.
Plan the panel layout ahead of time so you know where you want them placed. Putting an outline on the wall can give you a good idea of what works and what doesn't. Use a level for this so you aren't just "eyeballing" it.
Once the wall is clean and lines are drawn for mounting the panels, put glue both on the panel and the wall. It is suggested that you use Instant Grab #310 for the best adhesion.
Put up the full panels before you cut or trim anything.
Prime panels once they are installed.
Get a drywall compound that is sandable to fill in the gaps between panels and make sure they are as smooth as possible. Use fine sandpaper, 220 or greater. Be careful not to push too hard so as not to damage the panels themselves.
Once the compound is dry and sanded, add a coat of primer over the joints as well and then paint to cover any joints that might be visible. You can paint it white or chose a color to complement the rest of the room. Make sure to use painters' tape to make sure the areas you don't want to be touched stay clean.

---

Final Thoughts

3D wall panels are a fantastic option when you are looking to do something different with decorating in your home or business. Using these panels takes a little more planning and but the outcomes are great. Panels offer a way to set a defined, clean specialized look that can't be matched by paint or wallpaper alone. The 3D aspect works hand in hand with other decorating mediums like paint and lighting or they can set the tone of a specific area on their own.

Whether you are taking a decorating project on yourself or hiring someone to help you, 3D tiles move your room out of the norm and into something quite special. Do your research, pick your tiles, get your supplies, and then you are ready to go. You will be happy with the product and even more pleased with the results in setting the decorative tone for your home or business.

3D wall panels are a flexible decorating concept that change how a room is seen and experienced. While many of the 3D panels are white, they can be painted to suit the décor either as an accent or to match. Installing these 3D panels is a practical way to do some great decorating while being fiscally responsible. Once the panels are installed and the joints are smooth, you can paint them if you wish. You don't have to remove and put up new ones every time you want to change the color scheme of a space. Simply paint over the panels in the new paint color and they'll continue to accent your room without you having to do a complete overhaul once again.