If your living room décor needs an update, there are plenty of simple ways to freshen up your living space. Whether you want to completely renovate your living room or you just need a few decorating ideas to perk up the look of the room, we can help.
Don't be overwhelmed by the task of living room decorating. You can breath new life into your space with just a few small tweaks and decor ideas. The end goal is to make sure your living room appeals to you; after all, it is supposed to be one of the most comfortable rooms in your home.
We have compiled a list of decor ideas to help you make your living room a stylish and inviting space to kick back and relax.
---
1. Create An Eye Catching Accent Wall
Accent walls are a low budget, high impact way to revive your living room. An accent wall draws your attention without being overwhelming. Direct focus to the part of the room where you want eyes to be drawn by making one wall stand out.
There are many ways to create an accent wall. You can always paint a wall a more vivid color than its surrounding walls but a fresh coat of paint might make enough of a statement to make your accent wall pop.
Consider using textured wall panels and tiles to give your accent wall a unique look and feel. There are many options when it comes to decorative wall panels and an almost limitless number of styles, colors, and materials available.
Faux leather panels give your room an inviting atmosphere. The look and feel of leather are naturally soothing and you can make your space memorable with a few strategically placed faux leather tiles. We like the look of the Buckle Up Faux Leather Tile which features a simple design that would make a great accent piece in any living room. Find it HERE.
Browse our other faux leather wall panels through the following LINK.
Shop For Faux Leather Wallpanels
---
2. Bring Nature Into Your Living Room
If you want to make your living room feel cozy, you can't go wrong incorporating elements of nature. One simple way to do this is to use large houseplants as a focal point. Plants literally breathe new life into your spaces and the vibrant greens draw the eye.
Rather than using a bold palette, focus on subtle, naturally inspired patterns throughout your living room to create visual interest. Try rattan furniture or a neutral color palette with cotton or linen window treatments. Using untreated wood and soft textures makes your space feel more natural.
There are plenty of decorative wall panels that can help you achieve this goal without blowing your budget. For example, faux stone wall panels mimic natural rock facings but are much easier to install and far less expensive. If your living room has a fireplace, you can border it with faux stone and make a statement.
Find our seamless faux stone decorative wall panels HERE.
Shop For Stone Seamless Wallpanels
---
3. Give Your Living Room Ceilings Some Much Needed Attention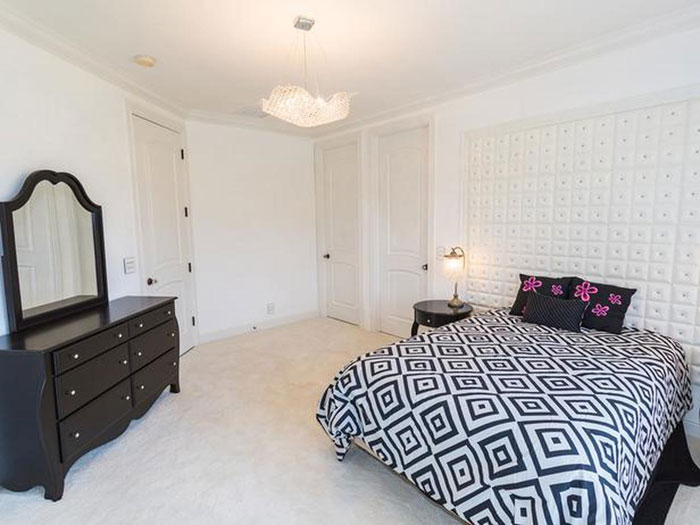 Make your living room stand out by giving its ceiling a decorative facing. Ceilings are the most neglected surface in our homes. We don't think to do much to the ceiling other than adding a new coat of paint; however, with decorative ceiling tiles, you can add plenty of character without breaking the bank.
Just like with the faux leather wall panels, you can give your living room a warm and inviting feel by using leather on your ceilings. We like the look of the Diamond in the Sky Faux Leather Tile on living room ceilings. The tile itself consists of a pattern of square blocks that each have an imitation diamond at their center. Draw eyes upwards and give your living room a comfortable feel that will make you want to kick back and relax.
Find the Diamonds in the Sky Faux Leather Tile HERE.
Shop For Diamond Sky Faux leather Tile
There are so many options when it comes to ceiling tiles. Stunning metal tiles are available in beautifully formed patterns and can transform your living room into the most elegant space in your home. Find one that catches your eye and choose a color that matches the rest of your décor.
Find our vast catalog of ceiling tiles through the following LINK.
---
4. Give Your Living Room a Personal Touch
Your living room should reflect your unique personality and tastes. One way to express yourself is to create a gallery wall that features photographs and prints that are special to you.
Nothing adds personality and color like a wall that displays your favorite memories and works of art. Choose simple and cohesive frames so that your photographs and prints are the centers of attention. You can also make your living room seem bigger by choosing smaller frames and extending them across an entire wall.
Your living room does not have to be an empty space. Do not fall into the trap of thinking that any personal flair you add to your living room will make the room seem cluttered. If a photograph or memento makes you feel happy, display it!
There are plenty of other ways to add a personal touch to your decor. Try adding some patterned throw pillows, a funky floor lamp, or fun area rugs. You can choose a traditional living room palette or go crazy with an all blue living room. Whether you choose mid-century modern or your own style, make sure your living space has plenty of personal touches.
---
5. Use Faux Wood Beams to Give Your Living Room Rustic Feel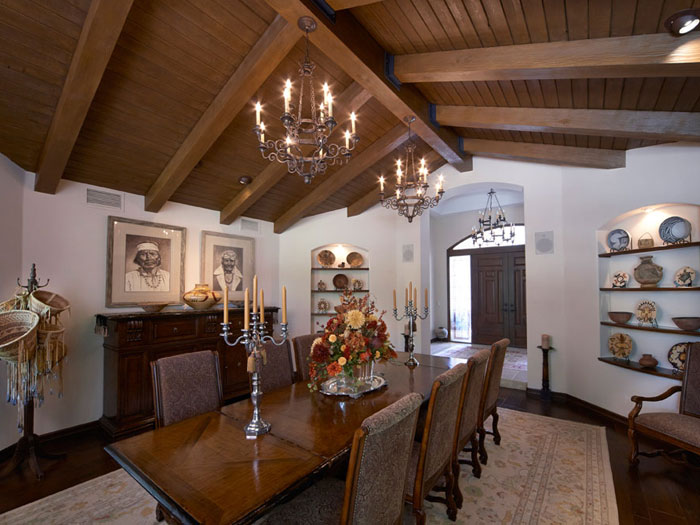 Faux wood beams are a cost-effective way to give your living room a rustic feel. Where natural wood beams are an expensive and labor-intensive material to work with, faux wood beams area affordable and easily installed.
You can add plenty of character to your ceilings with faux wood ceiling beams or use them to frame a fireplace or doorway. Faux wood perfectly replicates the charm of real wood by using realistic colors and grain patterns.
You can make your living room the most eye-catching room in your home by using faux wood beams to make it feel like the den of an inviting country home.
Find our catalog of faux wood beams HERE.