Posted by Milan Jara on 3rd Jun 2019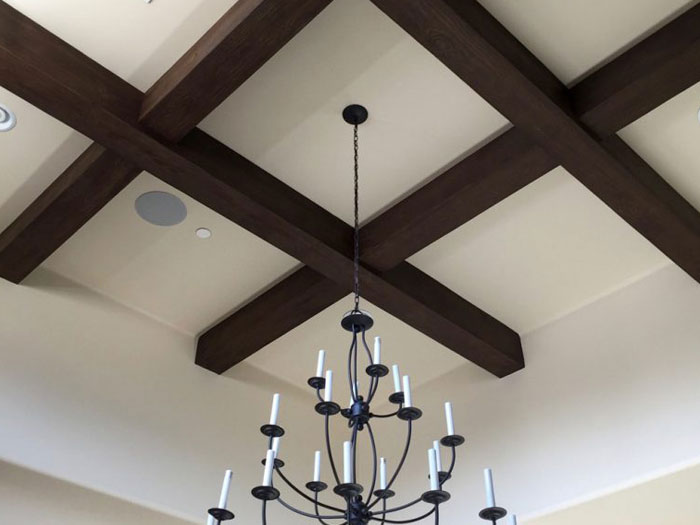 Are you getting bored with the decoration of your home, but you don't know the best way to modify it? Do you feel like changing it, but you don't want to have the masons at your home for a whole month? If you are currently in this situation, then this post is definitely for you. Here, we are going to give you some ideas and advantages of using faux wood beams to decorate your home.
These faux wood beams look so realistic that you would not be able to tell them apart; this is due to the fact that they are constructed from molds of real timber beams.
Have you ever visited a place or a restaurant that utilizes wood beams and it seemed so beautiful to you?Well, using wood means sacrificing enough time and money in maintenance in order to avoid termites, woodpeckers, or moisture. Most of the time, it is mandatory that you replace real wood.
If you are the kind of person that doesn't want to have to worry about spending time and money in maintenance,or how long your wooden beams will last. Then there is a solution for you, faux wood beams; beams that are made from polyurethane.
---
Advantages Of Using Faux Wood Beams
They are Versatile
Versatility is one of the main advantages of faux wood beams amongst many other numerous advantages. The possibilities for using faux beams are only restricted by your imagination. Regardless of the room you plan to install the faux wood beams; there are endless ways you could experiment and utilize the patterns to suit your needs. You could choose to go for the common horizontal placement or opt to make things a little more complex by crisscrossing beams to give you a tiled look. Faux wood beams are structured for high ceilings.
They are Durable
One of the qualities of faux wood beams that greatly sets them apart from real wood is that they are equipped to withstand the test of time. After some time,real wood starts to rot, chip and split, and starts looking less like the product that you had to spend a hefty price to get. On the contrary, faux wood beams maintain their looks even after a long period of time.
You don't have to worry about maintenance when using these beams, and they are also resistant to most of the elements that cause real wood to wear down, they also stand up well both indoors and outdoors.
Easy Installation
When you are thinking of remodeling, there is a factor that you must consider in the total cost of the project, and that is labor. But with faux wood beams, that is definitely not an issue because the installation is most times a one or two-man job. If there is any advantage of the faux wood beams that make them stand out, it's their lightweight construction and ease of use.
It is so light that in most cases only one person could carry it, and not only that, the shipping cost is relatively cheaper than real wood, and they are fixed in place with common hardware.
Custom Finishes
It is so simple to add some finishing touches to already existing decorations or even develop a whole new design by selecting from a variety of readily available finish colors. Are you looking for a specific color? You can purchase wood beams that are unfinished, primed, and ready to paint or stain. When it comes to customizing the faux wood beams, the possibilities are limitless. Several techniques for finishing faux wood include gel staining, dry brushing, and marbleizing.
Functionality
Without a doubt, the faux wood beams are very beautiful, but did you know that they are also very functional? Many of the faux wood beams styles are available in a 3-sided option which makes them great for concealing electrical wiring, installing recessed lighting and even small HVAC ducts. Another thing you could use the faux wood beams for is concealing existing LVL beams. Do you have structural problems? Then no need to worry anymore, these wood beams are the perfect solution for covering up cracks, popcorn style ceilings, or uneven ceilings.
---
How to Use Faux Wood Beams to Decorate Your Home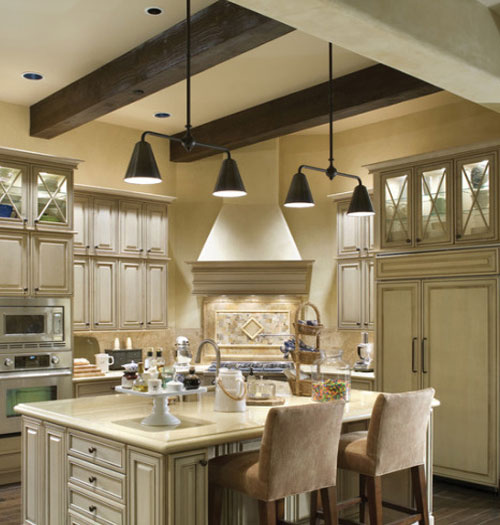 Interior Applications
Faux wood beams can be used in so many ways in your home, and it is the perfect pick to give some areas of your home warmth. They can also be used to renovate any room in your home, giving it a special style.
Installing the beams in your kitchen can be a nice way to give warmth to this space. It is a fact that a kitchen is a place in the house that is associated with family and harmony. The beams come in different colors and finishes, which means they can fit any style of your kitchen.
If you opt to install the beams in the room, what you would get is a very cozy look. Depending on your personal taste, it can be classic, urban, retro, vintage, rustic, or oriental. Your imagination is the limit because you can develop new styles, mix them up or even contrast different styles to give your home a unique touch.
If you are the kind that likes a classic look, then the colors you choose should be harmonious and also choose earth tones or natural wood. The beams can also be combined with the furniture, thus giving you the classic and cozy touch of a room.
Exterior Applications
If you thought that the faux wood beams can only be utilized to decorate the interior, then you were mistaken. Using beams in an exterior corridor or on a terrace is one of the classiest styles. When placing beams in this space, it gives a nice warm appearance to your home.
One of the greatest attributes of these beams is that they can adapt to the style of your home and upgrade this space that is wasted most of the time. If you place some chairs or outdoor furniture, then this will be the ideal place to spend the afternoons of summer.