Posted by Milan Jara on 15th Jul 2020
When it comes to your home, you know that there are areas within it that absorb a lot of splashes and spills, especially where basins and sinks are located. It's evident that these areas need to be protected, and usually this is done by ceramic tiles. However, using ceramic tiles isn't as effective as a lot of decorators may think. The reason for this is that when water splashes onto the tiles, it easily forms mildew. This means that you'll have to maintain and scrub the tiles a lot more often than you want to.
In this guide, you'll learn a key alternative to using ceramic tiles for backsplash areas. You'll learn why faux tin backsplash tiles is a much more effective method, so that you can consider this option for your home. If you are shopping for faux tin backsplash, make sure to look at faux tin ceiling tiles too as they can be used for that same purpose.
---
What are Faux Tin Backsplashes?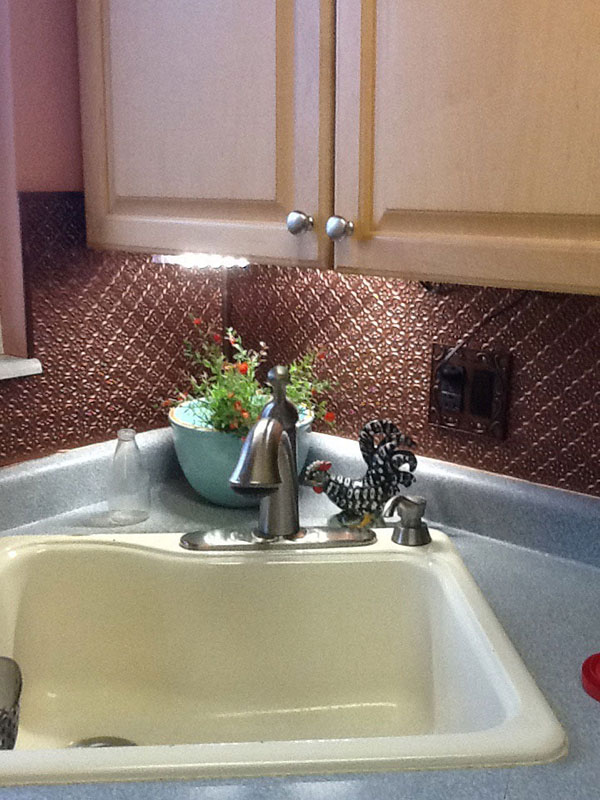 Faux tin backsplashes tiles are made from PVC and are a way to protect areas in your home where water functions. They come in a variety of materials, colors, textures, and designs, so that you can match them with the theme and décor of your home.
Faux tin backsplashes make great do-it-yourself projects, so there's no need to purchase a professional service when you're ready to install this feature.
---
The Benefits of Faux Tin Backsplashes
As mentioned, faux tin backsplashes are easy to install, which makes them a wonderful asset to your home. They're incredibly light in weight, so it doesn't take a monumental effort for you to apply them to your walls. As these rolls are not made of real metal, they can be cut down to size by using scissors or a razor knife. Once you've cut them down to size, they can be simply glued into place so that the much need areas can be spruced up and protected from water splashes.
Installing any kind of faux backsplash will have its decorative and practical benefits, but a faux tin matches this, alongside offering a metal looking finish. The stunning look of a backsplash can add character to any place that you require it. Looking over the available styles and patterns will give you the chance to find that perfect style where you can piece together your own work of art.
In general, faux backsplashes are a great way to beautify so many environments that can be decorated. For instance, your home, office, school, hotel, or other business complex can all benefit from having a faux backsplash installed. With a PVC material, you'll be investing in a backsplash option that's fire resistant, so you know that it works excellently inside kitchens, salons, restaurants, and any other setting that a fire may break out during any moment.
Further benefits of faux tin backsplashes include, being; waterproof, inexpensive, and attractive. With the latter, they can give you the more expensive look of metal finishes for backsplash areas, including; kitchen, garage, and bathroom. Its versatility makes it a worthwhile option for your backsplash. Typically, it works well with a variety of kitchen styles and themes. If you're looking for a specific theme, from a cozy country kitchen, to a sophisticated Victorian, faux tin backsplashes will have you covered. Ultimately, they are your economic alternative for using heavy metal tiles for the same purpose.
---
Colors and Patterns
If you're looking for a way to implement a metal finish to your backsplash areas, but need an easy installation process, using faux tin backsplash rolls are your perfect solution. This product has a metallic finish and are available to look like different types of metals, including; copper, tin, aluminum, brass, and among several others.
In terms of popularity, metallic colors from brushed and shiny silver to antique copper have to be mentioned. However, you can find powder coated colors or even paint the tin yourself so that it matches your taste and kitchen theme.
Check out our selection for ideas.
Are you now convinced by faux tin backsplashes and the advantages surrounding them? If so, you may need a solid idea of how to install them – especially if you are going to take on the project yourself. Here is a step-by-step guide to help you through it:
Take off the existing backsplash and/or metal trim. Clean the debris and dust from the wall and the counter.
Measure the area so that you'll know the sizes to cut your roll of faux tin backsplash. As mentioned, you can do this by using a pair of scissors or a razor knife – but preferably scissors.
You'll need to tape the backend of the tin tile with the double-sided adhesive tape. Keep it there until you stick the tile to the wall.
This step may not always be required, but for areas like a bathroom, you may find this step helpful. If you have a tight area – like a small space between a mirror and your backsplash, this can be a tricky area for you to install the tiles. Although it's tricky, you are able to squeeze the tiles in between the mirror and counter while keeping the tile flat. Keep tweaking size of the tile with your scissors until it fits on perfectly.
This is when you remove the paper from the double-sided tape and plant it to the wall. Hold the position for a minute so it gives it a good chance to stick properly. Don't panic if you feel like this part has failed. All you do is take it off and retry.
Ultimately, investing in faux tin backsplashes is a worthwhile and valuable option. There are many benefits to installing these tiles which have been listed in this guide for you to learn. Unlike real metal, they won't spend time rusting, which makes maintaining them a lot easier. If you're now considering the option of adding faux tin as a backsplash, you can easily get started as early as today. With just a pair of scissors to cut the rolls, you don't need expertise or expensive tools to complete the project.