Posted by Milan Jara on 9th Sep 2018
On the scene for home decorating lately has been the farmhouse look. No matter where you live, you can bring the farmhouse style into your home. Many companies have specific farmhouse lines in their stores that are dedicated to bringing you the look and feel of an authentic farm right into your urban city home.
One of the many ways to bring this rustic look right into your humble abode is tin tile. You can use tin tiles for numerous reasons such as tin ceiling tiles, but one very popular usage is in a kitchen backsplash. Having a tin tile backsplash can completely transform your kitchen into a farmhouse dream.
Here are some of the most popular tin tile backsplash ideas to bring the rustic style of the farmhouse into your home.
---
Metal Tin Tile Backsplash
Ready to bring the farm to your kitchen? Having a metal tin tile backsplash will certainly bring your kitchen to a whole new location. No matter where you live, with a metal tin tile backsplash you can transform your eating space into a whole new world.
These tin tile backsplashes come in a variety of sizes including single tiles, tile sheets, or customizable sizes. This leaves you with the option to use them how you need to in your home.
A great thing about these metal tin tile backsplashes is they are easy to clean. Due to the metal material, using these tin tiles for your kitchen backsplash will leave you with no worries about splatters from the kitchen sink or stove. You can easily take a wet paper towel and wipe off the mess. This is ideal for any kitchen!
You may also find some options to use these metal tin tiles not only as a backsplash but also as ceiling tiles. Originally, tin tiles were used as ceiling tiles. But DIY lovers have since found a new way to use these ornate and antique looking tin tiles as backsplashes in not only kitchens but also bathrooms and mudrooms.
If you're looking for a farmhouse inspired kitchen, these metal tin tile backsplashes will give you exactly that!
---
Copper Tin Tile Backsplash
Another incredibly popular tin tile backsplash design is the copper tin tile backsplash.
These tin tile backsplashes are great for kitchens because of their durable construction. Waterproof materials are always the ideal material for kitchen backsplashes—and that is exactly what copper tin tiles are! You won't have to worry about making a mess in your kitchen with a coppertin tile backsplash.
Another great thing that we love about these copper tin tiles is their easy installation. With an adhesive backing, most copper tin tile backsplashes are easy to stick anywhere you want to stick them!
You can purchase these tin tiles for your farmhouse backsplash in a variety of locations. But there is one thing to be aware of: the price. These tin tiles are sometimes more expensive than their aluminum counterparts. Do your research first before purchasing any copper tin tiles. You may be able to find some affordable copper tin tiles in unconventional places.
---
Whitewashed Tin Tile Backsplash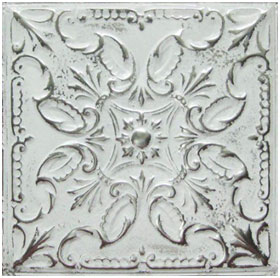 If you are truly committed to a farmhouse kitchen, whitewashed tin tiles are the perfect way to achieve your desired look. Nothing screams farmhouse and rustic like a whitewash. You will see many pieces of furniture and other kitchen décor in a whitewash. Having a whitewashed tin tile backsplash will surely bring your kitchen to its farmhouse destination.
One option to achieve this look on a DIY status is to buy either true tin tiles or faux tin tiles in any color and then whitewash them. You could easily paint the tin tiles white and then apply the whitewash technique or sand them down to bring the ornate designs to the forefront in a different color than the rest of the tin tile.
Farmhouse kitchens look amazing with white-washed tin tile backsplashes. They really bring your kitchen to a whole new farmhouse level!
---
American Beauty Tin Tile Backsplash
Maybe your idea of a true farmhouse kitchen involves stars and stripes—the good ol' American dream. We don't blame you! This is a classic look that will bring any kitchen back to its roots.
Most notably seen in farmhouse kitchens in the great state of Texas, you can easily bring this rustic look to your kitchen. These aluminum tin tiles are great for kitchens due to their durability and easy-to-clean status.
Now, you can bring the American dream into your farmhouse kitchen with this tin tile backsplash and experience a trip back in time.
---
Repurposed Ceiling Tin Tile Backsplash
Having a tin tile backsplash doesn't have to mean full coverage. In fact, some of the most rustic looking tin tile backsplashes are simply repurposed ceiling tin tiles that have been cut and hung on existing backsplashes.
Tin tile backsplashes are great for kitchens because they're easy to clean, but having beautiful tin tiles that originally came from antique homes' ceilings can create the perfect farmhouse look.
You can find these tin tiles in a variety of places, some which may cost you more than you want to spend. Look in habitat stores, old houses that are being torn down, or family member's storage sheds. You may be surprised at the treasures you can find in these places for less than half of the price of buying them outright.
It's important to note that this tin tile backsplash using repurposed ceiling tin tiles may not be the most durable for kitchens. While they look gorgeous, they may not withstand the high temps from the stove or the splattering of food from a pan.
---
From Farm to Table
The farmhouse look (especially in kitchens) has become quite popular over the recent years. Many people opt to use actual antique pieces passed down within their family while others use store bought farmhouse decor to give their home the rustic farmhouse feel.
However, you go about making your home feel like the farm, one thing is for certain: a tin tile backsplash can make your entire kitchen transform overnight!
So, now you can think of more than just tin ceiling tiles. With many different options for tin tile backsplash materials, you are sure to find something that will fit your design taste and desires. All you need are tin snips and you are ready to go!