Posted by Milan Jara on 17th Feb 2020
Decorative wall panels can transform the appearance of a space in ways that paint and wallpaper cannot. Using wall panels, you can easily create an eye-catching accent wall or completely resurface the walls of an entire room.
Not only do wall panels create a more lasting impression than a coat of paint but they are also easily installed and surprisingly affordable.
If you want to resurface the walls in a home or a commercial space, the unique design and texture options make it easier to give your project a stylish look.
Below, we will take a look at some of the reasons why you should consider wall panels and the types of wall panels that are available. Hopefully, this will inspire you to get creative and consider wall panels for your space.
---
Why You Should Be Using Decorative Wall Panels
Wall Panels Are Eye Catching

For starters, decorative wall panels almost always make use of three-dimensional designs. The wall panels actually have their own unique textures that create cool effects by creating shadows.

Not only is this more visually appealing than painted drywall, but the textured surface of wall panels also gives your space the perception of depth. Using wall panels, you can create a modern and luxurious appearance.

Wall Panels Are Versatile

There is an incredible number of styles and materials available for you to choose from. When it comes to wall panels, one of their main selling points is versatility. You have so many options that can be used to create any number of effects. Do you want a room to have an industrial feel? Choose a faux brick wall panel. Would you prefer to give your room a warm, lived-in feel? Choose a faux leather wall panel. If there is a particular look and feel you want for your room, there is a wall panel to help you achieve it.

Wall Panels Are Affordable and Easy to Install

Interior wall panels are extremely easy to install. In fact, most wall panels use a simple cut and glue installation method. This means even inexperienced DIYers can easily install them. They are also far lighter than you would expect which helps immensely.

The wall panels themselves are also quite affordable. Most come in packs that cover a considerable amount of wall space. Not only do you not need to hire an expensive professional contractor to install the wall panels, but you can also cover a large wall without needing to buy too many.

Wall Panels Are Easy to Maintain

All decorative wall panels are made to last, durable, and easy to clean. They're not susceptible to mold which is often a problem with wallpaper and tile grouting. You also do not have to worry about surface bubbling as you do with painted drywall. Once installed, simply dust the panels occasionally by wiping them down with a damp cloth to keep them looking as good as new for years to come.

Wall Panels Can Conceal Existing Surface Damage

If your existing walls have an uneven or damaged surface, wall panels conceal these issues. Chips and other imperfections are easy to cover up with solidly constructed wall panels. Where surface flaws remain visible when covered up with paint and wallpaper, wall panels completely conceal any imperfections in your walls.
---
What Types of Wall Panels Can I Choose From?
Wall panels come in a variety of materials, colors, and designs. Each can be used to give a room a completely unique aesthetic. We will highlight some of the types you can choose from below.
Seamless 3D Wall Panels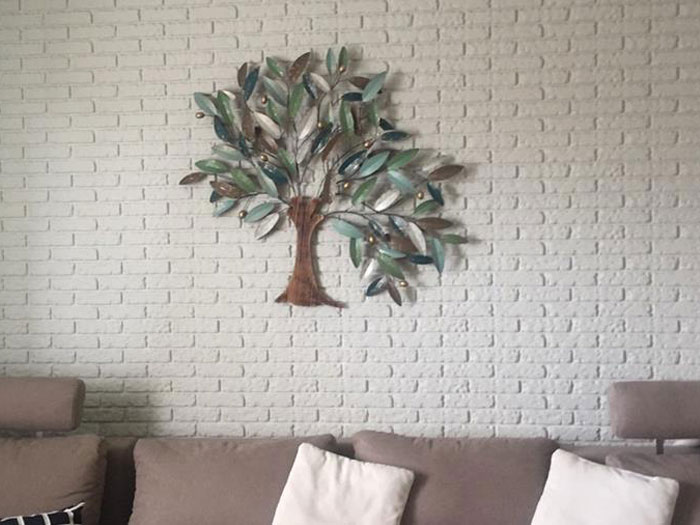 Seamless 3D wall panels are one of the most versatile options available. They are made out of high-density expanded polystyrene which makes them both lightweight and durable.
These panels can be molded into a limitless variety of patterns and styles. The realistic molding and printing techniques used to create seamless wall panels can be extremely detailed. Whether you want a lightweight and inexpensive imitation brick design or a more subtle contemporary pattern, you can find a 3D seamless wall panel to match your vision to give a wall a uniform and complete look that catches the eye.
3D Bamboo EcoTile Wall Panels
3D bamboo wall panels are made out of a natural bamboo pulp which is renewable and recyclable. 3D bamboo wall panels are an eco-friendly way to give your walls a unique look and come in a wide variety of patterns. The patterns make use of textures that create shadows and play with the light in your space.
Not only are the wall panels environmentally friendly, but the fact that they are also constructed out of a bamboo pulp means that they are extremely lightweight and easy to work with.
Faux Leather Wall Panels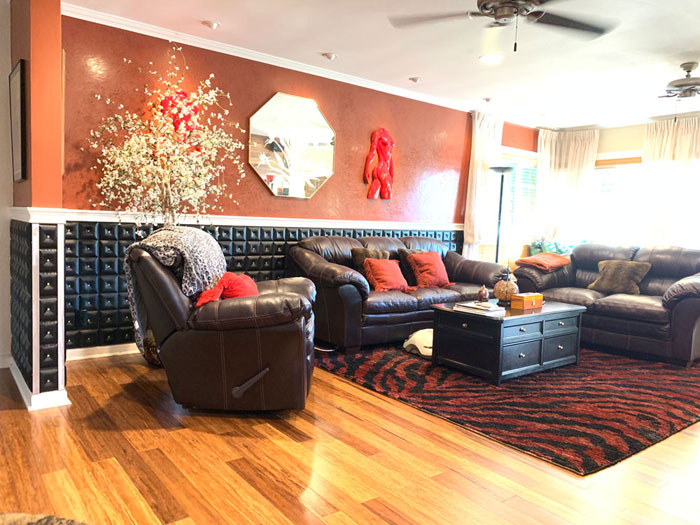 Faux leather wall panels are surfaced with a leather substitute that is so realistic, it is difficult to distinguish between it and the real thing. You get all the aesthetic and physical qualities of real leather at a much lower price. In terms of animal welfare, faux leather is also a more ethical choice than real leather. This means you have a guilt-free way to give your walls a sophisticated and welcoming look.
Faux leather wall panels are also available in a wide variety of colors and designs.
---
Which Type of Wall Panel Should You Choose?
When choosing the right wall panel for your space, try to ignore design trends and focus on what look appeals to you the most. Remember that there are no limits on where you can install wall panels. Ultimately, the decision of which type of wall panel you choose depends entirely upon your vision and preferences. Feel free to browse our catalogue and explore the many options that are available to you. We hope you get inspired and use wall panels to give your space a unique and dynamic appearance.