Posted by Milan Jara on 23rd Jul 2019
It used to be people who wanted to travel by RV would go out and purchase a new or used vehicle and hit the road. Everything stayed as-is, either because it was brand new or because it was good enough and the ultimate goal was to reach the destination. Home improvements and décor were left at home when you hit the road in an RV or trailer.
These days nothing could be further from the truth. More and more people are investing in RVs and travel trailers and customizing them to suit their own unique design styles. They are making these vehicles home in more than one way. Whether they are living on the road full-time or not, they are turning the standard RV into something that features their own unique tastes and style in décor, and they are doing this in a variety of different ways.
The key to renovating an RV or trailer is to treat it in much the same way as you would a regular home. Start in the room that needs the most renovation and work from there. Prioritize your needs and wants and aim to finish each project by a certain date. In many cases, RV owners will commit to finishing a certain number of updates or changes by their next trip, assuming they aren't staying in their vehicles full-time. Go room by room or project by project. Add decorative ceiling tiles or new flooring or work on the bedroom or kitchen, instead of dealing with the entire vehicle all at once.
---
Tips for Renovating an RV or Trailer
There are several tips to keep in mind if you are planning a renovation project for an RV or trailer.
First, remember that not everything needs to be done at once. Even if you're invested in a true fixer-upper RV, every single project does not need to be completed simultaneously. It can be tempting to tackle it all at once because you are dealing with a much smaller space than you usually would be with a traditional home, but working piece by piece can save you money, frustration, and headaches.
Also, keep in mind that even simple changes can make a major impact. Some people are interested in only making changes to the finishes in the RV or trailer, and even then they are amazed at the finished product and just how different the space looks and feels. Simply changing out cushion covers or adding a backsplash in the kitchen space can have a major impact in a space so small.
Finally, make sure how the space looks aren't your only consideration. Whether you are planning to use your RV or trailer full-time or part-time, it's important to make choices that are attractive as well as functional and comfortable. This is even more so the case in this type of renovation than in a home. In most houses, you have space to play with if you want to do something frivolous or for "looks only." Not so in an RV or trailer, at least most of the time. Even larger RVs are limited on space, so any projects you commit to you'll want to make sure they have a practical as well as aesthetic function.
---
Why Decorative Ceiling Tiles Might Be the Change Needed for Your RV or Trailer
Not sure where to begin when it comes to an RV or trailer renovation?
How about looking up?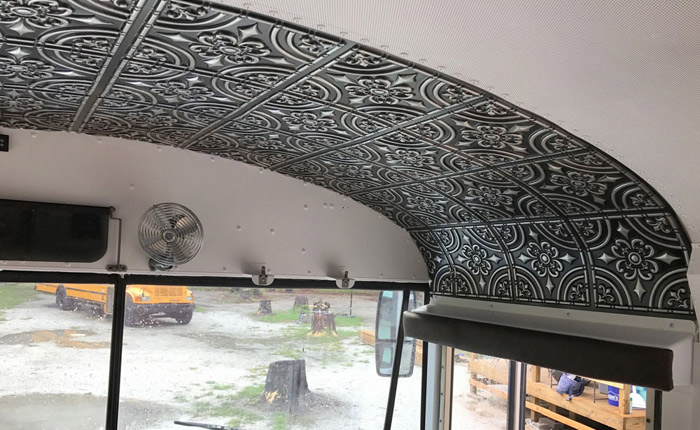 The ceiling in an RV is much lower than in a home, and this means it's far more noticeable. You might be able to get away with ignoring the condition of the ceiling in a traditional house for a while, but that's not the case in an RV.
Every flaw will be incredibly noticeable and repairing any ceiling damage should be one of the first priorities on your to-do list when renovations begin.
---
Depending on your RV ceiling material, you have several options when it comes to updating it:
Go to a Pro
Many RV owners choose to have their ceilings professional repaired or replaced. This is likely the best option if you're dealing with structural issues. It can be more expensive to work with a professional, so if your budget is tight, you're better off doing it on your own.
If you are a novice, it is better to stick to the basics than to prematurely plan huge dome lights or styrofoam ceiling tiles.
Piggyback Ceiling Replacement onto Other Updates
If you are planning to overhaul the entire RV, you might as well do everything all at once. It can save time and money, in the long run, to tear out the walls and cabinets and replace the ceiling all at the same time. It's a massive undertaking and can be challenging, especially if you plan to live in your RV or trailer while renovations are underway. In the long run, though, most people are happy, they handled everything in one fell swoop.
Opt to "Fix" the Problem by Covering It
Your final option is to hide the problem instead of completely tearing out and installing a new ceiling. Decorative ceiling tiles work great for this option because you are able to solve a major design problem in your RV or trailer without tackling a huge demolition and renovation project.
Decorative ceiling tiles are available in a variety of styles, sizes, and materials. There is something out there right for every RV owner, regardless of what they might be dealing with.
Installing decorative ceiling tiles in an RV is also a fairly easy DIY project. It might not be something you want to tackle if you have zero home improvement experience, but if your goal is to renovate an RV or trailer, chances are you are ready to take on big deal projects. Even a moderate sense of adventure can get you through installing ceiling tiles in a smaller space like an RV.
Perhaps best of all are the options you get with decorative ceiling tiles. Not only are you able to choose a style and material that suits your personal taste, but you can also do the project as sizable as you choose. If you only want to add tiles to define the kitchen or living space in the RV, that works. And if you want to upgrade the entire ceiling, that works too. Your options are endless!