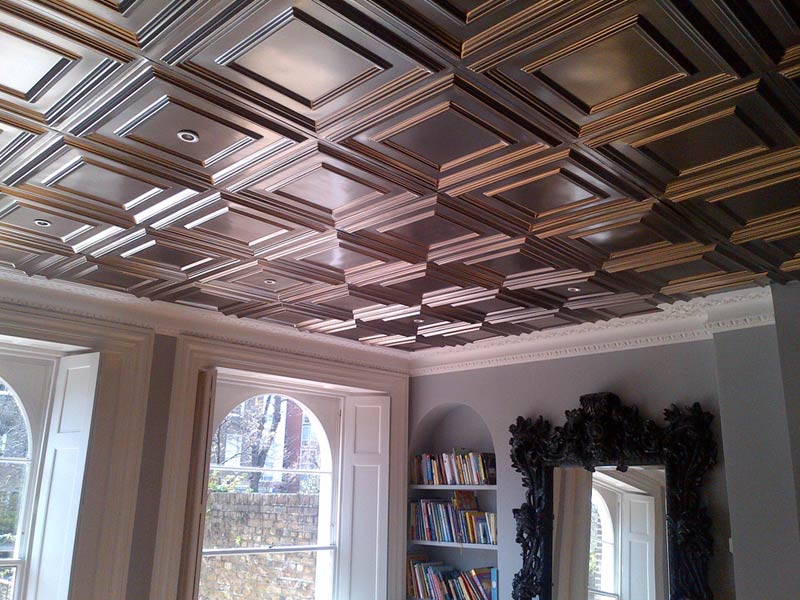 Ceiling tiles aren't the only option for your ceiling. Check out these ceiling tile alternatives to create a distinctive look in any room.
Ceilings are a crucial part to any home, and not just because they hide the unattractive sight of your house.
Ceilings have the ability to frame the look and feel of a room, so you want to make sure that you choose the right material for them.
Whether you're redecorating your home or your office, it's worth upgrading your existing ceiling to uplift the look of an entire room. You can even transform your basement ceiling with some decorative ceiling tiles. Ceilings are also difficult to access, so you want the ceiling panel and materials to be durable and long-lasting.
That being said, the typical ceiling tile isn't your only option when it comes to ceiling materials. There are a number of ceiling alternatives that go beyond the typical popcorn ceiling.
Keep reading to find out what your options are for ceiling tile alternatives and learn how you can make your ceilings an integral part of your home decor.
Top Ceiling Tile Alternatives
Ceiling tiles are great and come in a variety of designs, but they can become repetitive when they're in every room of your house. It's a great idea to switch it up in a room or two with some ceiling alternatives.
When it comes to ceiling materials, you have various options to choose from. Here are five options for you to consider.
Faux beams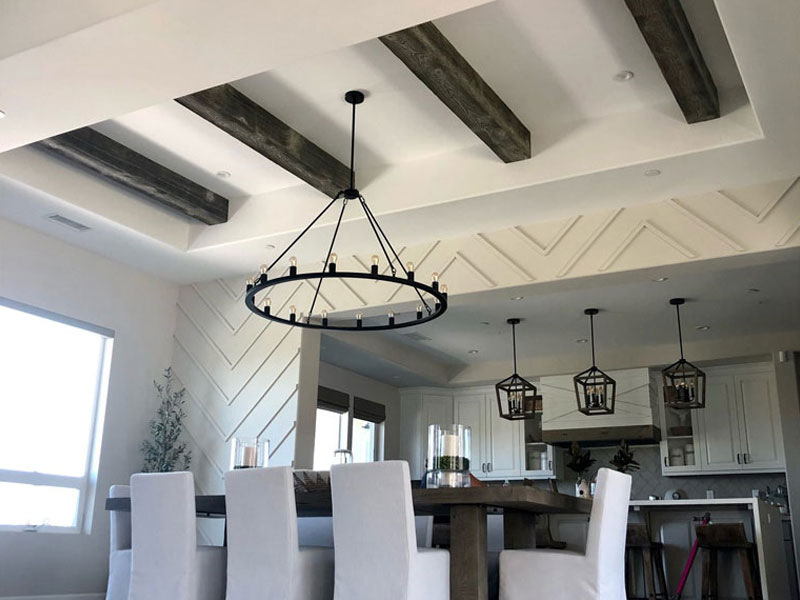 Exposed wood beams are a design staple that continue to gain popularity. Exposed wood beams allow you to have higher ceilings and can add a cozy feel to any room.
However, wood is a difficult material to maintain, so you may want to explore different alternatives that are easier to clean and require less attention, such as faux wood beams.
Faux beams are a great choice for homeowners who want to add character and warmth to their home, but don't want to deal with the hassle that comes along with wood.
There are many benefits to using faux beams as a ceiling tile alternative:
They look just like wood, making it hard to distinguish them from the real thing.
They're easier to attain than certain types of wood.
Much less expensive than wood.
They're easy to install with few installation tools necessary, making it a great DIY project
They're lightweight, making them easier to move around during installation.
Planks
Do you want a simple look for your ceilings that don't take away from the rest of the decor of a room? Then ceiling planks are the perfect ceiling tile alternative for you to achieve a simple and clean, but beautiful look.
Wood planked ceilings are great for several decor looks, from beachy to rustic.
There are several benefits to planking your ceiling, including:
Easy installation.
Simple design.
Available in a variety of finishes.
Faux wood planks are even more lightweight, making them easier to install and require less maintenance than solid wood planks.
Trusses
Skip the ceiling altogether to really give your home a unique look.
Trusses don't have to remain unseen. In a similar regard to exposed beams, trusses add a stylish visual element to any living space in your home.
Exposed trusses are inviting and add warmth to a room, while also blending in with several types of decor, whether you're looking for a contemporary approach or a minimalist look.
There are a number of benefits to trusses:
Make the room look bigger.
Add warmth and coziness to the room.
May be an inexpensive option.
If you're remodelling your home, you may find that you already have trusses that can easily be worked on to become a ceiling tile alternative and make your room feel more spacious than ever before.
If you're looking to add trusses to your home, there are a variety of different styles to choose from. Opt for faux wood trusses for that same dramatic effect without the maintenance.
Foam crown moulding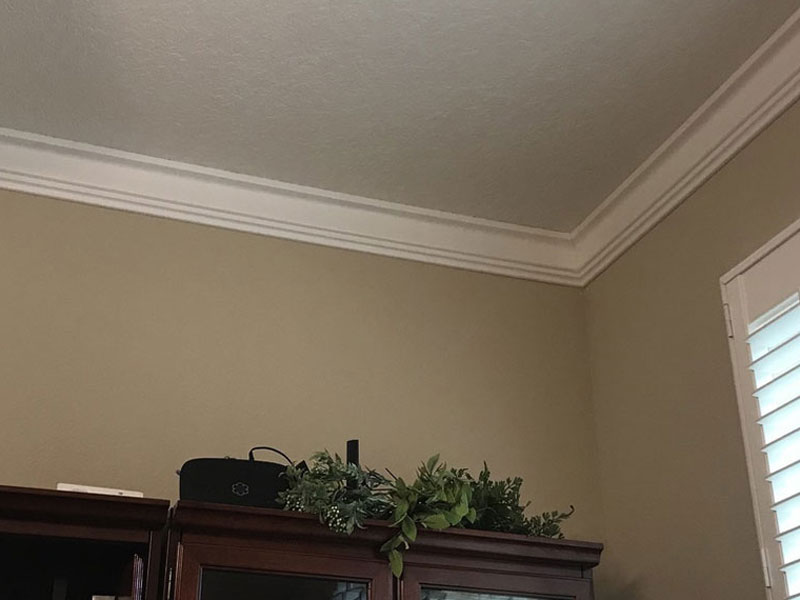 Your ceiling tiles don't always have to be the star of your ceiling. Crown molding is the finishing touch that completes the character of a room. Unfortunately, it can be difficult to work with, and good quality crown molding can cost you a pretty penny.
Luckily, a great alternative is foam crown molding, which will help you achieve the same traditional look in less time and with less effort.
The benefits of foam crown cannot be underestimated. Not only is it inexpensive and easy to install, but it also requires less work to maintain than traditional crown molding.
Other advantages of using foam crown molding as a ceiling tile alternative include:
Will not expand or crack.
No nails involved, so no need to locate wall studs.
You can easily paint it.
Stands up well to humidity.
Available in several different styles.
To learn how to install foam crown molding, check out this instruction page.
Backlit ceilings
If you want an undoubtedly modern look to your ceilings, consider incorporating backlit ceilings to a room in your home.
Backlit ceilings are not only a great ceiling tile alternative, but they're also a great alternative to hanging light fixtures, which can make a room feel small and crowded. Backlit ceilings are a durable way to light up a space and make it feel relaxed and cozy.
There are several different options when it comes to the design, texture, and even color of backlit ceilings.
Some of texture options include:
Matte.
Metallic.
Translucent.
Gloss
You don't need to line your entire ceiling with backlights. Installing backlights to just one area of your ceiling creates a focal point that will catch everyone's eye. If you want even more lighting, you can also incorporate a backlit kitchen backsplash in your decor.
Conclusion
Every piece of your house is an opportunity for you to get creative, and your ceilings are no exception.
There are several ceiling tile alternatives that can give your ceiling a unique look and cause one or several of your rooms to stand out in your house. These options are inexpensive and often don't require too much work to install or maintain, so it's worth experimenting to find out which alternative is your favorite.
If you do prefer the classic look of tile, take a look at our selection of ceiling tiles.