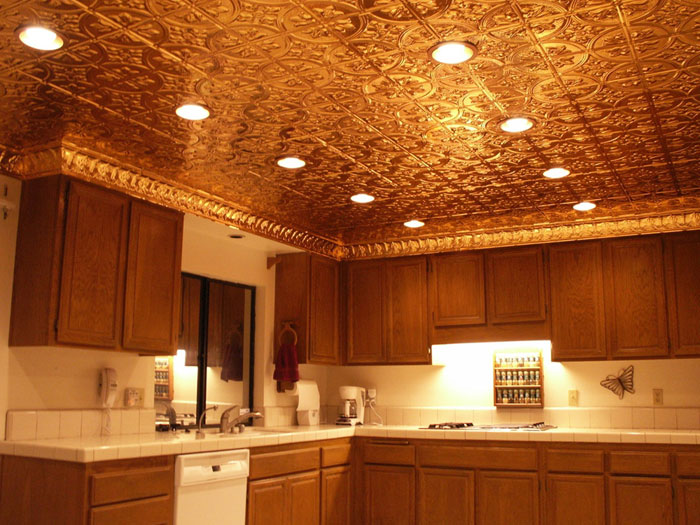 Due to the fact that copper is very attractive, it has been one of the best picks when it comes to decoration in homes for a very long time. It is well known that it is not as shiny as gold, but what it has is a very deep coating that becomes more beautiful with time, and it is also not as high-priced as gold.
The good appearance is not all that this metal offers either. Copper is incredibly rugged and long-lasting and also quite simple to use when you plan to use it in your projects. You can choose to utilize it in your workplace or in your home.
Copper has been known to be used in making pots, pipes and even in roofing. But now, you can also purchase it to give your ceiling an astonishing look. It also has the ability to reflect light in a soothing glare.
So, if you are looking for an attractive material for your decoration with a relatively affordable cost, then you can make use of copper to bring that warm feeling to any room.
Why You Should Use Copper Ceiling Tiles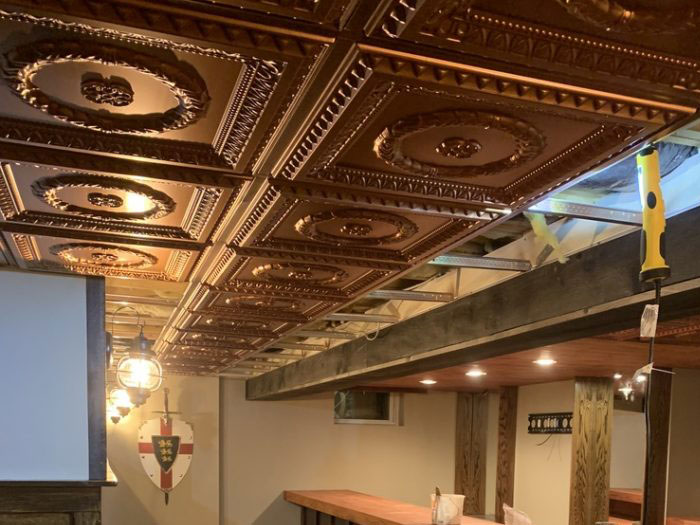 There are a lot of benefits to using copper ceiling tiles, it has a warm appearance, also flexible in design and styles, and it goes a long way in modifying the overall look of a room. So, here are some reasons why you should use copper ceiling tiles;
Durability
Due to the fact that copper is a metal, it has a long-lasting life span. It is anti-rust, and you can either choose to keep it polished or leave it to form a lovely patina. You can also opt for copper ties that have a clear lacquer; this means that you would not have to polish it, and it still wouldn't be tarnished.
Value
Copper ceiling tiles not only add artistic and elegant value to your home, but they also save you monetary value. If you successfully install them first-time, you will not have to worry about changing your ceiling tiles, and not only that, since copper gets more beautiful and attractive as time goes on, their value only increases more.
Variety
Copper provides you with a lot of room to express yourself and also allows you to pick the best tiles according to your taste. Ranging from flowers, nameplates, vines, and even to geometric patterns, there are a lot of peculiar designs you could choose from.
Fast and Simple DIY Installation
Even if you are a beginning DIYer, installing the copper ceiling tiles shouldn't be that much of a hassle. These copper tiles can readily be installed directly to your ceiling either with the use of cone head nails or in a drop ceiling grid.
You can opt for the drop ceiling method if you have enough ceiling height to spare, it is great because it allows access to pipes, wiring, and ductwork above; you can easily make repairs if any of those systems get faulty. But if you don't have much ceiling height and you need to maximize the space, then you should definitely go for the surface mount method.
Different Types of Copper Ceiling Tiles
There is a wide range of copper ceiling tiles to choose from when you want to either decorate or remodel your workplace, home, or even a restaurant. They range from classical designs that perfectly fit a room to casual designs that add a cozy feeling to the room. So, if you like modern styles, then take a look at the different types of copper ceiling tiles that would fit your home and is also affordable.
Styrofoam Copper Ceiling Tiles
If you are looking to add a designer touch to your room, then the Styrofoam copper ceiling tiles are the ideal pick. They come in different variety of designs that gives your room class and style that stands out. They are the cheapest when it comes to ceiling tiles on the market, and they also have plenty of advantages such as easy maintenance and installation.
They are lightweight, making them very easy to use. It doesn't matter the type of ceiling you have, these ceiling tiles have been structured in a way that you can easily glue it in place to almost any type of ceiling, and with very little preparation.
Faux-Tin Copper Ceiling Tiles
The Faux-Tin copper ceiling tiles are as durable as solid copper and do not cost you as much. They are made from tough polyvinyl chloride (PVC) that can help to absorb sounds that echo with some metal tiles. With its modern finishes and antique patterns, these tiles provide you with that vintage charm you are looking for, right in your room. They can be installed either with the glue-up or drop-in installation methods.
Solid Copper Ceiling Tiles
Solid copper ceiling tiles offer a rich and astonishing elegance to a room. They are now relatively more affordable, and also easy to install. They are not treated; they come like a shiny new penny and will naturally age. So, if it has attained the color you want, you can then seal it up with a clear enamel which will prevent it from aging further. They can be installed with either the nail-up or drop-in installation methods.
Solid Aged Copper Ceiling Tiles
These ceiling tiles already have the rich patina that takes years of aging to achieve. It is just like the solid copper ceiling tiles but older. So, if you want it to have that unique appearance from the first day it is installed, you can opt for the solid aged copper tiles.
Polished Copper Ceiling Tiles
You should consider the polished ceiling tiles if your budget doesn't cover the solid copper ceiling tiles. They are priced in between the solid copper and faux-tin copper ceiling tiles. They can be installed easily with either the nail-up or drop-in installation methods.
Choosing the Right Copper Ceiling Tiles
It all comes down to your personal taste and desire; you can opt for a more matured feel or a casual look. One thing is for sure, any copper tile design you want, you can always find it.