Posted by Milan Jara on 9th Aug 2018
Traditional rustic wood beams in the living room or a vaulted ceiling are one of the most loved features of old houses and barns. The rustic, cozy feel elevates the room, draws the eye upwards to the ceiling and gives the whole building a true sense of character. One of the downsides of these exposed beams, however, is that, as well as wood products being expensive, old buildings are often rough and creaky, with high maintenance and poor insulation. Although installing wooden beams into your property is cumbersome and expensive (you might be fooled into thinking they're made of gold), the good news is that faux wood ceiling beams provide the perfect alternative for the cozy look you crave.
---
Faux Wood Ceiling Beams: A Revelation in Interior Design
If you haven't discovered faux wood ceiling beams before, then you'll be amazed at just how similar these look to the real thing. In fact, it might leave you questioning whether the beams you've coveted in different buildings were real after all—or just great replicas. High-quality faux wood beams are made from high-density foam and from molds that have been created based on real wood designs. For this reason, the appearance is second to none and can fool just about anyone.
Adding beams to your property is an instant way to add character and dimension and another benefit of using faux wood ceiling beams is that they are hollow. As well as making them super light, being hollow also means that the beams can hide wires and pipes than run through the room, as well as allowing light fixtures, sprinklers or even speakers to be neatly and discreetly installed directly to the beam.
Unlike traditional beams, faux wood ceiling beams are incredibly versatile, they can be easily trimmed to fit any space, can be used for both interior and exterior applications and can come in a range of finishes and stain colors. The beams can be installed to drywall, as well as flat or pitched ceilings. Optional corbel ends are a great way to elegantly blend the beams into your walls when running across pitched ceilings and end caps are also available for any beam ends that are exposed or do not directly meet a wall.
Another great benefit is that by not being made of wood, the beams are incredibly low maintenance, meaning that you won't need to repaint them or treat them for pests such as termites or carpenter ants.
---
Different Types of Faux Wood Ceiling Beams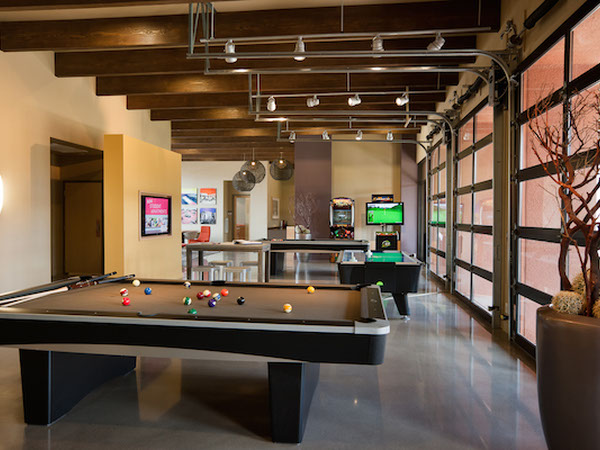 At Decorative Ceiling Tiles, all of our beams come in multiple sizes, ranging from 4 to 29ft long and from 8 to 28in wide. 3 or 4 sided beams are available, suitable for attaching to walls and for other exposed applications such as trusses and gazebos.
Some of the textured finishes that you can choose from include:
Doug Fir

Hand Hewn

Rough Sawn

Sandblast

Tuscany
Choosing from the different textures is important, as this will affect the overall aesthetic of your room. If you want to create a rustic, farmhouse feel then Hand hewn or Tuscany effects offer a great solution, whereas,for more streamlined old-meets-new, modern rooms, the Doug fir or Sandblast might offer the balance that you'researching for.
While the textured finish helps sculpt the aesthetic, the colored stain of the wood is equally important for tying in with the rest of the décor and affects how dramatic the overall impact is of the beams. Dark beams can be used to contrast light, airy spaces, or equally used to tie in with other dark wood furnishings. However, you might opt for lighter stains if you are trying to create a more open, spacious effect and want the beams to elegantly blend with the rest of your home's décor. Below are some of the stain options available with our beams:
Primed

Dark walnut

Light walnut

Espresso

Mahogany

Oak
---
What Do You Need to Install Faux Wood Ceiling Beams?
Well, the good news is that you certainly don't need an army of people! In fact, you need minimal time, supplies, and manpower to install these beams. A few hours, some basic kit, and one or two people should be more than enough to get the job done well.
Once you have selected your chosen beam types, you will need to accurately measure the dimensions of your room to establish the correct lengths required. A good tip is when in doubt, opt for a longer beam instead of a shorter one. The beams can easily be cut down to fit the right size, but can't be stretched! To attach ceiling beams, you will need a piece of 2x4, which will fit snugly inside the hollow ridge of your beam. The 2x4 can be attached to the ceiling with screws or anchors and then attached to the beam using nails or screws. If you're short for a time then a nail gun is an excellent way to speed up the process and keep things moving quickly.
To keep your beams straight and precise, a straight edge is your best tool to mark lines with a pencil or with blue tape on the wall. A triangle is also a great way of marking straight lines on your beams, such as where to cut, as well as marking right angles. Finally, to cut your beams we recommend a handheld circular saw as an affordable and easy-to-store tool that makes clean and precise cuts.
---
Your New Design Best Friend
Whether you want to give your home a makeover or are looking to create a modern yet stylish and welcoming workspace, then these beams will be the best purchase you've ever made. In the space of 24 hours, you can take your home from tired and claustrophobic to open and inviting with a sense of grandeur, without forking out tens of thousands of pounds, or buying an old building that's creaking at the seams. Faux Wood Ceiling beams are affordable, versatile, easy to install, low-maintenance, and great-looking—what more could you ask for?