Posted by Milan Jara on 6th Feb 2019
Tin ceiling tiles are popping everywhere from the south eastern coast of the United States to Belgium. Restaurants, office spaces, and homes are opting for the tin ceiling tile look for a few reasons. One of the biggest reasons is that they bring a touch of elegance and refinement that other ceiling options don't have.
---
What Are Tin Ceiling Tiles?
Tin ceiling tiles, also known as metal tiles, tin ceiling panels or just panels, have been around for centuries as the primary ceiling design in many homes from upper class to lower class, replacing standard plaster ceilings and paint. Of course, stamped tin ceiling tiles have always been made of real tin, which did cause the cost of the tiles to rise as metal became more in-demand. However, manufacturers have found a way to make tin ceiling tiles out of faux materials such as PVC and foam materials, which has allowed more people the opportunity to place tin ceiling tiles in their homes.
---
Are They Just for Homes?
The answer to this question is, of course, no. Tin ceiling tiles have been used in restaurants, retail stores, and office buildings for just as long as they have been used in homes. In fact, many owners opt for tin ceiling tiles because they give a feel of being home to their space. Many people use tin ceiling tiles because they also bring a feeling of being back in time to any space (old or new). These tiles range from rustic chic to Victorian-style and have great versatility in function.
It's also quite likely to see tin ceiling tiles grace backsplashes of upscale restaurants, ceilings of bathrooms, and stairwell walls in many high-end establishments. Gone are the days of using ceiling tiles only for the ceiling. The options with tin ceiling tiles are endless.
---
Who's Using Tin Ceiling Tiles?
A new restaurant in Belgium has taken to the tin ceiling tile craze. With their delicious menu and inviting space, Huggy's Bar is a must-see when visiting Belgium. One thing that we liked about their space was their use of the Poppy Tin Tile in warm white.
You can see the actual tin ceiling tiles in the restaurant below.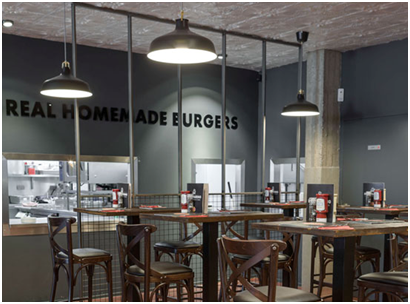 These tin ceiling tiles give a warm and inviting feeling to a rather industrial-looking space. The light fixtures and furniture help to create a balance that really works with these tin ceiling tiles.
---
Rustic Meets Chain
Along with Huggy's Bar in Belgium, some TGI Fridays are using decorative tin ceiling tiles to give their restaurants a bit of a makeover. In the picture below, they're using Madison Square tiles to give their space the look they desire. These tiles would be great for restaurants like TGI Fridays in more historic or upscale areas like big cities and renovated towns.
---
Drop Down Tin Ceiling Tiles
Here, we can see another restaurant who has opted for their bar area only, which really makes the space stand out from the rest of the area. The copper look of the drop down tin ceiling tiles lets the tiles stand out from the dark ceilings above.
These tiles are actually faux tin ceiling tiles called La Scala. They're less expensive than real tin ceiling tiles and offer the same look and feel of real tin ceiling tiles.
---
Give Them Something to Talk About
Bars are natural places for conversations to happen. Having a focal point for people to talk about always helps break the ice for any interaction. This bar pictured below chose to use tin ceiling tiles not on the ceiling but on their bar itself. The decorative touch on the bar front gives bar-goers the feeling that they're in somewhere high-end while also taking them back in time a bit. These are a great touch to any bar area.
These MILAN-Faux Tin Ceiling Tiles come in either drop-in or glue-up installation options, which makes your job that much easier. You can use them on the ceiling or on the bar area as shown. They also come in a variety of colors, which also opens up the possibilities even more.
---
Backsplash Designs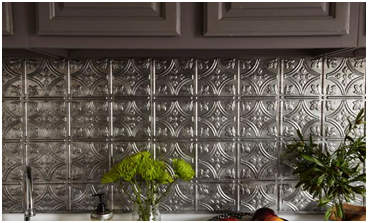 The thing about kitchens in high-end restaurants is you may never see the inside workings of the area. The truth is that sometimes these chefs are very secretive of their workspace, but that doesn't mean they don't have something elegant hiding behind their doors. Restaurants often opt for stainless steel for their backsplashes, but when they choose something unique, they typically go for tin ceiling tiles. That is because they're easy to clean and resistant to many of the elements a kitchen is exposed to such as water and heat.
---
Faux or the Real Deal?
Faux tin ceiling tiles are actually great options if you're looking to save some money in the renovation department. Restaurants, shops, and office spaces may not have such a budget concern as homeowners, but they like to save money, too. Faux tin ceiling tiles used as either ceiling tiles, backsplashes, or borders around a bar can bring the same feel as real tin ceiling tiles for a fraction of the cost.
Whichever one you choose will be determined by the preface. Whether you want the satisfaction of knowing you have real tin ceiling tiles or not is your decision as the ultimate say-so for the space's design. From an outsider's perspective, no one will be able to tell if it's faux or real tin ceiling tiles in your design.
Another great thing about faux tin ceiling tiles vs. real tin ceiling tiles is they're easy to install. Real tin ceiling tiles are heavier in weight and require more heavy-duty materials to ensure they stay in the right spot. However, faux tin ceiling tiles are lightweight and can easily be glued onto almost any surface. This might not be so much of a concern if you're using them as ceiling tiles—especially in a drop down scenario—but it might be worth the thought if you're doing the renovation alone.
All in all, tin ceiling tiles (faux or not) are great options for any space. If you're looking to refresh the space or take it back to its roots, tin ceiling tiles can do both. With an ambiance that is unbeatable, tin ceiling tiles bring the energy inward and allow guests to feel welcomed and warmed by the presence of their company. You really cannot go wrong with choose tin ceiling tiles to help you with your next renovation.