Posted by Milan Jara on 16th Oct 2019
You might think metal ceiling tiles are boing but nothing could be further from the truth. There are a lot of different options when it comes to metal ceiling tiles. Have a look!
---
Wood Style
While wood isn't always easily transferable to metal, the colors of rich wood can certainly be found in many designs. The wood grain tends to be muted with metal, but the color is strong and with a matte finish can look quite regal with a classic elegance. Darker wood colors can be used on a ceiling or wall to pull a room of deeper colors together and create a sense of warmth. Tile patterns can be mixed to create an individual style whether it be done with a border, central square or checkerboard look. Using wood style tiles on walls and as a backsplash can have a similar effect as those on the ceiling. These designs can be mimicked in lighter wood colors as well such as pine.
There are dark metal wood colors such as cherry, mahogany, and walnut that can make a large room look rich and elegant whether they are put on a wall or ceiling. The lighter ones such as maple can accent a set of furniture or white cupboards. There are lots of options when you go with wood simulated colors in metal ceiling tiles whether they are used to enhance the whole room or as an accent.
---
White Metal
The fact that there are different finishes with metal ceiling tiles is great especially when it comes to white ones. Different finishes can alter the tone of white broadening the different options you have available. The color of white already offers a great amount of flexibility when it comes to doing the ceiling, wall or backsplash in a room. White can offer some clean, subtle sophistication, maybe some country charm, or add some sharp business style where needed. White tiles can allow color to be added as an accent or just remain clean and fresh with white as the central focus. It opens up the decorating options to retain the same room contents if you wish or going out for a whole new fresh look.
---
Faux Finish Tiles
These choices of metal tiles are meant to represent a type of finish that isn't just reflected as aluminum or tin. They highlight something other than the wood and white basic. These types of faux finishes may take a greater amount of assessment when it comes to choosing types that work with the décor you have in mind, but they certainly can change a room dynamic and work to make it fit the style you want it to be. Something that looks old yet homey can work perfectly when accenting an older styled room, there are also painted finishes that can make something truly modern. Again, do a thorough search so you don't miss something that you might really enjoy in your room décor. There are lots of options that are outside the classic options.
---
Something Different
While there are many metal ceiling tiles that can finish a room with style, there are some that can really make a statement with their color and design. If you are looking to create a room design that is a more outside of the norm then look through the metal ceiling tiles that will make your room really stand out. There are styles such as Bollywood tiles that create a striking pattern or maybe some great color ones that make a room into a powerful color statement. Spending some time searching out odd-sounding colors, names or finishes may help you find a metal ceiling tile that will make your room stand out from the rest.
---
DIY Metal Ceiling Tiles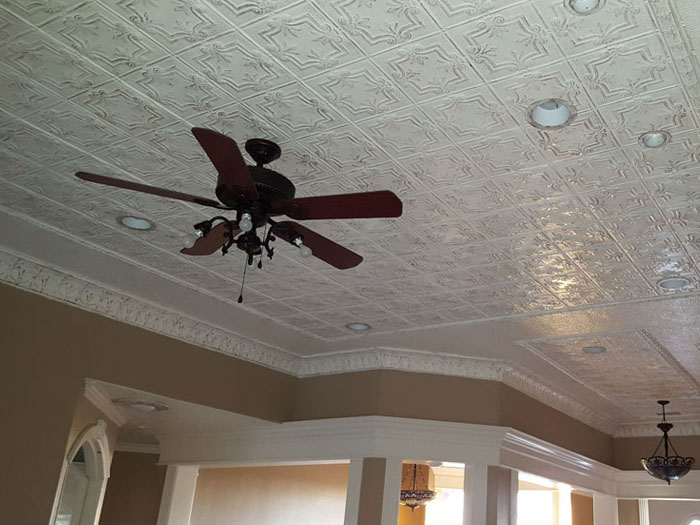 Metal ceiling tiles usually give you the installation option to do drop-in (suspension) or nail up. Both formats take some time in the area of prep work, but they will look great in the end. To put in metal tiles in the drop-in format you will need to do some setup work. It's not complicated but it takes some time. You will need to start with installing a ceiling grid then move on to dropping in the squares. This particular installation style is great for when you want to change up the tiles at a future time as you will only have to pick the new style and drop them in. It is a one-time setup.
If you are putting in tiles with nail-up then that takes a little bit of prep work as well. There are some steps that will involve getting the ceiling area ready and then the steps to actually nailing the tiles in. Make sure whatever tiles you have chosen to allow for this option if this is the way you want to approach the installation.
If you are able to do it with adhesive (glue-up option) which is rarer with metal tiles, then you just need to ensure you have a clean, completely flat base to put them on, prep for making sure they are aligned and then the proper adhesive to make them stick.
---
Getting Your Project Going
Once you have a room to decorate, you have lots of interesting tile options to investigate. Metal ceiling tiles are a good way to make a significant change in how your room looks, whether its home or business. Metal ceiling tiles take a little more work than paint or changing the furniture but will have a big impact on how it all looks. Metal tiles can adapt to any style and can update and pull and room together. Once you have chosen the tiles and put them up, you have the easier option to repaint or drop new ones in when you choose to redecorate once again. Metal ceiling tiles offer a variety of decorating options that will give the newly decorated room a quality look with its own personality.