Posted by Milan Jara on 8th Aug 2018
Metal ceiling tiles have enjoyed off and on popularity since ancient times. The trend fell off around World War II to dedicate more resources to the war. But, in the last ten years, metal ceiling tiles have come back to the fore of American popular decor. This article provides information on the top 5 trending metal ceiling tiles in 2018.
If you're looking to remodel the ceiling in your home or business, metal ceiling tiles are a low-maintenance affordable alternative to other options, like painting over. Ceiling tiles are attached to the ceiling by nail, glue, or to an existing ceiling tile grid. If your ceiling is dropped, metal tiles will upgrade the decor with the least amount of effort for the installation.
Types of Metal Ceiling Tiles
There are several types of metal ceiling tiles. Each offers a different and unique aesthetic and atmospheric contribution. The types of metal ceiling tiles include:
Tarnished Tin Tiles
If you are going for an old-fashioned and elegant aesthetic, tarnished tin ceiling tiles are a great choice. The exterior layer of these tiles is designed to appear worn and aged, giving off an antique and historical impression. The tarnish is achieved by subjecting the exterior layer of the tile to acid. The acid does not affect the structural integrity of the tile but achieves a weathered aesthetic.
Floral Print Tiles
For a Victorian aesthetic, floral print tiles are very popular. They come in hundreds, to thousands of style and design variations. And, each style is customizable by color, to match the existing or desired decor of a room. Floral print metal ceiling tiles feature complex and intricate scrollwork which achieves an upscale atmosphere.
Backsplash Tiles
Metal ceiling tiles are not just meant for use on the ceiling. In fact, the same tiles used for the ceiling can also be used for a backsplash wall. Metal tile backsplash gives an impression of refinement and aesthetic attunement while serving a functional purpose.
One of the most popular spots for a backsplash wall is in the kitchen. Metal tiles are easy to install with glue or nails and are easily cleaned by wiping down with a wet cloth. And, they offer the additional benefit of being heat and fire resistant, which is handy around gas stoves. As opposed to stone tile, metal tiles are a less expensive alternative that offers just as much aesthetic value.
Top 5 Trending Metal Ceiling Tiles
Each of the following five metal tiles can be used for your ceiling, walls, backsplash, or as accent pieces. Additionally, you can easily customize any metal tiles by applying your paint or finishing treatment. Check out the top 5 trending metal ceiling tiles.
1. Princess Victoria - Aluminum Ceiling Tiles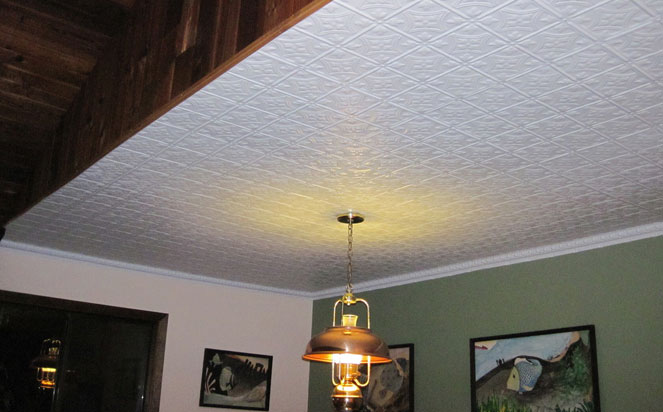 The Princess Victoria Aluminum Ceiling Tiles are a perfect accent around a skylight, sink, or even the headboard of a bed. They look great covering the ceiling in a bathroom, kitchen, or as a backsplash. The Victorian renaissance inspires the floral design of these tiles, split into a grid of four by four. In total, each tile measures two feet by two feet. When combined with multiple tiles, the Princess Victoria tiles inspire an atmosphere of elegance and refinement.
2. Laurel Wreath - Faux Tin Ceiling Tiles
Roman and Greek designs inspire the Laurel Wreath Faux Tin Ceiling Tiles. The rich, dark burgundy faux tin is the perfect accompaniment to a home office, book room or library, or bedroom. Each tile measures two feet by two feet, and the design is available in a wide range of color and treatment combinations. Laurel Wreath is a great choice to have acid weathered for use in a garden, back porch, or greenhouse.
3. Tiny Tulips - Faux Tin Ceiling Tiles
Tiny Tulips Faux Tin Ceiling Tiles are a wonderful aesthetic choice to cover the ceiling of a restaurant, club, bar, or retail establishment. The intricate floral pattern is replicated over four squares, which comprise two square feet in total. This pattern is especially popular for use with illumination. The tiles reflect light as would tin, with a warm, subtle luminescence that shares light to every corner of a room.
4. Rhine Valley - Faux Tin Ceiling Tiles
Rhine Valley Faux Tin Ceiling Tiles are inspired purely by architecture and design from the late Roman empire. Each two square foot tile is comprised of a faux wood frame that adorns a central faux tin design. The pattern is intricate and grand, with swirling florals, and goblets of overflowing grapes. These tiles can be ordered with two color schemes. The outer faux wood frame is color customizable, as is the inner faux tin. It is an excellent choice for the ceiling of your dining room or bedroom.
5. Elizabethan Shield - Faux Tin Ceiling Tiles
Elizabethan Shield Faux Tin Ceiling Tiles are simply elegant, pulling inspiration from 19th-century Italian metalcraft. When designed with a single color scheme, the tiles are perfectly subtle. When combined with a complimentary dual color scheme, the intricate metal work and patterns are exposed for their true beauty. A truly masterful design of metallurgy and art, these tiles are perfect for the kitchen, living room, office and more.
Final Thoughts
Metal ceiling tiles offer an easy way to redesign the aesthetic of your home. Especially for homes with aged white foam tiles on a drop ceiling grid, upgrade your home's decor easily and inexpensively with these beautifully designed ceiling tiles. Be sure to check out the rest of our inventory on our ceiling tiles page.
If you found this article, on metal ceiling tiles, useful in your search for home remodeling ideas, feel free to leave us a positive comment, or share it on social media. And, don't forget to sign up for our newsletter to receive all of our most recent posts and news updates. Thanks for reading!