Posted by Milan Jara on 25th Oct 2018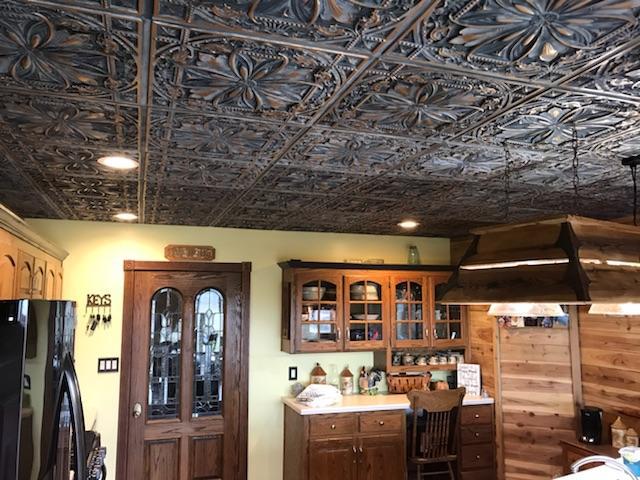 There are those individuals who, once they set out to remodel their homes, treat the kitchen as an afterthought. And then some individuals spend every dime they have trying to create a beautiful and highly-detailed kitchen. If you belong to the latter category, then one of the things you'll want to focus on is the ceiling.
Often, the kitchen ceiling is the last thing people think of decorating. This should not be the case as it can actually transform the entire look of your kitchen. This article gives you some ideas on how to choose your kitchen ceiling.
---
The Best Kitchen Ceiling Ideas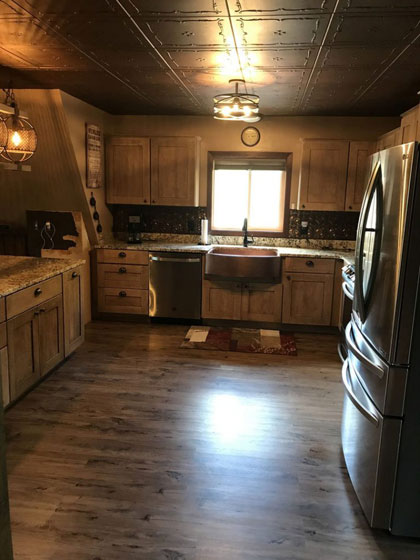 Coffered Ceiling
A coffered ceiling consists of graceful, complex grids. Essentially, it's made up of rectangular lines that help create the illusion of crisscrossing beams. The panels used in making a coffered ceiling can take different shapes, including octagon, square, or rectangle.
Once installed in a kitchen, coffered ceilings give the impression of style, wealth, and elegance. Although simple, this ceiling can transform a basic kitchen into a sophisticated room, which can be a key selling point for your home.
Exposed Beams Ceiling
The concept of exposed ceiling beams was made popular by French designers, and then it was later employed in the construction of barn houses. But in the past couple of years, this ceiling design has been embraced by many across the globe.
The style of exposed ceiling beams tricks people into thinking that your kitchen space is much bigger than it is. In doing so, this type of ceiling causes people to focus on other aspects of the room; hence, allowing other elements in your kitchen to be the star of the room.
Vaulted Ceiling
A vault is an architectural term referring to an arched pattern used to provide a space with a ceiling. Using vaulted ceilings in your kitchen offers several benefits, one of which is to create an airy atmosphere.
Natural light aficionados would also love this kind of ceiling as it gives them a chance to use plenty of glass, which allows light into the space. Also, vaulted ceilings provide an area where the hot air from cooking appliances can escape to. This is beneficial during summer. The only drawback is that the vaulted space would use more energy to heat during winter.
Decorative Kitchen Ceiling Tiles
You can improve your kitchen design by using decorative ceiling tiles. The best thing about these tiles is that they're super easy to install. Plus, they aren't that pricey, and you will have a ton of materials and styles to pick from.
Ceiling tiles have just recently gained popularity, but for good reasons. They come in a variety, including ones made from metal. Common ceiling tiles that you can install in your kitchen are Styrofoam, copper, tin, faux tin, and aluminum.
---
Kitchen False Ceiling Design
A false ceiling design for your kitchen can completely transform the space while enhancing the look and functionality of your kitchen. You can find a false kitchen ceiling in a number of styles and designs, and it will prove to be a great way to add life to an otherwise lifeless and boring kitchen ceiling.
Wooden False Ceiling: you can add a minimalist wooden panel to a false ceiling and install spotlights above the countertop or food prep area.
Match the False Ceiling with the Color and Lights: When painting a false ceiling, match the color to the other ceiling material you use. You can then install recessed lights for a more vibrant look.
Suspended Ceiling: You can add a suspended false ceiling to the kitchen for a more dramatic visual appeal. Pendant lighting is ideal for this design and will create a more modern kitchen design.
If you choose a kitchen false ceiling design, you want minimum frills if you have a smaller space. Avoid molding as well as this can make the room appear even smaller. For a larger kitchen, go for a double-layered ceiling or tray ceiling for a more dramatic look in your interior design.
False Ceiling Material
Here are false ceiling material options to consider for your kitchen remodel.
Gypsum false ceiling: this false ceiling material is moisture and fire-resistant. A gypsum false ceiling is also ready to install.
POP false ceiling: this is a more durable, flexible, and insulating material.
PVC false ceiling: Also durable, PVC material is easy to maintain, waterproof, and fire-retardant.
Wooden false ceiling: you have to be careful when choosing wood and be sure that it has a fire-resistant finish.
---
Choosing a Kitchen Ceiling
The humidity level in any kitchen will always be high. Depending on what you're cooking, there can be a ton of smoke. If you factor in the continually rising temperatures, all these elements can wreak havoc on your kitchen ceiling.
Consequently, you should pay more attention to quality and durability before purchasing a ceiling for your kitchen. But what other factors should you be looking for in this ceiling? Well, a kitchen ceiling ought to be:
Water-resistant
Durable
Easy to clean
Capable of hiding any flaws
Easy to maintain
Smooth and beautiful
---
Small Kitchen Ceiling Ideas
If you have a smaller kitchen that is less than, let's say, a 70 square foot space, then you probably already know that you need to get creative with your kitchen remodel. Most kitchen ceilings you see are flat and a regular height. Try these tips if you need to create the illusion of a bigger kitchen space.
1. Use the right paint colors. Light greens, yellows, blues, and grays work well in a smaller kitchen space. When choosing your color, make sure to remove any visual barriers by making the kitchen cabinet doors and walls just one consistent color. This also makes the room appear much bigger than it really is.
2. White is your friend. You will quickly find that white is your best friend in a small kitchen. White can reflect light, enhance the space, and make the walls appear to recede. White allows you to create a space that appears seamless with no boundaries. You can then offset that white with a bold metal tile application on the ceiling for more visual effect.
3. Blend your surfaces. When trying to make your small kitchen appear bigger, blend your surfaces. For example, connect your backsplash and countertop to create a more cohesive look. In this instance, a gray and white color scheme is good if you have natural stone elements in the space and prevents the kitchen from seeming overly busy or crowded.
4. Take the eye to the ceiling. Yes, that's right. You can use your kitchen ceiling to make the space appear bigger by taking the eye up high. Provide a vertical path to the ceiling that seems to increase its height. You can also decorate above your cabinets to harmonize the background and take the eyes up the height of the kitchen cabinet to the ceiling.
5. Take advantage of reflective surfaces. Finally, be sure to take advantage of any reflective surfaces you may have in your kitchen. Ceramic tile, marble, stainless steel, and metal tiles  all of these materials can reflect natural and artificial light and make a small kitchen appear larger.
---
How to Decorate Your Kitchen Ceiling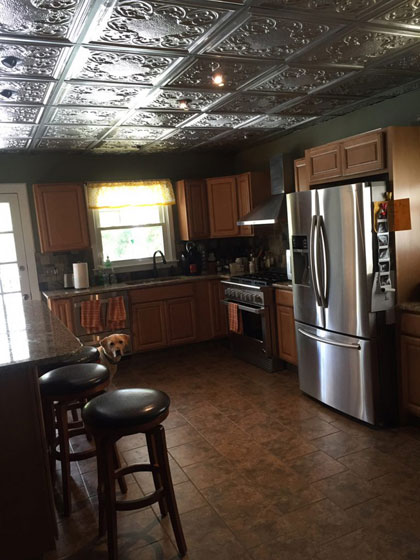 Kitchens can sometimes be cold, echoing, and look oversized. Luckily, a ceiling is one of those elements that can improve its look. Here are a few ideas on how to decorate your kitchen ceiling:ts look. Here are a few ideas on how to decorate your kitchen ceiling:
Paint it
Color can have a significant effect on how something looks. Light colors like the standard white ceiling have an impact on visually receding the area. Warm colors, on the other hand, are considered "cozy."
When painting your kitchen ceiling, pick a color that is a shade or two darker than your walls. For example, if your kitchen walls are chocolate, then paint a vibrant burnt orange to brighten the space.
Use wood moldings for your kitchen ceiling
Decorative wood moldings are an inexpensive solution for homeowners with a limited budget. With a bit of paint, you can easily turn your kitchen ceiling into the most captivating element of the room.
Crown molding is often used in the more centralized locations in the home, including the kitchen, family room, living room, and dining room. Crown molding in the kitchen simply acts as a decorative piece that can be used to cover the tops of your cabinets. Crown molding is also known to lead to increased home value.
Use decals or stencils
Decals and stencils are some of the best decorations for smooth ceilings. They will give your kitchen a magnificent look. Plus, they add an individual taste to the room.
Incorporate Plaster of Paris Arts in the Ceiling
There are several benefits to using this kind of plaster. For one, the plaster of Paris is highly-resistant to moisture, so it will protect your ceiling and extend its lifespan. Secondly, this plaster is an eco-friendly material. It's also durable and holds up well against harsh elements.
Wood Planks
If you have a drab kitchen ceiling or you want to cover over a popcorn ceiling, wood planks may be a good option. You can use wood planks or shiplap to conceal a popcorn ceiling. It will upgrade the space and save you on the mess and headache that comes with removing that kind of existing ceiling.
Lighting
Picking the right lighting fixture for your kitchen ceiling is crucial. Lighting serves a lot more than being a visible decoration. It's a key component that determines the quality of light throughout your kitchen.
When choosing a lighting fixture for your kitchen ceiling, consider that some are ideal for work lighting while others don't work too well. The most recommended kitchen ceiling lighting is recessed lighting. Recessed lights take up very little space while also helping to illuminate your countertops, cabinets, and other work areas.
Pendant lights are another good option for the kitchen and work well above the kitchen island or peninsula. Cabinet lights can be built-in and look especially good in glass-faced cabinets. You can also use cabinet lights on the top of or below your cabinets to illuminate the counter and food preparation area you have in the kitchen.
---
Conclusion
Most designers describe the ceiling as a fifth wall, and it makes sense if you think about it critically. Why do homeowners pay attention to the four walls in their kitchens when there's another right above their heads? After all, there are a ton of kitchen ceiling designs to choose from. You can opt for a vaulted ceiling, decorative ceiling tiles, coffered ceiling, or exposed ceiling beams.
If you're looking to upgrade or remodel your kitchen, any of these kitchen ceiling ideas will come in handy. You can also decorate this ceiling using inexpensive items like decals, stencils, and wood moldings.