Posted by Milan Jara on 6th Sep 2018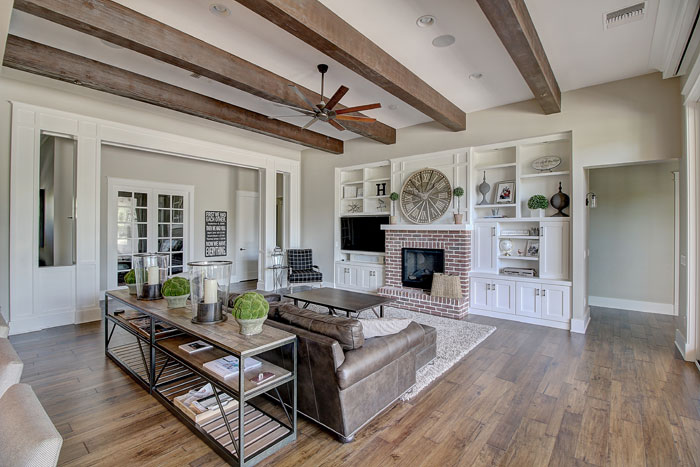 If your property has unattractive wires pinned across your walls and ceiling that you wish you could hide, without compromising the look of your home, then you may be interested to learn that faux wood ceiling beams could be the perfect solution for your living room or any other room. Many homeowners love the look of rustic wooden beams and wish they could replicate it in their own homes, but have ruled real wood products out as they are too cumbersome and expensive. However, with faux wood ceiling beams,all of these concerns are eliminated and your home can undergo the transformation it truly deserves.
You might also live or work in a building with a dropped ceiling and, although you appreciate the opportunity to hide wires, cables, and light fittings, you wish there was a way to reclaim the space, add height to your rooms, and improve the overall aesthetic of your space. Faux exposed wood ceiling beams have been hailed as an interior designer's best friend, as not only do these decorative beams look great, their hollow design means that cables and wires can be hidden inside, eliminating the need for a dropped ceiling and instantly opening up the ceiling space of the room.
The great thing about faux wooden beams is how versatile they are. They can be used in virtually any room, whether you already have high ceilings or want to add the illusion of height. Unlike traditional wooden beams that often provide integral support to the structure of your home, faux wooden beams are entirely cosmetic, so they can be installed and removed whenever and however you wish.
---
How to Best Use Faux Wood Ceiling Beams in Your Home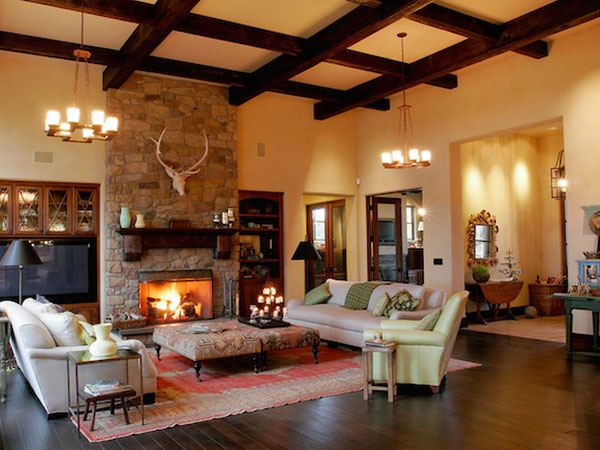 Faux wood ceiling beams look best when they are designed to complement the style of your home and to enhance the space you already have. The number of exposed beams that you use will depend on the size of the room while the finish and color will largely depend on your existing or desired décor and the end result that you want to achieve.
All loose cables and wires can be threaded through the large hollow space inside each beam, and light fittings, sprinklers, and alarms can also be installed directly onto the beams, with the related wires hidden inside. If the placement of your beams means that the ends will be exposed or visible, then end caps can be used, along with corbel ends, which are used to join angled ceiling beams with the straight side wall of your room.
---
Truss Styles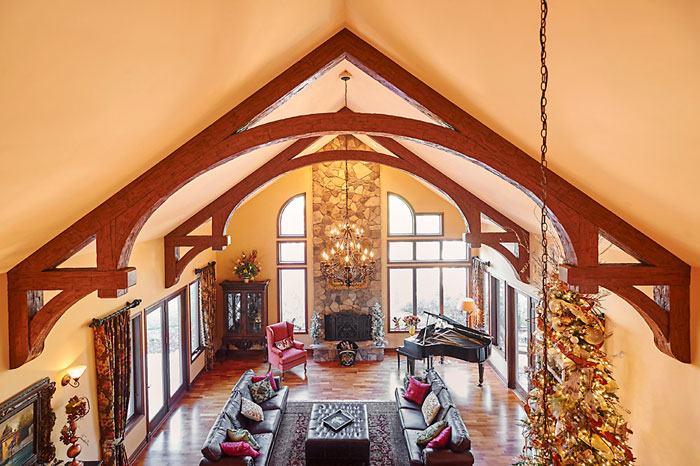 If you're looking for something more interesting and attractive than simple straight across beams, then you may be interested in installing a truss system using faux wood ceiling beams. It is important to note that most truss styles are suited to sloped ceilings, as they are designed to fit in the space between two adjoining ceiling walls and to create an interesting and attractive space that draws the eye upwards and gives a rustic charm to the room.
One of the simplest and most common styles of trusses is the Huntsman, where three long beams create a triangle,with another shorter beam straight through the middle of the triangle, and two more at 45-degree angles to either side. This simple and stylish design can easily be created and installed by DIY enthusiasts and will suit any style of home.
A slightly more interesting design that you might choose for your home is the Braddock. Instead of straight bottom exposed beams creating the base of the triangle, this design has an upwards curve across the bottom, which creates extra height and space in your room. Three straight beams are connected downwards from the top beams, and hang slightly lower than the bottom beam, creating an interesting and attractive effect.
One of the most complex but visually impressive truss styles is the Oxford, which instantly adds grandeur and refinery to any home. This style also has a curve in the bottom beam, although the curve is shorter and higher than in the previous Braddock design. In the space inside the triangle, three straight beams surround the upwards curve, a small straight beam connects this shape with the top of the truss, and two small curved beams sit at 45 degrees either side, adding elegance and a juxtaposition of straight and curved lines throughout the design. Due to the precise measuring and placement involved, you may want to ask a decorator to help you install a more difficult truss design such as this one.
---
Colors and Textures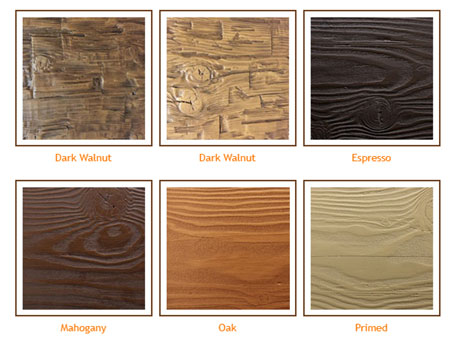 Choosing the color for your faux wood beams is an important decision, as the design should blend well with not only the rest of your home in order to look as natural as possible, but the beams should also complement the existing décor and fit comfortably with the style of your room. At Decorativeceilingtiles.net, we have 6 carefully chosen colors that will work in any scenario. At the lightest end of the color spectrum is Primed, which resembles unstained and unpainted wood.
Slightly darker is the Light Walnut option, which gives a warmer yet still light color. If your home already has oak furniture, then these Oak color decorative beams will blend perfectly with your room, likewise for our magnificent Mahogany color, which has a rich, characterful and expensive appearance. The Dark Walnut color closely resembles many old-fashioned wooden beams that you would expect to find in old farmhouses and cottages. Finally, at the darkest end of the spectrum is our Espresso color, which is a rich, deep brown and provides a striking beam which can be used to blend in with dark décor, or to provide a striking contrast to a light and modern space.
With such realistic and beautiful faux wood ceiling beams available, it has never been easier to elevate your home's style and create a unique and charming space, without any demolition and construction. What's more, when faux wood ceiling beams can also be used as an alternative to dropped ceilings, are great value for money and super light-weight, there's almost no reason to use the traditional method over the new. Whatever size or style your home is, you will be amazed at how easily it can be transformed with faux wood ceiling beams.
Shop for Faux Wood Ceiling Beams