Posted by Milan Jara on 3rd Aug 2018
Drop ceilings are common in a wide range of residential and commercial properties. These ceilings provide a grid system to easily replace single tiles or the entirety of your ceilings aesthetic. If you want to upgrade your buildings decor, this article provides the best drop ceiling alternatives for any room.
The most common iteration of a drop ceiling tile is a soft, styrofoam-like material with tube fluorescent lighting units suspended beneath. This is the type of drop ceiling seen in many large office buildings and apartments. These ceiling tiles are cheap and ugly. Luckily, your existing drop ceiling grid will accommodate a wide range of ceiling tile designs.
---
Drop Ceiling Alternatives
Drop ceiling alternatives provide a way to update and change the aesthetic of your room dramatically, all from a DIY standpoint. Whereas traditional ceilings are difficult and expensive to alter, a grid system ceiling offers a near unlimited range of customization that you can perform without professional help.
Improve a Rooms Aesthetic
The purpose of a drop ceiling is to hide the pipes, wiring, HVAC system, and other physical infrastructure of a building. This hardware runs above the suspended ceiling grid and is hidden above the ceiling tiles. Some designers embrace the removal of a suspension ceiling in order to make use of the buildings natural architecture. But, that is akin to knocking down the walls of your home because you don't like the paint. If you want to improve the aesthetic and atmosphere of a room, there are plenty of drop ceiling alternatives.
Drop ceilings accommodate a wide range of tile sizes, materials, colors, and designs. Fashion your ceiling with a continuous wave shape pattern, faux leather tiles, or ancient Roman style copper. You can even have tiles custom manufactured to your specifications of size, shape, and design for less than it would cost to have track lighting installed.
Enhance the Acoustics of a Room
Drop ceilings provide a huge benefit to rooms with specific acoustic requirements. For performance venues, recording studios, editing booths, and more, acoustic ceiling tiles are perfect. For buildings with noisy infrastructure running above the grid, acoustic tiles dampen the sound and provide respite. Test different acoustic tiles in different places on your grid to find the perfect balance. All you have to do is slip the tile out of the grid and replace it by hand.
Acoustic tiles, whether for reflecting sound or dampening it, use a thick material. As opposed to standard ceiling tiles, acoustic tiles are comprised of compressed fiberglass and melamine foam. This material is absorptive and can be manufactured to meet any aesthetic specification. Tiles are available with fabric facing, pattern facing, or even metal and wooden facing. On top of acoustic tiles adsorptive properties, they can also perform thermal insulation.
Ceiling Tiles
The most affordable and common drop ceiling alternatives are ceiling tiles. Drop ceilings come with standard white foam ceiling tiles. But these are ugly and flimsy. You can choose from a wide range of tile colors, designs and materials that function interchangeably with your existing tiles.
If you are undergoing a whole building ceiling renovation, you may come across rooms that lack a grid. Don't worry - you can get the same drop in ceiling tile design as nail up or glue up tiles. Even though nail up and glue up tiles require a more hands-on installation process, individual tiles can be removed and replaced in the event of damage or maintenance needs.
Faux Wood Ceiling Planks
Another drop ceiling alternative is faux wood ceiling planks. Faux wood ceiling planks are made from a composite material that features a faux wood texture on the exterior. They are much lighter than real wood and compatible with your existing ceilings drop grid system. They are sized to fit the same as your current drop-in tiles and add a warm, earthy atmosphere to the room. They come in a wide range of styles and grain patterns to mimic oak, cedar, cherry, black walnut, and many other varieties of timber.
Faux Wood Ceiling Beams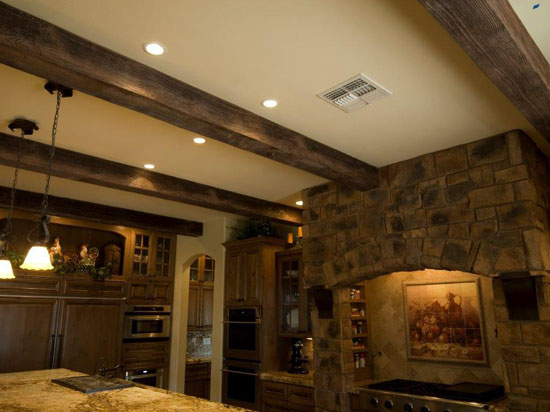 Some rooms have specific design obstacles that require a combination of drop ceiling alternatives. Faux wood ceiling beams are a great way to hide exposed pipes, wires, or structural elements on your ceiling.
Faux wood ceiling beams are hollow and are in the shape of a giant, equal-sided sleeve of staples. In other words, the beams are in the shape of a squared off "U." The beams hollow works to conceal unsightly infrastructure, while the exterior gives a rustic aesthetic. From the ground, the unit looks like a solid timber spanning the length of a room.
Even after hollowing it out, a real timber beam would weight hundreds of pounds and require a crew of workers to install. Luckily, faux wooden beams are constructed of a lightweight natural soft wood with a composite texturization on the exterior.
Three planks of high-density polyurethane foam are joined together to make a three-sided hollow faux beam. The foam material can be coated with a fire-resistant resin, and one or two people can easily install a twelve-foot-long faux wood beam.
In addition to decorative ceiling tiles, faux wood planks, and beams, add a faux wooden truss in rooms with high ceilings. Faux wooden trusses are a beautiful addition that brings the eyes up and produces a sensation of additional vertical space in a room. They are made from the same high-density polyurethane as faux wood ceiling beams but require a few more hands for installation.
---
Final Thoughts
The best drop ceiling alternatives for your room will depend on your spaces design and the atmosphere you wish to cultivate. If you want to expand the height of your ceiling, consider removing the drop-grid and installing faux ceiling beams to hide exposed infrastructure. Cover the rest of your exposed ceiling with glue up or nail up ceiling tiles. Or, you can update your drop ceiling tiles and call it a day. No matter the obstacle, there are plenty of drop ceiling alternatives to make any room feel brand new.
If you found this article on drop ceiling alternatives to be useful, feel free to share it on social media with your friends and family. And, sign up for our newsletter for the most current posts on decorative ceiling tiles and alternatives. Feel free to leave comments or questions in the space below, and we will respond promptly. Thanks for reading!