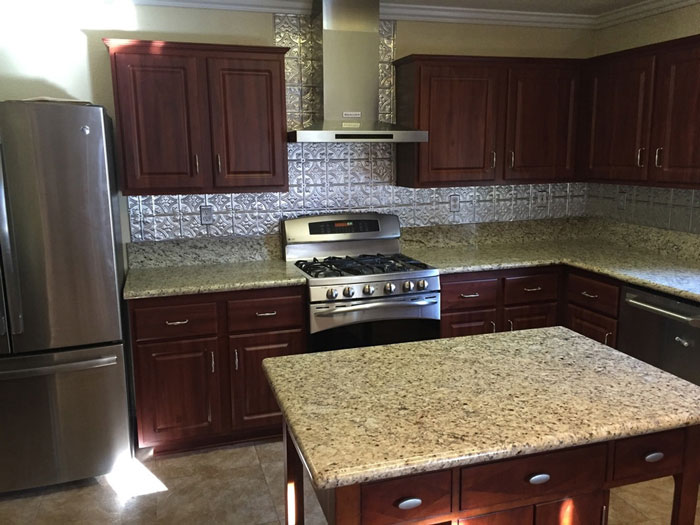 Your kitchen is likeliest the messiest room in your home. Even if it's not (you might be thinking about your teenager's room!), it does tend to get dirtier just because you're preparing food. Kitchens are also high traffic areas, which means people track dirt and mess through the space more than in other rooms of the house.
No matter where your kitchen falls on the "mess scale," it's a good idea to incorporate materials into the space that are easy to clean. Backsplashes are an especially important area where you need easy cleanup. A backsplash, based on the nature of its role in the kitchen, is intended to protect your walls from splashes. This can be sink splashes from soap and water, and food splashes above the stove when you're cooking.
Backsplashes come in a variety of easy to clean materials, but metal might be one of the best options – even if it's not the first one that comes to mind when you think of a kitchen backsplash.
---
What are the benefits of installing a metal backsplash into your kitchen spaces?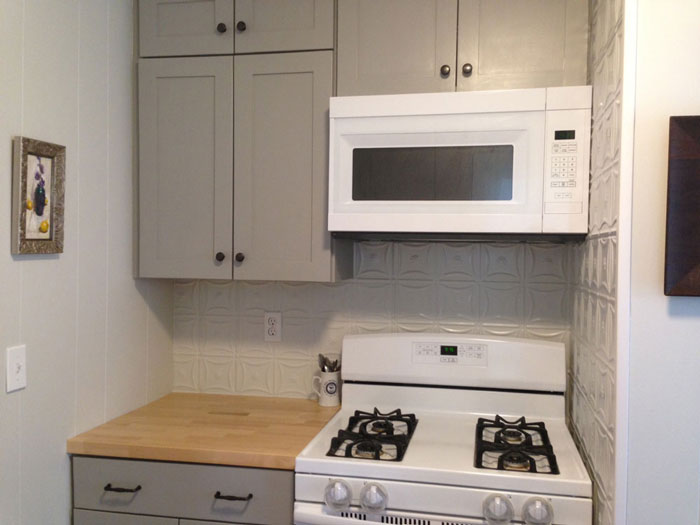 Metal backsplashes are easy to install. This is true even if you aren't an experienced home DIYer. You just need a few nails, simple adhesive, and your tiles. They can be installed right onto your existing kitchen walls.
Metal tiles are sanitary and easy to keep clean. Metal backsplash tiles are specially treated so they don't rust, even when exposed to water. They're also mold-resistant and easy to clean.
Metal backsplashes come in endless color and design options. You can opt for a style that ranges from farmhouse to industrial to modern to just about anything else that suits your fancy. You can opt for a backsplash that fits into your existing kitchen décor or find something to design your entire kitchen around for a completely new look.
Metal backsplash tiles are affordable. Metal is one of the most affordable options you have for a backsplash, especially if you do the installation yourself. Not to mention long-term a metal backsplash also cuts down on the cost of upkeep.
Metal is fireproof which makes it the perfect material to install behind any stove or oven.
A metal backsplash in your kitchen is an affordable, sanitary, and stylish option for your space. That said, there are some other things to consider before deciding if a metal backsplash is right for you.
---
A Metal Backsplash Might Not Be Right for Every Kitchen
As we mentioned, there are plenty of positive aspects to opting for a metal backsplash in your kitchen. This is why so many people have decided to use metal and are happy they made the switch. It's easy to clean, it's resistant to heat and water, and it doesn't need re-polishing or a lot of other upkeep. It's also very sanitary and adds a lot of style to the space and can fit well into a variety of different kitchen designs.
All that said a metal backsplash might not be right for every home. You also need to think very carefully about the kind of backsplash you're considering to make sure it's going to work the way you want it to and last a long time.
The downsides of metal backsplashes typically are based on the type of metal you choose. For instance, you aren't going to have the same challenges with a stainless steel backsplash that you might have with another metal. And if you opt for a faux meal look, you won't need to worry about these challenges at all (you'll have different challenges related to the actual material being used to mimic metal!)
Some of the cons of metal backsplashes include:
Metal backsplashes need to be cleaned as soon as they get dirty or wet. This is especially true if they are exposed to something acidic. The longer acidic splashes such as tomatoes or lemon juice stay on a metal backsplash the more they will damage and discolor the surface.
You need to use the right kind of cleaning products on a metal backsplash. Otherwise, you can cause damage and it won't ever look as good as it did when it was first installed.
Metal backsplashes need to be installed on a strong, sturdy surface. They're durable, but if they don't have something sturdy behind them backing them up, they can get easily dented.
Metal backsplashes can look great with most design styles, but you need to put more effort into making them fit into certain environment. If done wrong, metal can come off cold and uninviting, which might not be the look you're going for in the kitchen.
What's the Bottom Line?
Metal backsplashes are a great addition to almost every kitchen, but you need to educate yourself about the material before you jump into the installation. They're easy to clean and upkeep, but you need to know how to do these things. This is really no different than any other type of backsplash, but it's an important part of getting it right. Metal is great, but only if you know how to prepare for it, care for it, and maintain it.
If you're considering a metal backsplash, the best place to start is with a dealer or manufacturer that offers plenty of options and can help you narrow down the selection so you get what's right for you. It's also important to work with a vendor that understands the needs of metal and can help you make the best choices and know how to maintain it right from the beginning.