Posted by Milan Jara on 12th May 2021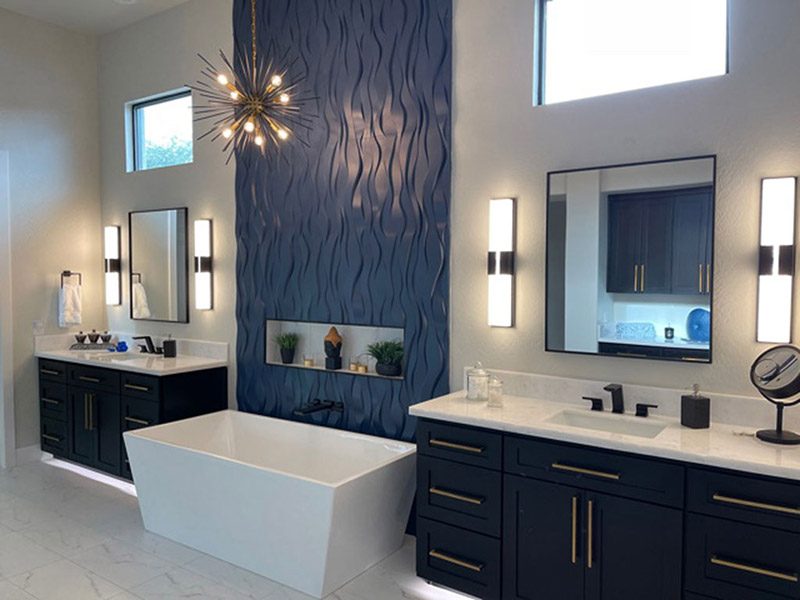 When decorating your bathroom, an important question you should ask yourself is: "Do I go with decorative wall panels rather than tiles?" Now, there isn't exactly a right or wrong answer here, but there are aspects you need to consider for both products. This guide will focus on these aspects so you can decide on which option is best for you and your bathroom's decorative needs.
Differences Between Wall Panels and Bathroom Tiles
Before you rush out and invest in one or the other, it's important that you have all the information about the each of them. That way, you'll be able to make a calculated decision on which option is best suited for you.
Panels
Shower panels are a beautiful modern addition to a bathroom. The best way to describe them are that they're interlocking waterproof sheets that come in numerous materials and finishes. Although shower panels became another way to secure shower heads and hide plumbing pipes, they have now taken on further importance when it comes to bathroom renovations.
Typically, shower panels can be made with various materials. However, some work better than others, and it's best to know which ones they are so you can invest in the right set for your bathroom. To achieve the best finish, consider purchasing panels that are made of either PVC, acrylic, or high-grade fiber.
Shower wall panels can also come in different custom sizes, too. This means you will be able to cover the top and side trim, back wall trim, and corner shelves, as well as the wall surrounding the shower and all the way to the floor.
Wall panels can also come in various styles and patterns, most being stunning and cultivating. If you are considering a stunning wall panel, check out this selection here.
Tiles
Bathroom tiles are a timeless and wise option. They are incredibly effective for your bathroom's floor, counter tops, and the wall. There are several benefits to using bathroom tiles, so it's important to acknowledge these before renovating your bathroom.
Firstly, they are moisture resistant, and bathrooms are a welcoming zone for moisture. If you opt for bathroom tiles, especially ones made from ceramic, you'll have a tile that can with stand moisture as well as harsh cleansers, modern shampoos, and soaps that are damaging to floors, counter tops, and walls.
Bathroom tiles can also be a great match for radiant heating. In general, they can conduct heat a lot better than laminate or wooded walls. Moreover, other materials can crack and will become damaged over time while expanding and contracting with the heat cycle. When it comes to bathroom tiles, especially those that are made of stone or ceramic, you won't suffer from any form of damage as they are ideally suited for radiant heating.
If you're looking for a long-lasting and durable product for your bathroom's walls, then tiles are something to consider. If well-maintained, then you can have them last for many decades.
Why Invest in Wall Panels Over Tiles?
At this point you should now know the differences between wall panels and tiles. But it's also essential to know why one can work better than the other. In this section, we'll focus on why wall panels work more effectively than bathroom tiles.
No Grout with Wall Panels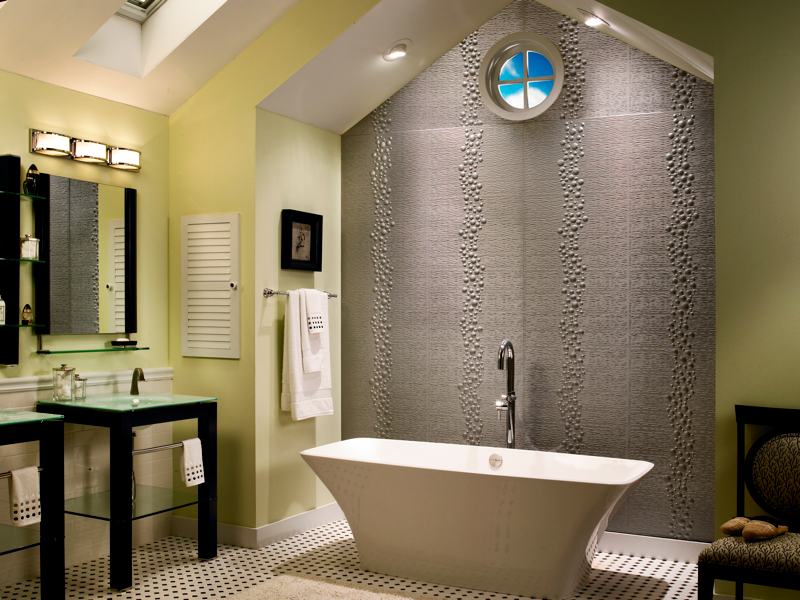 Although tiles can make your bathroom look like a piece of art, there is an unfortunate development that tends to occur. With bathroom tiles, you'll end up maintaining grout joints, which takes a lot of scrubbing every once in a while. If you decide that this is something you won't have time for, then wall panels will be your better option. Fortunately, you'll be able to keep your scrub brush away.
Quicker Installation
This advantage may not appeal to you if you thrive on carrying out DIY projects, but wall panels are much simpler to install.
With bathroom tiles, you'll need to have a cement board underlayment and apply a thin set, cut the tiles, and grout the wall. This may sound straight forward, yet it's anything but. This process is time-consuming, messy, and expensive.
No matter what kind of wall panel system you decide on, the process of installation is far easier. With wall panel systems like PVC, high-gloss, or acrylic, you simply carry out the following:
Place moisture-resistant drywall
Apply adhesives to the wall panels or drywall
Hang the sheets and seal the joints
As you can see, this is a project that doesn't tend to take up a lot of your time. However, if you don't mind the extra effort, then opt for bathroom tiles.
A Cleaner Installation
If you're somebody who hates to create a lot off mess, then applying wall panels to your bathroom makes more logical sense.
Installing bathroom tiles can create a load of mess and plenty of dust. Cutting tiles and working with tile grout and thin set can contribute to a lot of that mess. If this is something that doesn't sound pleasing to you, then it's best to steer clear.
Products like PVC wall panels can be cut while using a carpenter's knife. Moreover, with a wall panel made from laminate, you can use common wood working equipment like a jigsaw. As you can see, if you're hoping to have a much easier installation project, then placing wall panels seems like the option for you.
Less Expensive
If money isn't an issue, then this may be another advantage that doesn't appeal to you. However, if you are on a budget, then you'll be glad to know that wall panels will end up saving you money.
If you're looking to find the most cost-effective wall panel on the market, then consider fiber glass or acrylic panels. Although they may not look as elegant as other materials out there, they can still spruce up any kind of bathroom, especially in a low-rent neighborhood.
If you don't mind stretching your budget a little more, then PVC wall panels, laminate wall panels, and solid surface panels are sound choices. They may be a little pricier than fiberglass or acrylic, but if you consider the cost of maintaining bathroom tiles, this is still a far more cost-effective option to have.