The word acoustic conjures up many different ideas in one's mind. One thing that doesn't change from person to person, however, is the idea that acoustic relates to sound. Designers keep the acoustics of any space in mind when decorating, but most homeowners don't think about this design aspect by themselves. Installing acoustic 2x2 ceiling tiles can help enhance the acoustics in any space no matter what takes place between the walls.
Because installing acoustic 2x2 ceiling tiles, also known as acoustical panels, is not a common thought, the benefits of these ceiling tiles aren't either. However, there are some great benefits to installing acoustic 2x2 ceiling tiles in any space. Let's take a closer look at how you can transform the sound in your space with 2x2 ceiling tiles designed specifically to amp the place up.
---
Different Types of Acoustic Ceilings
There is no set type of acoustic ceiling that works for everyone. Finding the right acoustic setting for your space is dependent on your unique needs. You may find that suspended ceilings, sound panels, or drop ceilings work best for you. Whichever type of ceiling you decide to go with, these ceiling panels are great for giving any space the advantage of an acoustically-equipped room. Whether you want a space that carries the noise to higher vibrations or to completely cancel out the noise altogether, finding the right 2x2 acoustic ceiling tiles is important.
Here are five advantages to having 2x2 acoustic ceiling tiles in your home or office.
---
Pros of 2X2 Acoustic Ceiling Tiles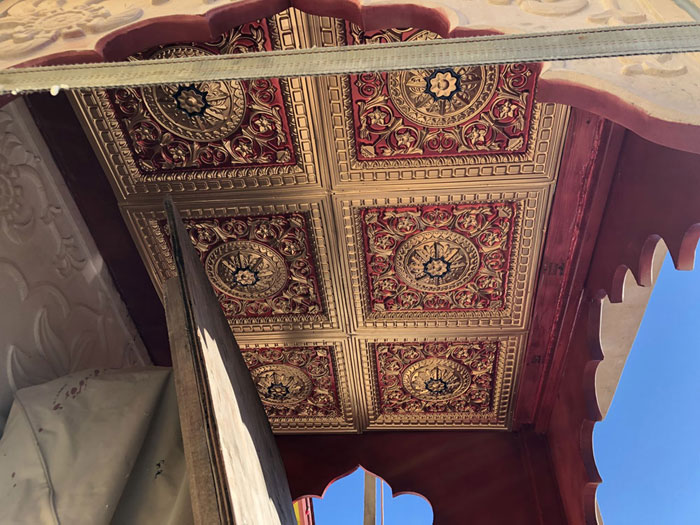 Decorative Designs
In most office spaces, you will find the rectangle commercial ceiling tiles. While these are cost-efficient and easy to install, they aren't always the most aesthetically pleasing. Commercial ceiling tiles have come a long way since their conception, but they aren't where the other ceiling tiles are in terms of aesthetic appeal.
Many of these ceiling panels come in decorative designs that look great while also getting the job done. You can customize the look of any room in your home or office with acoustic ceiling tiles. And, because they are functional as well as attractive, these 2x2 ceiling tiles will give you what you want to transform your space without doing a complete home renovation!
Sound Quality
An obvious benefit of investing in 2x2 acoustic ceiling tiles is their ability to enhance the sound or cancel it out completely in any space. This can be especially beneficial in a workplace where unwanted noise can be distracting and unproductive. In a home, acoustic ceiling tiles are great for home theater rooms, family rooms, or even music rooms. These places would be devoted to entertainment with surround sound frequently. With acoustical ceiling tiles, the sound wouldn't disturb the others in the house while the rest of the family enjoys the entertainment.
Decide what type of sound quality you want in your room (contain the sound or cancel out outside noise) to determine which acoustic ceiling tile is the best option for you.
Cost-Efficient
Believe it or not, these 2x2 ceiling tiles are not only acoustical, but they are actually quite cost-efficient. They are some of the most affordable ceiling tiles options on the market, surprisingly, and are designed for the drop ceiling or similar suspension systems. Even the installation cost is lower than most other ceiling tile installation jobs. If you decide to go with acoustic ceiling tiles, you may also save money on electricity bills due to the lack of use of other electricity to drown out the unwanted noise elsewhere.
Easy to Install and Remove
Many 2x2 ceiling tiles are not easy to install nor are they easy to remove. However, taste changes, and with it, your home should be able to change, too. Renovations are always a great way to spruce up the home you've lived your life in for years. The great thing about acoustic ceiling tiles is that they are easy to customize. If you decide to take your ceiling tiles with you during a move to another home, you can certainly do that easier than with other ceiling tiles. Even damaged acoustic ceiling tiles can be changed if needed without much hassle.
Absorb the Sound
Acoustic ceiling tiles are also great for absorbing sound from the outside. If you live in a busy city, in an apartment, or where loud noises are the norm outside of your home, you would benefit from 2x2 acoustic ceiling tiles. These tiles help to hold onto the noise outside of your home to keep the noise away from your location. This means you can enjoy your TV show or romantic dinner without being disturbed from the outside (noisy) world. You could even install acoustic ceiling tiles to the wall to help cancel out even more unwanted noise.
---
Cons of 2x2 Acoustic Ceiling Tiles
While the disadvantages are not as lengthy as the advantages of having 2x2 acoustic ceiling tiles, there are some considerations to take into account before installing.
Lifestyle Choices
If you smoke inside your home (cigarettes, pipes, etc.), your 2x2 acoustic ceiling tiles will not withstand the smoke for long. They will become discolored and hard on the eyes, which will require replacement of the tile. Although installation and removal of 2x2 acoustic ceiling tiles aren't difficult, the frequent need to change the tiles out could become costly over time.
Water Damage
Ceilings are prone to experiencing water damage due to the water pipes running throughout the entire infrastructure. If acoustic ceiling tiles get water damaged, you will need to replace the entire ceiling tile itself. Drywall ceilings don't have this issue as they can be fixed with simply painting over the water-logged area and patching up the thin area. 2x2 acoustic ceiling tiles are not that lucky. They will need to be replaced individually to ensure the aesthetic appeal and function of the acoustic ceiling tile stays intact.
Capture of Sounds
Acoustic ceiling tiles are great for enhancing sounds and canceling outside sounds, but they can sometimes enhance sounds too much. Depending on what you're using the acoustic ceiling tiles for, enhancing the sound inside the room too much could cause issues with roommates, housemates, or even your own body (headaches, etc.). Be very aware of the purpose of using 2x2 acoustic ceiling tiles in any space before installing them.
---
Conclusion
Purchasing and installing 2x2 acoustic ceiling tiles can be a great addition to any home. In the last few years, these ceiling tiles have taken off. They are great options for the home, office, or even schools where noise needs to be managed and monitored closely throughout any given day. Check out our options here to give you a better idea of how you can incorporate acoustic 2x2 ceiling tiles in your space!