Divine NuMetal Aluminum Laminates Small Samples Chain - Free Shipping
Introducing the new collection of NuMetal™ high-pressure laminates – the Divine Elements Collection. This collection contains 14 new NuMetal combinations inspired by nature and mythology. Use this chain to update your existing NuMetal Sample Chains.
NuMetal™ is a collection of High Pressure Laminates with a thin metal surface and phenolic paper backing. These HPL's can be used for interior applications like wall coverings, wall panels, display fixtures, and ceilings.
Sample Size: Small Chain – 2.375″ x 1.5″ / Large Chain – 3.25″ x 4.75″
Regular Price: Price varies depending on the desired finish and square footage.
Designs: Available in 14 modern designs, including: Diamond Rose Gold, Titan Gun Metal Aluminum, Neptune Polished Smoke and more!
Downloadable Catalogs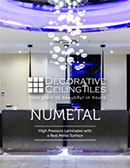 Download NuMetal catalog