Put the "pebble to the metal" with the Artful Metals, a bright collection of 15 metal and patina-inspired finishes, including: "Funky Cold Patina" and "Welcome Back Copper." Artful Metals is available on 4′ x 8′ ATI Fusion substrates, including Pebble Aluminum.
Pebble Aluminum is an unbacked, customizable substrate with a stipple-like coating that creates a pebbled texture. It's easy-to-install with no counterbalancing required, durable, scratch-resistant, and suitable for a variety of interior applications.
Regular Price: Price varies depending on the desired finish and square footage.
Finishes: Available in 15 unique finishes.
Product Features:
Textured Surface
No Counterbalancing Required
Can Adhere Directly to Most Substrates, Including Drywall
Can be Bent or Curved
High Impact + Abrasion Resistant
Chemical Resistant
Stain Resistant
Pebble Aluminum for Interior Applications
Downloadable Catalogs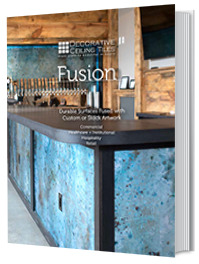 Download Fusion Catalog