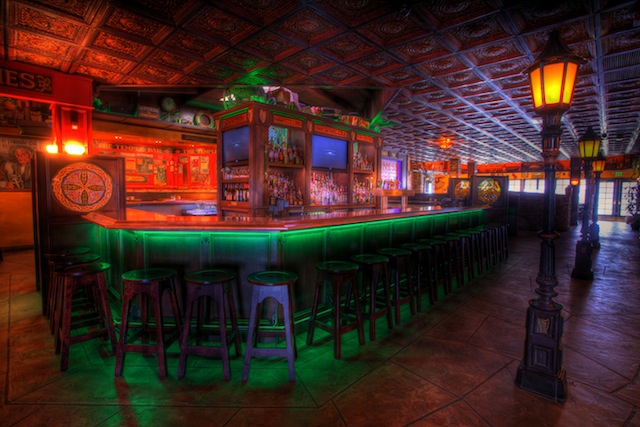 Whether you have a bar in your basement, a small bar top with a few stools tucked into corner of the family room or own a neighborhood pub that's your pride and joy, the décor you choose often creates the atmosphere for many hours of enjoyment and camaraderie. Depending on your interests and hobbies, there may be old railroad signs, vintage beer advertisements or memorabilia from favorite sports teams hanging on the walls, but regardless of what's chosen, the decorations can set a mood that's inviting to your friends or patrons.
However, while you're admiring your bar design; don't overlook the one surface that may do the most to bring a relaxing atmosphere the room. The bar ceiling can be used to give the room a dark intimate feel, a bright airy look, or to take the room back to a time when colonial taverns dotted the countryside. Decorative Ceiling Tiles offers decorative bar ceiling tiles that can create an atmosphere that allows family and friends to enjoy your hospitality and pass a little time away from the stress of a hectic lifestyle.
When you own a neighborhood pub, the difference between success and barely getting by is often determined by the number of customers brought in on a regular basis. Create a look that's the talk of the town be selecting one of the many unique bar ceiling tile finishes and patterns available from Decorative Ceiling Tiles.

Decorative Ceiling Tiles for any Bar Décor

Whether you have sports bar, a watering hole with an antique theme, or an ultra-modern gathering spot, Decorative Ceiling Tiles has options that can enhance your interior décor. Selections from the classic collection bring to mind a simpler time when the neighborhood pub was the local gathering spot for friends and family and a sight for the sore eyes of weary travelers. The contemporary collection offers many options for bars that might benefit from a modern touch. The collection features patterns that would look equally at home in a residential basement or a Manhattan hot spot.
The intricate details and rich character displayed by all of Decorative Ceiling Tiles' bar tile selections can bring depth to your ceiling and create a warm intimate atmosphere. The best part is that the tiles are much less expensive than many other types of ceiling finishes and installation is very DIY-friendly. You can put them up behind the bar, in the customer/family area, or use them to enhance the entire room.
Decorative Ceiling Tile Finishes to Enhance your Bar
Whether you're putting together a new bar or giving a face lift to an old friend, Decorative Ceiling Tiles has numerous finishes that can complement your décor. Choose from many patterns, finishes, and materials such as:
Styrofoam Ceiling Tiles
Styrofoam ceiling tiles are the most budget-friendly option among Decorative Ceiling Tiles' many collections. They are very lightweight, easy to cut, and are designed to just be glued in place over the existing ceiling surface. Styrofoam tiles are available in more than 50 patterns and can be painted to match your room's color scheme using most latex paints. They're made in a 20 by 20 inch size that allows you to make short work of your bar ceiling upgrade.

Faux-tin Ceiling Tiles

Faux-tin tiles look very similar to Decorative Ceiling Tiles' popular metal tile collections, but are designed for installations where affordability is as important as appearance. The tiles are built from tough PVC that should provide many years of service, will never rust, but they can still be cut with scissors or a utility knife. If you have a commercial establishment, you'll appreciate the Class "A" fire rating that is present in many faux-tin styles. The tiles are available in about 30 unique patterns and many have prefinished color choices that allow you to avoid the mess of painting. Most Faux-tin styles are approximately 24 by 24 inches and designed for drop-in or glue-in-place installations.

Tin-covered Steel Ceiling Tiles

If you're partial to antiques and all things old, Decorative Ceiling Tiles' tin-covered steel bar tiles should soon become a favorite in your watering hole. The tiles are made just like the tin ceiling tiles found in many old homes and businesses, but these modern versions are available in many more designs and patterns. Tin-covered steel tiles must be painted on both sides to preserve their attractive appearance. They can be purchased for nail-up and drop-in applications.

Aluminum Decorative Ceiling Tiles

If you prefer enjoying your bar rather than spending all your time working on it, aluminum decorative bar ceiling tiles might be just what the doctor ordered. The tiles are extremely light for DIY ease and an advantage of aluminum is that it doesn't rust. However, the best part is that aluminum decorative bar ceiling tiles are available in about 80 prefinished colors – no painting required. The tiles are manufactured in 24 by 24 inch sizes, but some styles can be made in a 24 by 48 inch tile by special request. Aluminum tiles are designed for nail-up and drop-in applications.

Solid Copper Decorative Ceiling Tiles

What bar couldn't use a touch of class to dress it up? Decorative Ceiling Tiles offers elegant "bright" and "aged" solid copper bar tiles in all the patterns available in the tin-covered steel and aluminum collections that might be the final touch needed to make your bar a customer and family favorite. Use the tiles as an accent or to class the whole place up. Solid copper ceiling tiles can be used in nail-up and drop-in installations.

Faux-leather Ceiling Tiles

If you want to give your bar a Southwest or equestrian flair or just happen to like the look of leather, Decorative Ceiling Tiles has the bar ceiling tile for you. Faux-leather tiles have a realistic leather appearance, but are constructed of three layers that are fire and moisture resistant and can even add some soundproofing for when the noise gets a little out of hand. The tiles are made in several realistic leather styles and prefinished colors and are available in an easy to install 15 by 15 inch squares.

DIY-Friendly Installations

Decorative Ceiling Tiles' lines of bar ceiling tiles are designed with the DIYer in mind. Regardless of whether you select nail-up, drop-in, or glue-in-place tiles, installation should be easy and rarely requires hiring a contractor. If you find yourself stuck, there are installation tips and instructional videos provided for all three applications.
Complement your Bar's Ceilings aren't the only spots that can be dressed up with decorative bar ceiling tiles – bar counter fronts, countertop backsplashes and stemware displays can all be enhanced and highlighted with the attractive tiles. Decorative Ceiling Tiles also offers a complete line of accessory trim that can be used to complement your bar ceiling tiles' appearance.