Sonic

MirroFlex Max 4x8 Glue Up PVC Wall Panels

MirroFlex™ MAX offers deeply textured 4' x 8' wall panels in a thicker .045" material that is color-through for superior scratch and impact resistance. These are our boldest 3-dimensional patterns to date and provide even greater depth to walls.

With six contemporary designs, MirroFlex™ MAX will make any space the envy of everyone. The 4' x 8' wall panels also use our unique Built-In-Overlap (BIO) feature that makes seams less visible.

Combine these patterns with five new finishes to create a unique, modern look for your space.
Lightweight
Easy To Install
Impact Resistant
Abrasion Resistant
Chemical Resistant
Stain Resistant
Class A Fire Rated
Color-Through Material

(Perfect For High Traffic Areas MirroFlex)
Downloadable Catalog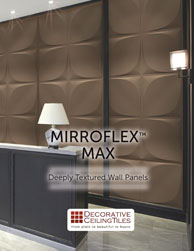 Download MirroFlex Max Wall Panels Catalog