Decorative Laminates' NuMetal™ product line offers the Divine Metals Collection: 14 designs that combine qualities from water and rare earth elements to celebrate the unique relationship between nature's raw power and human curiosity to bring inspiration to each day. The HPL finishes range from Rose Gold and Gun Metal to the iridescent Polished Smoke and classic Brushed Aluminum. The patterns draw inspiration from the natural world, including: Diamond, Waterfall, Aqua, Neptune, and Titan. Available in 4' x 8' sheets, 4' x 10' available on special order.
NuMetal™ is a collection of HPLs (High Pressure Laminates) with a real metal surface and phenolic paper backing. NuMetal sheets are usually 4' x 8' (4' x 10' available on special order) in Aluminum, Copper, Real Stainless Steel, or Unique Art; featuring embossing, hand painting, etching, and other innovative techniques to enhance the look of metals. High quality design solutions are its trademark. NuMetal is suitable for vertical and light-duty horizontal applications.
As experts in surfaces that remain abrasion resistant, in addition to performance, NuMetal products meet safety and material standards.
Downloadable Catalogs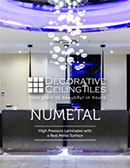 Download NuMetal catalog