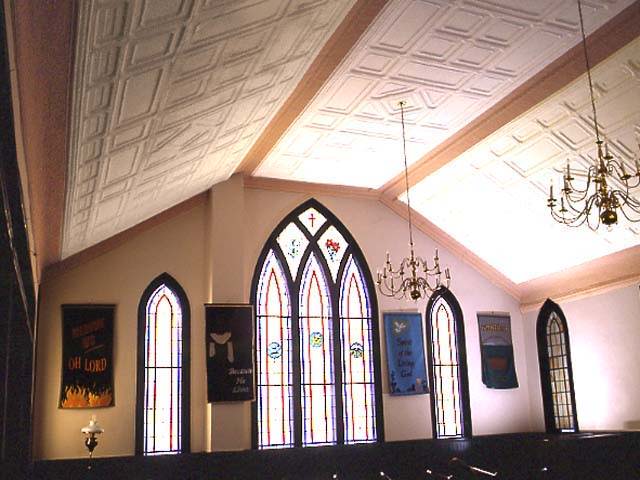 Need a Replica or Custom Design?
At Decorative Ceiling Tiles, we can replicate almost any tile, cornice, or filler that you can send us a sample of. We are here to help you solve your need for top-quality reproduction tin ceiling tiles or other custom ceiling tiles for both home and commercial needs.
In order to duplicate metal ceiling tiles, a special tool or form needs to be created. We use our state-of-the-art technology to accomplish this right down to the smallest detail. With our custom technology, we can even reproduce larger custom ceiling panels providing you can provide us with a sample for the customized form. Once the form is made, we then can replicate a single tile or enough for an entire home, church, or hotel based on your specifications.
To start the process, SUBMIT THE BELOW FORM
Decorative Ceiling Tiles' custom tin ceiling tile collection is just what the name implies: a series of tiles with unique patterns for homeowners who desire a ceiling that stands out from the rest. The collection features more than 40 distinctive patterns that provide choices for just about any interior design or room size. When you want to give a worn, tired ceiling a new look and feel, shop our wide selection of tiles online at your convenience. If you have questions before you buy your tiles, never hesitate to give us a call. Our customer service team is ready to speak with you during normal business hours and can answer concerns about tile selection or installation.
Unique reproduction tin ceiling tiles as well as custom ceiling panels can also be created from your own design and result in a truly custom tile pattern. Decorative Ceiling Tiles has the capability of taking a photo of your favorite pet, flower, tree, or any other object and transferring the profile onto a tile. You can then easily scatter the custom ceiling tiles throughout a classic or contemporary tile ceiling or fill an entire room with your own unique pattern.
Custom tin ceiling tiles can also be a great choice when renovating a room or home that already has metal ceiling tiles. If any of the existing tiles can't be reused, Decorative Ceiling Tiles can often duplicate the pattern and provide the tiles that allow you to finish your project. There is no minimum order: One new tile can be made, or order 1,000 or more.
Custom tin ceiling tiles are available in tin-covered steel, aluminum, or solid copper. Tin-covered steel tiles must be painted on both sides prior to installation to protect the surfaces from rusting due to humidity. If you want to eliminate a step, choose one of the more than 80 pre-finished colors available in aluminum tiles. Aluminum custom tiles are resistant to rusting, but you can still paint them to match your own color scheme by choosing a mill finish. What can be said about solid copper tiles other than they can be used to create the most beautiful ceiling you or your guests have ever seen? They cost a little more than tin or aluminum, but their appearance can be well worth the additional expense.