When it's time to decorate a specific room inside your home, your ceiling is just as important as the other areas inside the space. From different variations of houses to the most stunning buildings of our time, an elegantly designed ceiling can enhance an interior's appeal as well as providing longevity.
One of the popular designs that many decorators tend to opt for is the wooden ceiling. This type of ceiling has long been regarded as the elite option for ceiling design. With its infinite variety and adaptability, there is simply no room for argument.
This article provides different wooden ceiling options that can transform any space into one that you can be proud of. These designs are trendy, elegant, and can beat many other types of ceilings on the market today.
Faux wood mimics the look of real wood, and you cannot deny that it does it well. As there are various disadvantages of applying real wood inside your home, faux wood can step in and give you that stylish appeal you want without those flaws of real wood.
Faux wood uses polyurethane foam that is durable, lightweight, and water-resistant. Once manufactured, they are painted to imitate the colors of real wood.
The main appeal of Why use faux wood planks? There are multiple answers to this question, but perhaps the key factor behind using faux wood is that it resists water.
Real wood changes with humidity and temperature changes, expanding and contracting. Eventually, this causes it to buckle and crack. Faux wood is not affected by temperature and humidity, so you should have planks that will never warp out of shape.
Faux wood not as expensive as real wood for installation or maintenance. Real wood planks usually have to be installed professionally, and then, every few years, you should clean and refinish them to keep them looking good. Faux wood planks are so simple. All you have to do is install them (which you can do yourself) and that's it! No maintenance needed.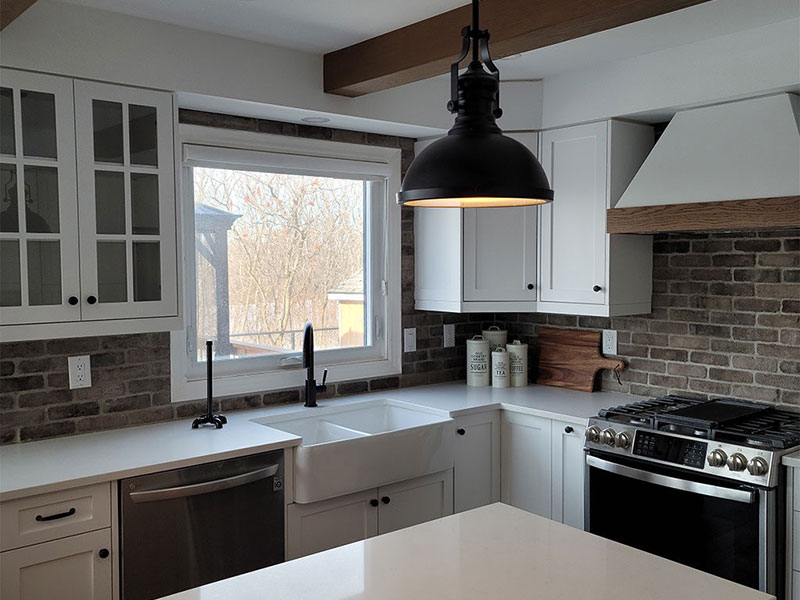 Other benefits of faux wood: Installing a wooden-looking ceiling brings class and elegance to any space. They outweigh so many other types of ceilings, and they are one of the worthwhile choices available today. From a total appearance perspective, wood ceilings give your home character, as well as creating a gorgeous interior.
However, as suggested, using real wood does have its flaws, and the weight is one of them. Since real wood is so heavy, there is a chance it can fall down, potentially injuring your or breaking something valuable, if what is used to hold it isn't strong enough itself.
Opting for faux wood prevents this situation completely. This material is incredibly lightweight, so they are easy to keep in place and very easy to install.
Picking out the right types of planks: Before you go out and purchase the planks you have in mind, be sure that you have looked at the overall decor scheme of your home – or perhaps the scheme you're planning to apply.
With faux wood planks, there are many styles and textures for you to choose from. Are you looking for a lighter look? Or are you looking for a rich, darker material like oak or mahogany?
To answer this question, first, you need to look at your current (or future) decor scheme and match the right type of faux wood plank that blends well the best. For instance, if you prefer lighter colors, then a light faux wood can spark a beautifully natural, airy vibe.
Wooden beams tend to add texture and dimension to your living space. This material has appeared on ceilings for centuries in homes or buildings in the US and worldwide.
Not only do wooden beams provide aesthetic appeal, but they are also known to give essential support to upper floors and roof systems. You can find such ceiling types in many different structures – anything from cottages to castles, making them a versatile option as their adaptability is highly regarded.
When is it best to use solid wood beams? If you want to install wooden beams for structural support, you need solid wood as it's both durable and flexible. Faux wood is simply not an option in this case.
Moreover, from an aesthetic perspective, nothing matches the look and feel of real wood. If your home has an authentically older style or if you are renovating a historic home, then it's only real wooden beams that will work.
If wooden beams are your preference, then there are many textures available to choose from, especially if esthetic purposes are important to you. With wooden beams, you'll have the chance to showcase classic American wood-like Southern Pine, Maple, or Walnut. Displaying such woods always gives you the chance to make your space a natural beauty.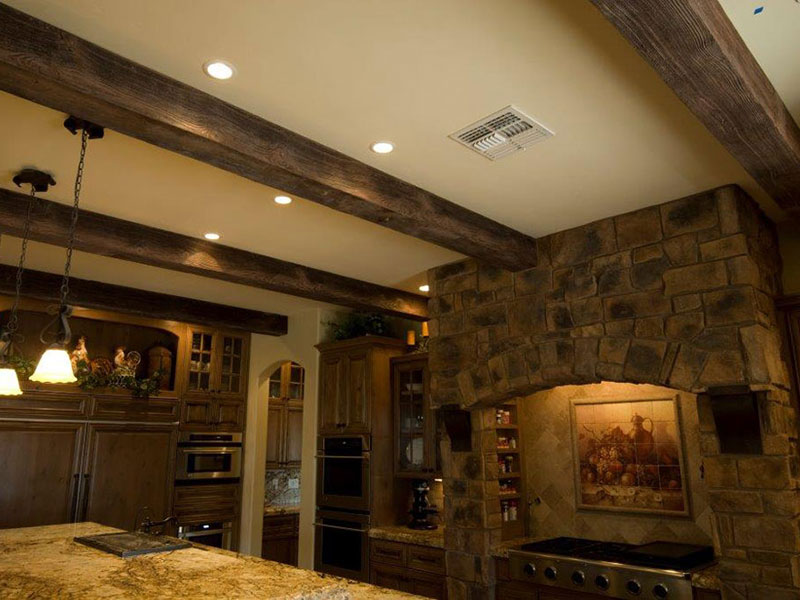 Rustic interior visuals are once again growing in popularity. Although modern decor continues to be an ever-growing trend, rustic visuals are also in demand. By implementing this particular style into your home, you create an inviting warmth and charm of rustic decor.
For many decorators, installing faux wood rustic beams help reignite an old-world style that never fades in popularity. For many, it generates a decorative nostalgic need. With their rugged, hand-hewn texture, faux wood rustic beams add charm to any interior.
Great textures for rustic faux wood beams include:
Coffee Bean
Custom Walnut
Fall Leaf Brown
Honey Pine
Mahogany
Weathered Barn
When it comes to adding wood to your home, there are many different styles in which you can implement it. However, the foundation of such styles is created by the options listed within this guide. If you are focused more on the visual side of using wood, then faux wood is perhaps your better option. In contrast, if you need structural support, you cannot go wrong with installing real wood.