While wood and plaster offer their own particular look and feel, there is something truly unique and appealing about metal surfaces.
Decorative metal laminates allow you to incorporate attractive metals into your next renovation project without blowing your budget. Metal laminates give your space a sophisticated look that combines an industrial aesthetic with modern design.
Metal is an extremely versatile surface to work with. It freshens up a room by making it brighter and more inviting. The reflective properties of metal laminates play with the light in a way that no other surface can.
If you go the traditional route, installing a large sheet of metal isn't easy. Large pieces of metal are heavy and expensive to purchase and transport. Metal panels also require a great deal of skill to work with. It takes a skilled craftsman to properly fix a large piece of metal to a wall or other surface.
Working with decorative metal laminates removes is a perfect solution. They are far more affordable than large metal panels and drastically lighter, so they're easier to transport and safer to work with. Unlike traditional metal decorative pieces, you do not have to be a professional to work with decorative metal laminates.
---
What Are the Benefits of Using Decorative Metal Laminates?
As mentioned above, decorative metal laminates are extremely lightweight when compared to traditional metal pieces.
The NuMetal collection we carry is constructed of an ultra-thin layer of metal laid over an HPL backing. The metal facing of the laminate gives you all the advantages of metal without the added weight.
Our decorative metal laminate pieces are so lightweight, you can use a simple adhesive to attach them to your walls. Thanks to this quick and easy installation, you can get a metallic look that would otherwise require a difficult and costly installation job.
There are plenty of other reasons why you should incorporate decorative metal laminates into your next project, including:
They're abrasion-resistant.
They use real metal surfaces.
There are a lot of materials and patterns to choose from.
They can be used in a variety of ways.
They are affordable compared to metal alternatives.
Low minimum order quantities are available.
---
How Should I Use Decorative Metal Laminates?
Decorative metal laminates are also extremely versatile. There are a wide variety of surface options suitable for a many applications.
Whether you want to add some brightness to a room with a metallic accent piece or give your kitchen a complete metal backsplash, the choice is yours.
We've actually seen decorative metal laminates adapted for hospitality, retail, commercial, and even healthcare design markets. Metal surfaces have traditionally been used to create the impression of cleanliness, which makes them a perfect choice for both domestic and commercial kitchens.
One of the best things about our decorative metal laminates is that they have a real metal surface layer. This layer is abrasion-resistant and extremely easy to maintain and clean. Why worry about cleaning out the grout in your tiled backsplash when you could easily install a sanitary metal backsplash instead?
---
Which Decorative Metal Laminate Should I Choose?
As with all interior design materials, your choice depends entirely upon your personal preferences and the particular project you're working on.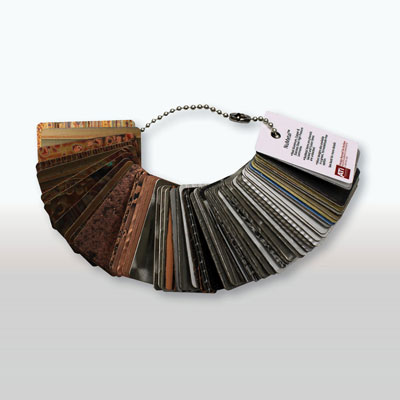 That said, there are a few things to consider when incorporating decorative metal laminates into your space. Before you begin, it's a good idea to look at a sample swatch. Not only does a sample let you experience the quality of the laminates we offer, but you will also be able to find the right surface for your project.
Our NuMetal Metal Laminates samples showcase the wide variety of surface colors and designs we offer. You get aluminum, copper, and stainless steel options, all pressed into various designs. Samples come in two sizes, the smaller chains are 1" x 2", while the larger chains are 3" x 5". Each contains 56 different swatches.
Find the Large NuMetal Metal Laminates chain HERE. The Small chain is available HERE.
---
Take a Look for Yourself!
While the sample chains can be useful, they are not necessary if you already know what you want. Feel free to take a look at the metal laminates we offer and start planning your next project now!
Our decorative metal laminates are available through the following LINK.